Several weeks back I wrote about how some facts were beginning to come together to reveal the Akashi-based Kaikyo Distillery. Today we have another important piece of the puzzle: an actual whisky to talk about!
It's called "Hatozaki Whisky," and it's named after a lighthouse nearby that dates back to 1657. The distillery apparently chose this name to avoid confusion with whiskies created by the nearby Eigashima White Oak Distillery, who makes Akashi whisky. Good choice!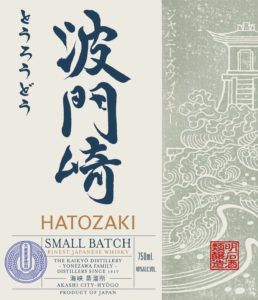 Unfortunately we don't have any further details about the whisky itself. As of this writing, that Hatozaki Whisky page is currently under construction. From public filings made in the USA, we know the label says it's "Small Batch" and "Finest Japanese Whisky," two phrases which mean basically nothing. It also says that it's made using a "two-stage blending of casks of whiskies produced from 100% malted barley," though hell if we know what those stages are (they could simply be "pour in whisky 1, then pour in whisky 2").
For many of us, the real question is whether or not it contains–at least even partially–whisky actually distilled at this Kaikyo Distillery. That's unfortunately going to have to remain an open question.
It's worth noting here that I have seen literally zero information written in Japanese about either the Kaikyo Distillery or Hatozaki Whisky in Japanese. Nothing on the Akashi Sake Brewery homepage, or any other Japanese language media. This is not a good sign, since actual Japanese whisky distilleries tend to at least get local news coverage as they launch.
Digging a bit deeper, I came across this page that describes a conversation with a sales manager of Mossburn Distillers & Blenders about the Kaikyo Distillery. The manager says that Mossburn acquired the distillery, and they have been distilling whisky since 2016. If the latter is true, though good news for authentic Japanese whisky fans, it also means Kaikyo Distillery technically violated Japanese tax law(!) — they were only granted a whisky distillation license in May 2017.
What do you think: will we eventually see a real Japanese whisky come from them? Or is this another faux Japanese whisky in the making?
Hi there! I created and run nomunication.jp. I've lived in Tokyo since 2008, and I am a certified Shochu Kikisake-shi/Shochu Sommelier (焼酎唎酒師), Cocktail Professor (カクテル検定1級), and I hold Whisky Kentei Levels 3 and JW (ウイスキー検定3級・JW級). I also sit on the Executive Committees for the Tokyo Whisky & Spirits Competition and Japanese Whisky Day. Click here for more details about me and this site. Kampai!