Kagoshima-based shochu maker Komasa Jyozo has a new gin coming soon called "Komasa Gin Sakurajima Komikan," using komikans from the (very) active volano island of Sakurajima.
A "komikan" is a smaller variety of mikan, also known as a satsuma. As a category it's tough to distinguish mikans from mandarins, but komikans should be obvious as they're smaller.
We've seen plenty of citrus-forward craft gins come out here in Japan. Having an orange/citrus sweetness as a primary botanical is quite new though. Komasa Jyozo is recommending you pair this with soda water or orange juice, rather than a tonic.
It launches on July 18, 45% abv, 500ml. 3000 yen without a box, or 3200 yen with one. There's no official posting on Komasa Jyozo's site yet, but they did post a teaser image on their Instagram a few days back.
Komasa Jyozo Recent Updates
Dating back to 1883, Komasa Jyozo recently launched their new whisky made at the Kanosuke Distillery. But from what I gather, this Komasa Gin won't be made there, perhaps because they have only 3 pot stills at that facility. Instead, Komasa Jyozo has obtained a spirits distillation license for their nearby Hioki Distillery, which I just added to the Japan Distillery Map yesterday. I guess we now know why!
Speaking of Japanese craft gin, don't forget that this coming weekend is GinFest Tokyo.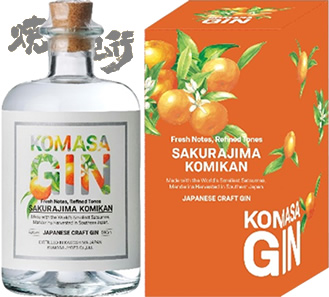 Hi there! I created and run nomunication.jp. I've lived in Tokyo since 2008, and I am a certified Shochu Kikisake-shi/Shochu Sommelier (焼酎唎酒師), Cocktail Professor (カクテル検定1級), and I hold Whisky Kentei Levels 3 and JW (ウイスキー検定3級・JW級). I also sit on the Executive Committees for the Tokyo Whisky & Spirits Competition and Japanese Whisky Day. Click here for more details about me and this site. Kampai!