Bar Times reports that Irish whisky brand Jameson is bringing out a Tokyo-only edition of their Caskmates whisky, appropriately named "Jameson Caskmates Tokyo Edition." They're doing so in collaboration with pizza/craft beer/gaijin hangout DevilCraft.
The Caskmates series attempts to bring a slice of the craft beer scene into the world of whisky. Beer is aged in a regular ex-Jameson cask, then, Jameson is once again matured in the same cask. So it goes Jameson->Beer->Jameson.
James Caskmates Tokyo Edition brings an entirely new level of logistical complexity. Jameson is aged in the cask in Ireland, then the cask is shipped to Tokyo, where two different DevilCraft beers are rested — their Imperial Stout and Imperial Rye Brown Ale. Afterwards, the barrels are returned to Ireland, where Jameson is finished once again for 10 months. The two resulting Jamesons are blended together, bottled, and sent back to Tokyo.
Each 700ml/40% abv bottle is around 6,200 yen, I'm guessing around half is just the shipping costs that made this all happen. It will be released on June 4 to bars/industry only.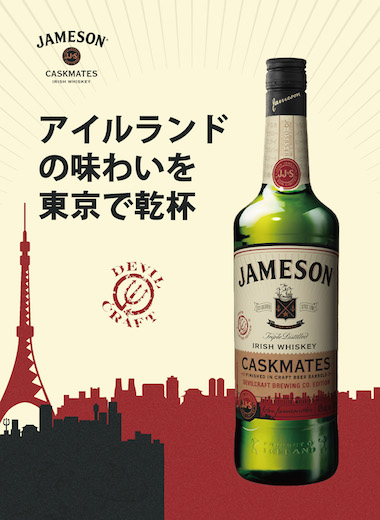 Hi there! I created and run nomunication.jp. I've lived in Tokyo since 2008, and I am a certified Shochu Kikisake-shi/Shochu Sommelier (焼酎唎酒師), Cocktail Professor (カクテル検定1級), and I hold Whisky Kentei Levels 3 and JW (ウイスキー検定3級・JW級). I also sit on the Executive Committees for the Tokyo Whisky & Spirits Competition and Japanese Whisky Day. Click here for more details about me and this site. Kampai!