This weekend sees the release of Japanese Craft Gin MIZUHO from Okinawa's Mizuho Shuzo. Mizuho Shuzo is Okinawa's second-oldest awamori maker, distilling since all the way back in 1848. That's the same year the California Gold Rush started in America! So they've been at it a very, very long time.
As they celebrate their 170th anniversary, there's actually two new gins coming from the company: Fresh MIZUHO and Tropical MIZUHO. Although they didn't give the botanicals for either, they recommend the Fresh in G&T, and the Tropical on the rocks or in a Martini. There's 10 tropical island-y botanicals in each, but the only one they mention by name is peels from Peach Pineapples from Iriomote Island. Both gins are awamori-based.
Only 250 bottles of each will be available, 48% abv, and either one will set you back a cool 8000 yen. That earns them the title of Most Expensive Japanese Craft Gin. So hopefully they turn out better than Okinawa's other craft "gin!"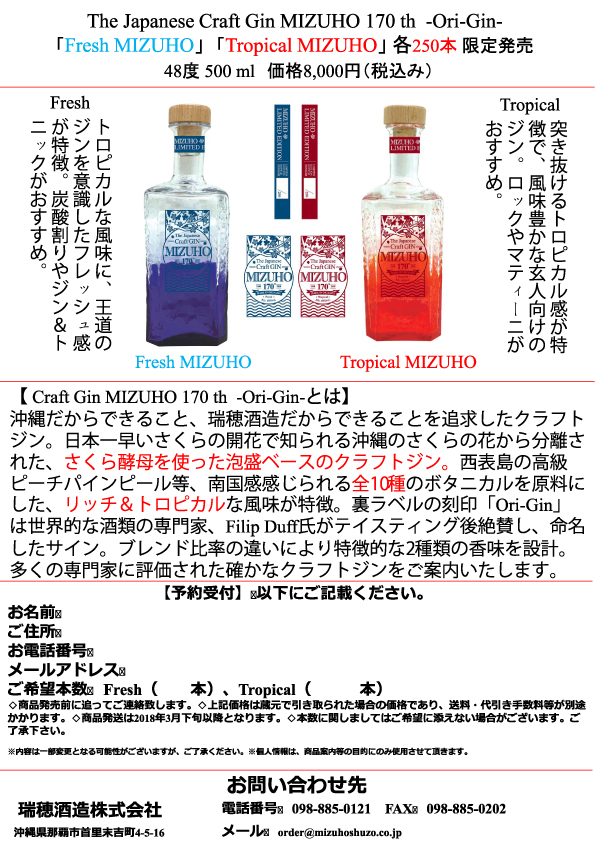 Hi there! I created and run nomunication.jp. I've lived in Tokyo since 2008, and I am a certified Shochu Kikisake-shi/Shochu Sommelier (焼酎唎酒師), Cocktail Professor (カクテル検定1級), and I hold Whisky Kentei Levels 3 and JW (ウイスキー検定3級・JW級). I also sit on the Executive Committees for the Tokyo Whisky & Spirits Competition and Japanese Whisky Day. Click here for more details about me and this site. Kampai!