A month back we brought word of an upcoming series from Nikka dubbed Nikka Discovery. The company has now officially announced the bottles for the Japanese market. Let's take a look.
N
ikka celebrates the 90th anniversary of the company in 2024. The Nikka Discovery series shines a spotlight on what they've learned over the years in terms of raw ingredients, fermentation, distillation, and of course maturation.
The Nikka Discovery series, like the ESSENCE of SUNTORY WHISKY series, is targeted at the on-trade market. This means it's unlikely to be found sitting on liquor store shelves, and you'll instead need to head to bars to drink it.
Volume One of the series is below. They're using clear glass for these bottles rather than the standard smoked glass, so you can get a better idea of the color.
Single Malt Yoichi Non-Peated
Made entirely with non-peated malt, this bottle retains the coal direct-fire punch of Yoichi malt, but highlights the fruitiness and smooth sweet depth that is ordinarily hiding behind the peat. It features sweet and sour notes of pear, berries, and apple, as well as a firm maltiness. The finish is fruity and has elements of caramel that continue.
47% abv, 700ml, 20,000 yen plus tax. 10,000 bottles will be released.
Single Malt Miyagikyo Peated
Retaining the elegant warmth of Miyagikyo malt, peat brings out a mellow sweetness and more solid body. Nikka says it has the sweetness of raisins and dry cherries, and a light yet firm peatiness.
48% abv, 700ml, 20,000 yen plus tax. 10,000 bottles will be released.
Both of these drop on September 28, 2021 here in Japan. Head to your favorite bar to give them a try!
It's also worth noting that the press release says these bottles are "2021's products" so Volume Two may show up in 2022.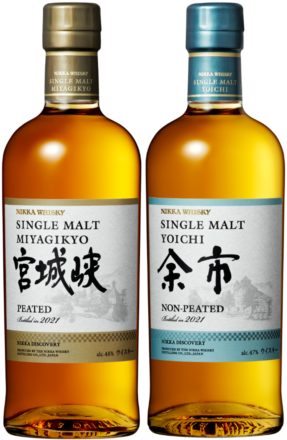 Hi there! I created and run nomunication.jp. I've lived in Tokyo since 2008, and I am a certified Shochu Kikisake-shi/Shochu Sommelier (焼酎唎酒師), Cocktail Professor (カクテル検定1級), and I hold Whisky Kentei Levels 3 and JW (ウイスキー検定3級・JW級). I also sit on the Executive Committees for the Tokyo Whisky & Spirits Competition and Japanese Whisky Day. Click here for more details about me and this site. Kampai!