This month's update of the Japanese Alcohol Data Library highlights the explosive growth of the value of Japanese whisky exports, record high volumes of Japanese gin for export, and I also introduce an entirely new dataset to be updated monthly: the number of newly licensed breweries and distilleries in Japan!
Japanese Whisky is poised to blow up in 2021… again
The big number: 5.1 billion yen worth of Japanese whisky was exported in April 2021 alone. That's a new single-month record, and more than the entire year of 2013 in a single month. It represents a 17% increase over the previous record month, March 2021. In fact, every month since December 2020 has been a record-breaking one for Japanese whisky!
Needless to say, at its current pace, 2021 is positioned to blow past the 27.1 billion yen yearly total for 2020.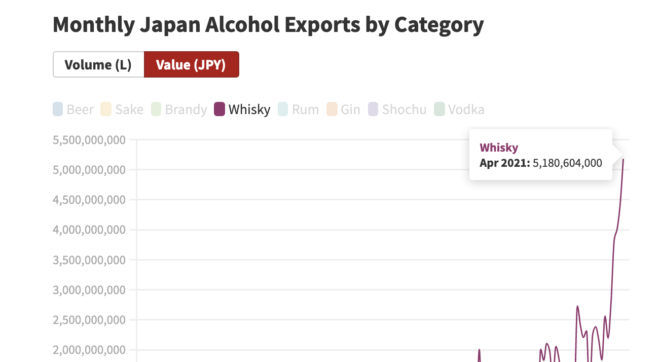 Japanese whisky also set a new record for volume in April 2021, with 1.22 million liters being exported outside the country.
On the production side, JSLMA members reported 12.2 million liters being taxed in April 2021. That's up from April 2020's 11.5 million liters.
The world gets a taste for Japanese gin
445,000 liters of Japanese gin were exported in April 2021. That's of course a new record for this rapidly emerging category.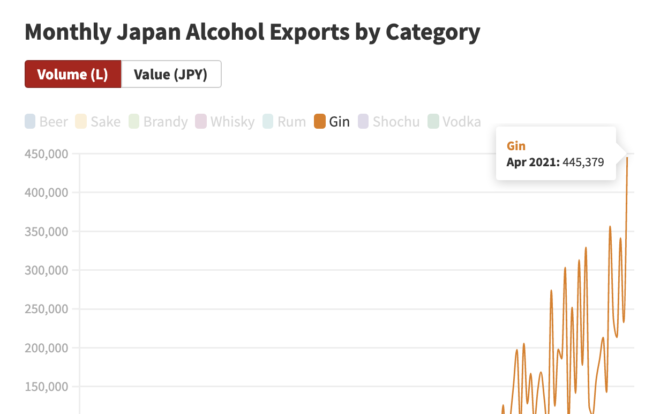 New Data: Monthly License Issuances for Breweries and Distilleries
Hello, new data! This month I've added a new dataset sourced from Japan's National Tax Agency. We have monthly numbers of newly licensed breweries and distilleries for all of the NTA's major license types. Data begins from January 2014 and will be updated monthly going forward. Oh, and you can see cumulative numbers for the year, too! As of March 2021, Japan already has 9 newly licensed whisky distilleries for this year. This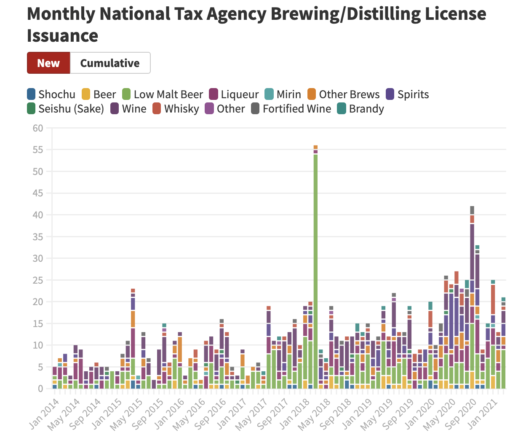 The Japanese Alcohol Data Library is completely free of charge and open to anyone. Apart from the above monthly updates, there's yearly data available from as far back as 1988 about things like import and export, which countries import the most booze from Japan, how much Japanese breweries and distilleries are actually producing, and much much more. Definitely check out the rest of the data!
Hi there! I created and run nomunication.jp. I've lived in Tokyo since 2008, and I am a certified Shochu Kikisake-shi/Shochu Sommelier (焼酎唎酒師), Cocktail Professor (カクテル検定1級), and I hold Whisky Kentei Levels 3 and JW (ウイスキー検定3級・JW級). I also sit on the Executive Committees for the Tokyo Whisky & Spirits Competition and Japanese Whisky Day. Click here for more details about me and this site. Kampai!