Following the Nukada Distillery in Ibaraki prefecture, Kiuchi Shuzo has opened a second distillery at the base of Mt. Tsukuba. I visited this distillery, located inside of a remodeled community center, in early February. They were busy preparing for their first distillation run.
Text/Photos: Mamoru Tsuchiya
Translation: Whiskey Richard
This article originally appeared in Japanese in Whisky Galore Vol.19 / April 2020.
Standalone distillery created in a refurbished community center
I
baraki's Tsukuba might be known for its high tech industry, but in the next town over, Ishioka, the Yasato district is making a name for itself for its low tech organic farming. The basin, surrounded by mountains, has also become known for its harvesting of seeds of rice and barley: that basin makes it tougher for non-native seeds to enter the area.
It's in this Yasato district that Kiuchi Shuzo, of Hitachino Nest beer fame, runs a restaurant focusing on organic food. Company vice president Toshiyuki Kiuchi says that while running the restaurant, it had always been in the back of his mind that he wanted to create a whisky distillery here.
"This was originally a community center, designed by a celebrated architect. It was love at first sight. When we told the city we wanted to convert it to a distillery, the city built a new community center next-door, and they let us use this facility."
The large distillery, which sits on a 6600m² plot of land, is so strikingly modern it's tough to believe it was formerly a community center. The building's large glass windows allow it to match the nature that surrounds it. Cherry trees line the Fruit Line road that runs immediately in front, where mandarins and apples are plentiful. Of course there are also strawberries, persimmons, and grapes. Thanks to the regular sunlight on the eastern side of the base of Mt. Tsukuba, the Yasato district is said to be both the northernmost area where mandarins can grow, and the southernmost area where apples can grow.
When I saw it, I immediately began to think about where we would put the mash tun, and where we would have the stillhouse. There's space for a visitor tour route, and we'll also set up a bar and tasting room.
Toshiyuki Kiuchi, Kiuchi Shuzo Vice President
As Kiuchi-san takes us out on the newly built rooftop terrace that was not a part of the original building, the 877-meter majesty of Mt. Tsukuba is right before your eyes, just over the Fruit Line. There may not be any distilleries elsewhere in the world blessed with such an environment.
European oak and Acacia washbacks
we use Japanese raw ingredients to make a style of whisky unique to Japan
The Yasato Distillery is different from regular distilleries in that you can't simply say a single batch uses X tons of malt. In addition to malt, they use both wheat and even rice. Kiuchi-san says that in the future they will also use soba, plus corn grown in Hokkaido. The company is utilizing the skills that they developed in making beer and sake. That's why their saccharization isn't done in a standard mash tun — instead, saccharification and filtration are in two separate tanks. The saccharification tank is made by Germany's Zeimann, and the filtration tank by England's Briggs. Both are state-of-the-art, and together they can extract about 6000L of wort.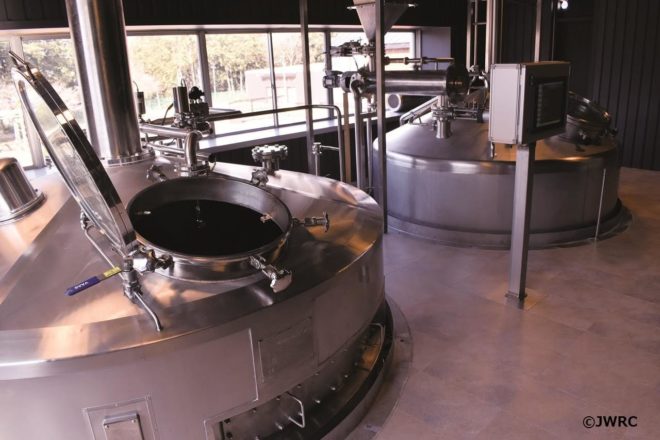 The fermentation tanks are also unique. Four are wooden and made in Italy: two a mix of European Oak and the remaining two are Acacia. "These came at the recommendation of the vendor, who said Acacia is interesting," laughs Kiuchi-san. Outside of the building, there are four more fermentation tanks, all stainless steel. The wooden tanks have a 8000L capacity and the steel tanks a 16000L capacity. But perhaps even more Kiuchi Shuzo-like, given the company's fermentation expertise, are the five brand-new yeast cultivation tanks.
"The yeast we use is cultivated in-house. We added these cultivation tanks in order to enable experimentation with various yeasts, apart from whisky yeast."
The pot stills are from Forsyths. Both are orthodox straight types: 12000L for the wash still and 8000L for the spirit still.
"Even if you try to make Scotch-like whisky in Japan, it's no match for what's made in its homeland. That was the case with beer too. So we use Japanese raw ingredients to make a style of whisky unique to Japan instead. We're attempting all sorts of different grains and yeasts. Please write that Kiuchi Shuzo is trying to make bizarre whisky at the base of Mt. Tsukuba, hah!"
It's an appropriate statement coming from Kiuchi-san, who surprised the world with Hitachino Nest Beer. What sort of surprises await us in whisky? We're looking forward to finding out.