There's a cooperage that the entire world is watching. Ariake Sangyo is located in Miyazaki prefecture's Tsuno. The reason? Mizunara casks. With orders coming in from all over the world, they can't keep up. We visited their cooperate in Tsuno.
Text/Photos: Mamoru Tsuchiya
Translation: Whiskey Richard
This article originally appeared in Japanese in Whisky Galore Vol.19 / April 2020.
Image top: Ariake Sangyo's main wood is American white oak, but they also use mizunara and Ariake's unique cherry, cedar, and chestnut.
J
apan's only independent cooperage is Ariake Sangyo, located in Tsuno, Miyazaki prefecture. Tsuno is about an hour away from Miyazaki City via the Nippou Line. When you exit the small train station, you're treated to views of the gentle ridge of Mt. Osuzu. In the square in front of the station is a monument to celebrated poet Bokusui Wakayama, a frequent visitor to the town. He often came to see his elder sister, who had married into a local family.
It's here in Tsuno that Ariake Sangyo built a factory in 1984. The company itself dates back to 1963, originally established as "Odawara Shoten" in Kyoto. They were primarily a maker of wooden boxes for isshobin (1.8L)-sized seishu (sake) bottles, but as makers began to turn to plastic, Odawara Shoten's days were numbered. It's then that the company pivoted to making casks.
Their major customer at the time was Takara Shuzo, also based in Kyoto. But because Takara Shuzo's "Jun" shochu was being made at a factory in Takanabe, Miyazaki, the company chose to relocate their factory to Miyazaki prefecture.
The company's name was changed to "Ariake Sangyo" by the grandfather of the company's current president, because he was born in Kagoshima's Akune city, located on the coast of the Ariake Sea. Their decision to locate the factory in Tsuno, rather than Takanabe (two stations away) was because Tsuno made a better offer.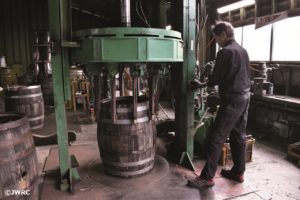 "We make about 4200 casks per year here. During the shochu boom Takara alone kept us running at full capacity, but as demand for shochu casks declined, the demand for wine casks and whisky casks has increased. Specifically, we are getting orders for Mizunara casks from all around the world, and our production can't keep up."
My guide is factory chief Hironori Nagatomo, in his 28th year with the company. The mizunara wood arrives at Tsuno from Hokkaido as staves. Ordinarily these become 450L puncheons, but the company also makes 250L hogsheads.
Mizunara leaks significantly more than American white oak, so after a cask is assembled, it's checked for leaks. The leaky staves are replaced with different ones, and the cask is checked again. The cycle might even repeat several times.
"Sometimes it takes up to three re-assemblies to finally be ready," he says. "So to make 10 casks, we may have to make as many as 40 attempts. It takes a lot of time and effort."
Ariake Sangyo is also experimenting with making casks out of cherry (Yamazakura), cedar, and chestnut. That may be just the heads, or it may also be the staves, so the entire cask. The cherry wood is sourced from Nagasaki in Kyushu, and the cedar from a variety of places: Hitasugi (Oita), Obisugi (Miyazaki), or Yakusugi (Kagoshima). The chestnut is sourced from Kumamoto. The company is particular not just about the size, but also the materials and their origins.