Akkeshi Distillery
Malt, peat, and barrel wood.
The Birth of "Akkeshi All-Star," entirely made-in-Akkeshi
In early July, I visited Hokkaido's Akkeshi for the first time in two and a half years. My goal was to see the new bottling plant, a Mizunara oak virgin forest, and the fields of Akkeshi "Ryofu" two-row barley.

The first full-sized bottle of Akkeshi's single malt will be released in October. As the world anticipates its release, let's take a look at the liquid inside.
Text/Photos: Mamoru Tsuchiya
Translation: Whiskey Richard
This article originally appeared in Japanese in Whisky Galore Vol.21 / October 2020.
Title image: The façade of the building offers a nod to Islay's distilleries.
A
kkeshi Distillery began production in October 2016, so four years ago from now. The founder is Kenten Jitsugyo's Keiichi Toita. In the late 90s, he was blown away when he encountered Ardbeg, an Islay malt. "Who knew whisky like this existed?" Toita-san, whose prior experience with whisk(e)y was limited to dabbling in Bourbon, was captivated by Islay malts. From then on, with "The Complete Guide to Single Malt Whisky" (Shogakukan) in hand, he began his journey into the world of single malts.
Kenten Jitsugyo is a small trading company importing raw ingredients for the food industry, and Toita-san is the second-generation company president. Originally, the company didn't even have the slightest inclination to make whisky. Instead, they planned to use their knowledge as a trading company to export Japanese craft whisky to the UK. But just after launching the venture, a craft whisky boom began worldwide. Of course, this meant it was no longer easy to get Japanese craft whisky, such as Chichibu. This left the company with nothing to export. It was then, around 2014, that it struck them to make whisky on their own.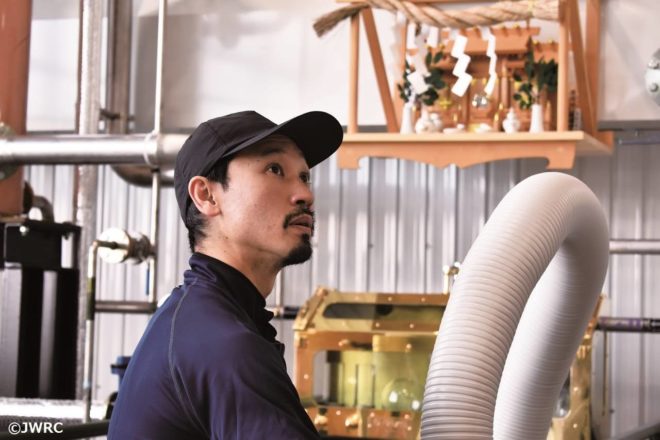 Toita-san only had experience in the trading industry, and didn't have the know-how required for making whisky. Every man to his trade, the saying goes, so the company decided put everything into the hands of respective professionals. Toita-san had no reservations. Scotland's Forsyths was called upon not just to order the necessary equipment, but also everything from the layout of the distillery, to trial distillations, to teaching the team.
Even for Forsyths, who have been building mash tuns and stills for distilleries around the world for more than a century, it was their first time being entirely involved from initial planning of the distillery to providing training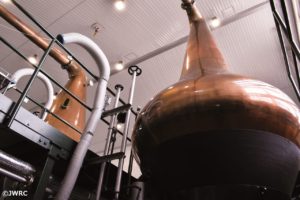 "This was an important experience for us. We also see Akkeshi as our own distillery," says company president Richard Forsyths. The distillery took the best "shortcut" possible. The choice of Hokkaido was also an easy one for Toita-san. He was connected to Hokkaido since his childhood, and knew he wanted to put the distillery there. After scouting out candidate sites in the prefecture, he decided on Akkeshi. Akkeshi, in the eastern part of Hokkaido, is surrounded by marshland protected under the Ramsar Convention. It's also located on the coast, making sea mist a common occurrence. There's the brackish Lake Akkeshi, where you can harvest oysters, just like on Islay. One of Toita-san's dreams was eating Akkeshi oysters soaked in Akkeshi's smoky whisky.
One-upping Islay with all made-in-Akkeshi, from the barley to the Mizunara casks
Akkeshi's current process begins with one ton of malt per batch. This has remain unchanged since the distillery's establishment. In addition to the Concerto malt that they've been using, they now also use Laureate. Two types of malt are used: peated and non-peated, where the ratio is about half and half. The peated malt has a phenol level of 50ppm, also unchanged from day one.
What has changed drastically since the beginning is that they are now using Hokkaido-grown two-row "Ryofu" barley. "All Made-in-Hokkaido" and "Akkeshi All-Star" were both eventual goals of Toita-san's since the beginning, but they are already becoming a reality in a mere four years. At first they used Ryofu from Furano, but since 2020 they have also used Ryofu from Akkeshi itself.
On this trip I went to see the fields, and it's clear that barley cultivation has taken root in Akkeshi. Apparently just 3.5 hectares yields 10 tons of barley, and even from the new-pot stage the difference in flavor is striking. It's as though the the land itself has become a rich extract, with the smell of Akkeshi's crop fields coming through plain as day. The DNA of the land.
Making malt from the Ryofu barley is–of course–handled by a malting company. But this means that they cannot create peated malt, as the company can't burn peat on-site. To that end, Toita-san is already working to make it possible: the company is building a malt house at the Akkeshi Distillery, where a newly added drum malting machine will allow in-house creation of peated malt. Additionally, since 2018 the company has been working towards using Akkeshi-grown Mizunara oak to make Mizunara casks for maturation. It will be some time before this finally becomes a product, but when it does, it will mark the completion of the "Akkeshi All-Star" Toita-san is talking about.
"Making a whisky like an Islay malt." That whimsical dream is how Akkeshi's whisky making began. But now, at this small-town distillery in eastern Hokkaido, they're accomplishing something above and beyond Islay, making an entirely local whisky.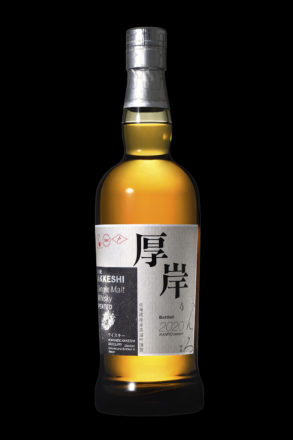 In 2020, whisky-making in eastern Hokkaido's Akkeshi has entered its fifth season. While strictly adhering to Scotland's traditional methods, the maker has added a breath of Japanese air. The vague silhouette of Akkeshi malt shows itself through prominent sweetness and a throat hit of dried fruit. With a unique 700ml bottling, Akkeshi Whisky's 24 Solar Terms Series begins here.