June 13 is World Gin Day! To celebrate, here's a roundup of some of the latest craft gins coming out of Japan. Consider this an addendum to the Japanese Craft Gin Roundup from last year!
W
ith the coronavirus finally beginning to calm down here in Japan, just in time for summer, it could soon be a good time for a crisp G&T. Let's take a look at several new gins from all across the country.
Rokumoji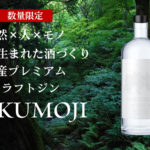 A new company called Rokumoji has created a gin of the same name, and it's being distilled over at Niigata Beer on Sado Island. Rokumoji is another one of these forest-in-a-bottle gins. Since "roku" means six in Japanese, it's probably not a coincidence they are using six botanicals: Atebi (Thujopsis dolabrata), Kuromoji, Murakami Tea, dry apple, angelica root, and juniper. Of those, the Atebi is a first for Japanese craft gin — it's similar to cypress with a slightly citrusy aroma. 43% abv, 700ml.
Garappa #01 Craft Gin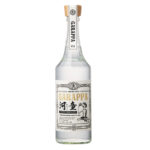 Kagoshima shochu maker Yamamoto Shuzo is now also a gin maker with their release of Garappa #01 Craft Gin. This one is keeping things simple as far as Japanese gins go: juniper, coriander, yuzu, daidai, and black pepper. 47% abv, 720ml, 3300 yen before tax.
Kagua Gin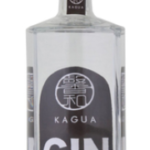 Far Yeast Brewing Company and Kitaya have teamed up to release Kagua Gin. This one is apparently distilled from Kagua Saison specifically because that beer has strong yuzu notes. Just to make sure, they are also adding yuzu as a botanical to the gin, sitting alongside juniper berry.
I have a feeling we'll be seeing more beer-distilled gins soon! 45% abv, 500ml, 4500 yen before tax.
Last Episode 0 -Modest-, Last Episode 0 -Elegant-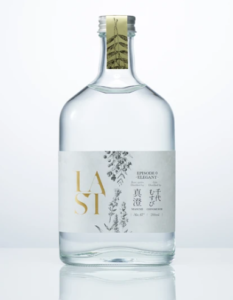 The Ethical Spirits & Co is a new project looking to make both gins and whiskies using more sustainable and ethical business practices. They setup a scheme where sake makers send them sake lees, which would normally be discarded, for free. After distilling them into gins and whisky, a portion of the sales revenue is used to purchase rice from farmers, who in turn supply the sake makers with rice to make sake. The goal here is to send rice grown on previously abandoned farmland to sake makers, restoring the vitality of Japan's rural landscape.
For the time being they have two products, both named Last Episode 0. The 43% abv Modest variation is, well, pretty modest, with juniper, ginger, coriander, lemon, angelica, and cinnamon. Elegant, weighing in at 47% abv, takes things in a more floral direction: it has juniper, hibiscus tea, pink pepper, coriander seed, lavender, cardamom, ginger, kaffir lime leaf, Sichuan pepper.
Either bottle is 2200 yen for 200ml, so it's not the cheapest stuff, but at least you'll be contributing to sustainability.
Confusingly, "Last Episode 0" is apparently just volume 1 from the project. They tell us to wait for volumes 2 and 3. In other words, "Last" won't be the last we hear from Ethical spirits.
Ginnez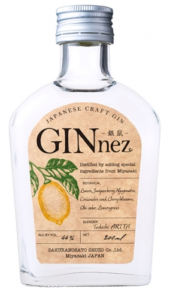 Again in a smaller 200ml bottle, "GINnez" hails from Miyazaki's Sakura no Sato Shuzo. Another shochu-based gin, here we get lemon, juniper berry, hyuganatsu, coriander seed, sakura, Miyazaki cedar, and lemongrass.  44% abv, 200ml, 900 yen before tax. Cheap!
Still Dam Gin Standard, Still Dam Gin Lisbon
Out of the newly built Kusunohana Distillery in Saga prefecture we should soon see "Still Dam Gin" in two varieties. Though we don't have a full botanical list, we do know that there are 14, herbs and citrus, and even seaweed. Lisbon apparently cranks up the lemon further. Both 45% abv.
424GIN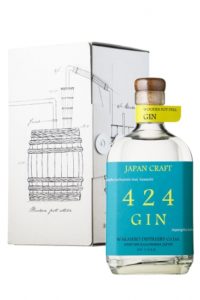 Here's a wild one from the Wakashio Distillery. Four different kinds of imo shochu form the base of 424GIN, and there's only a single botanical: juniper. It's distilled using a traditional wood cask still as well, so if it's anything like the stuff coming out of Tatsumi, it might be wonderful. 42.4% abv, 720ml, 5500 yen including tax.
Gin from Soy Sauce country
Finally, while they haven't actually released a gin yet, Nikkei brings word that a company called Alembic is a putting up a new gin distillery in Kanazawa's Ono district. Ono is home to some 40 different soy sauce makers. I have no clue if soy is a decent botanical for a gin, but at the very least the company says they are aiming to source yeast from soy sauce makers to add to their juice. Could be interesting!
Hi there! I created and run nomunication.jp. I've lived in Tokyo since 2008, and I am a certified Shochu Kikisake-shi/Shochu Sommelier (焼酎唎酒師), Cocktail Professor (カクテル検定1級), and I hold Whisky Kentei Levels 3 and JW (ウイスキー検定3級・JW級). I also sit on the Executive Committees for the Tokyo Whisky & Spirits Competition and Japanese Whisky Day. Click here for more details about me and this site. Kampai!