Plenty of people are talking about Matsui Shuzo's Kurayoshi Distillery. In fact, we've been talking about them here since last year! After winning a Double Gold at SFWSC earlier this year, Matsui Shuzo can now add another accolade: The Matsui Mizunara Cask was recently named the best single malt Japanese whisky of the year in Jim Murray's Whisky Bible 2020.
The Matsui represents Matsui Shuzo's first bonafide attempt at making actual Japanese whisky. You may remember that back in February I tried a different expression of The Matsui, the Sakura Cask, and I didn't like it much. So I figured that was going to be it for me and this series.
But it turns out I probably should have started with Mizunara Cask instead. Spoiler: it's a lot better!
As the worst-offending creator of fake Japanese whisky, Matsui Shuzo doesn't exactly have a great reputation. The fact that they received any awards at all has people calling bullshit — there obviously must have been some backroom deals, someone was paid off, the whisky wasn't actually distilled in Japan, and so forth.
Even if you don't necessary believe there was any foul play for the awards, perhaps you simply don't want to support the company. As one Facebook poster put it:
I'd never try it. Just by principle. Even if the liquid is good. I'll never give my money to that shady company
A respectable viewpoint, for sure.
But I guess I have lower moral standards than everyone else. Maybe I am simply curious to find out if The Matsui Mizunara Cask really warrants these awards. Maybe I feel like I shouldn't be writing about Matsui or this bottle without having actually tried it myself.
So, on the off chance that The Matsui Mizunara Cask is as good as some claim, let's give it a try. Luckily, at least here in Japan, it's also available in a 200ml size, so it's not a huge financial commitment either.
Review: The Matsui Mizunara Cask
Nose: Off the cuff it's intense — nearly a rubbery mezcal. But give it a few seconds and things take a much more pleasant turn, into medium vanilla with a touch of mizunara.
Palate: Sweet and woody, with a slight element of straw and malt. Somewhat rough around the edges. No fruits to be found anywhere, and not really anything spicy going on.
Finish: Butterscotch-flavored fudge, honey almonds, peanut brittle. Like that last sip of that Godfather you downed before the ice melts. A nice dessert whisky, for sure.
Score: B+
Price paid: 1170 yen / 200ml / 48% abv
The nose narcs the lack of aging here, but I found the sweetness of the finish to be pretty enjoyable. The body left me wanting more roundness, as it's still quite sharp. There's potential for much more here with some proper aging. Drastically more enjoyable than the The Matsui Sakura Cask, in my opinion.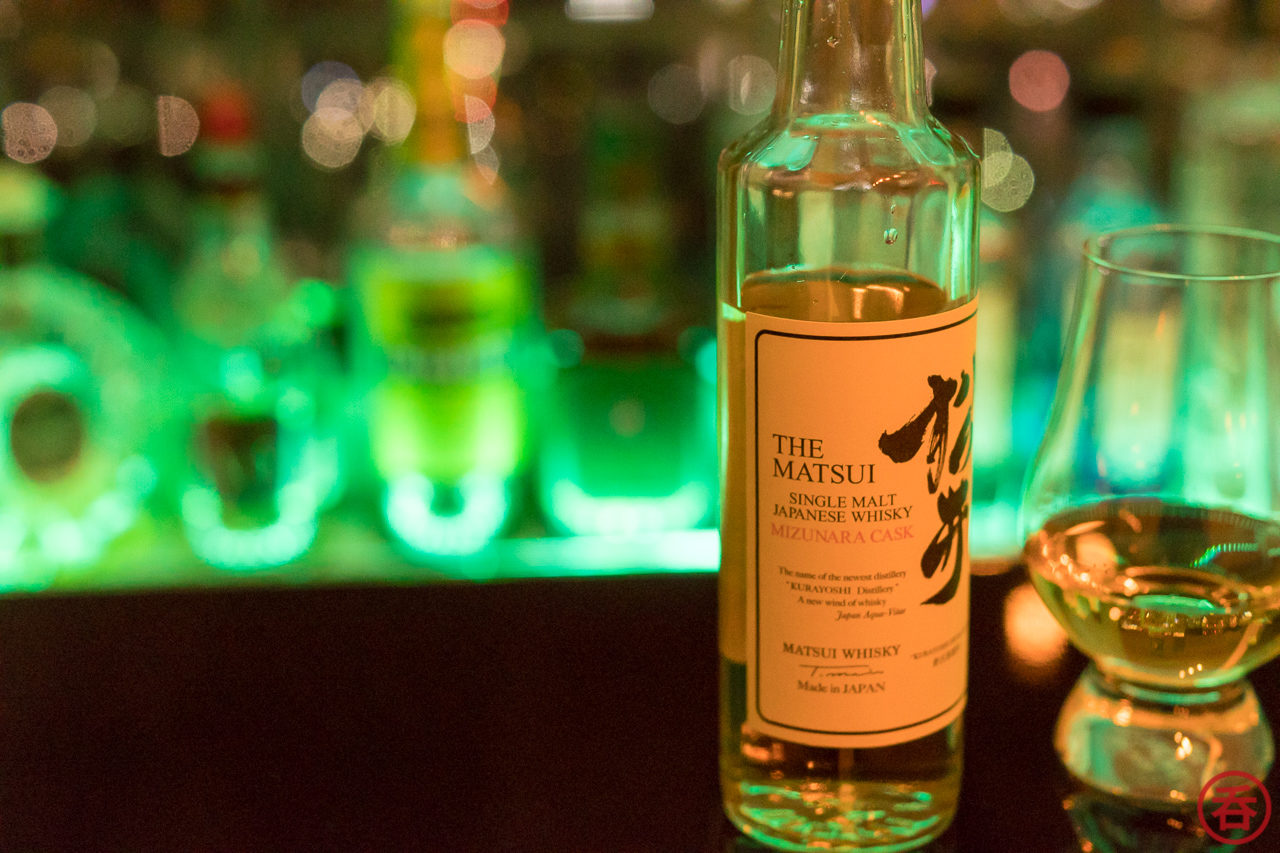 Hi there! I created and run nomunication.jp. I've lived in Tokyo since 2008, and I am a certified Shochu Kikisake-shi/Shochu Sommelier (焼酎唎酒師), Cocktail Professor (カクテル検定1級), and I hold Whisky Kentei Levels 3 and JW (ウイスキー検定3級・JW級). I also sit on the Executive Committees for the Tokyo Whisky & Spirits Competition and Japanese Whisky Day. Click here for more details about me and this site. Kampai!