The Kampai Samurai interview series brings together experts in Japanese whisky, sake, shochu, beer, gin, and other categories to explore the breadth and depth of Japan's drinking culture. Click here to see other entries in the series.
This edition of Kampai Samurai is a slight departure from our normal discussion about Japan-born drinks. Instead, we'll be taking the opposite perspective — what it's like for non-Japanese brands here in Japan. But not just any brand! Specifically, we will hear from the Japan-based ambassador of one of the world's leading whisky brands. He is Jarom Reid, Johnnie Walker Brand Ambassador Japan.
You can find Jarom on Facebook as JWBAJapan, and on Instagram as @reidjarom.
---
Whiskey Richard: Can you first introduce yourself, and tell us how you ended up in Japan working as a brand ambassador?
Jarom Reid: I was raised in Denver, Colorado, in the US. The first time I came to Japan was as a Mormon missionary when I was 19. This is a useful funny ice-breaker as a spirits brand ambassador, as Mormons famously don't drink alcohol at all. I loved my experience, and have been connected to Japan ever since! For those wondering, I'm not a practicing Mormon anymore 😉
When I was in my mid-20's I was working as a flight attendant manager for a large American airline. We participated in an exhibition in New York called Japan Week. While there, I decided to have a look at some of the other exhibits. One was a well-known sake maker, and I met their brand ambassador. The way he explained what I was drinking really expanded my tasting experience. I decided I wanted to do the kind of work he did. 4 months later I had left my job and in Japan, pursuing work in a sake brewery. There, I learned alcohol production, bottling, sales, marketing, tastings, and seminars. These are skills that have been valuable as a brand ambassador for a world-famous spirit like Johnnie Walker.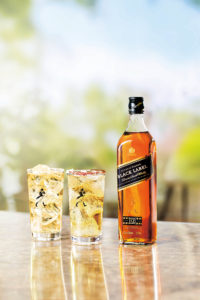 WR: Something I've always wondered — what happens on a regular day in the life of a brand ambassador?
JR: For me as a brand ambassador, my life revolves around interactions with consumers. When I'm not out interacting and mingling with people at events and seminars, I'm preparing for them, meeting industry people, and working with the marketing team to hone our brand message in a way that's fun and easy to understand. Of all the things that I do, my favorite is traveling the country, conducting Johnnie Walker tasting seminars for consumers around the country.
WR: Are there any challenges to the job that are specific to Japan? Any perks?
JR: In the whisky industry, one challenge is Japan's culture to drink beer, or whatever everyone else is drinking at a dinner with colleagues or friends. My goal is to inspire people to care about what they're drinking, and choose a drink that they are knowledgeable and passionate about. A perk, on the other hand, is Japan's love of whisky highballs! Johnnie Walker Black Label is delicious as a highball, so it is easy to introduce to Japanese people for that reason.
WR: Johnnie Walker is imported to Japan by two different companies. Just to be clear, which brands do you represent? 
JR: That's correct! I am responsible for Red Label, Black Label, Double Black Label, Green Label, Gold Label, 18 Year (Formerly Platinum Label), and a variety of limited-releases each year. Although we are different companies, we're friends! We work together to build the brand recognition and love in Japan.
WR: Given the predicament that a lot of Japanese whisky makers are finding themselves in these days, what areas are viewed as opportunities for growth here in the Japanese domestic market?
JR: You're exactly right. In the last decade, Japanese consumers have fallen in love with Japanese whiskies. As they face a shortage of stock of premium whisky over the next few years, we do indeed have an opportunity. First of all, Japanese whisky and the distilling techniques thereof were inspired by Scotch whisky. Although the flavor profiles are not exactly the same, the historical connection is a great reason to introduce Scotch whisky to Japanese consumers.
WR: I've noticed there have been a lot of new ideas for Johnnie Walker highballs, such as the ones offered recently in Shibuya with chocolate cookie, peanut creme, and raspberry salted rims. So definitely way outside of the standard Japanese highball palate. How are these new kinds of flavor combinations discovered?
JR: These are called Johnnie Highball (Craft Style). I want the serve to be a representation of the place that it is served at. In Niigata I made a recipe using sake lees. In Kansai, a recipe using bonito flakes (katsuo bushi). As you mentioned, Shibuya Style featured sweets, reflecting the town's youth and vibrancy. I will usually think about what's famous in a particular region or neighborhood. That's something I love about Japan. Every single neighborhood in Japan has some food or drink it's famous for and has pride in! After assembling some of the famous ingredients that should complement Johnnie Walker's characteristic flavors of smoke, wood, and fruit, The final decision of the recipe is made after consulting with other members of the team.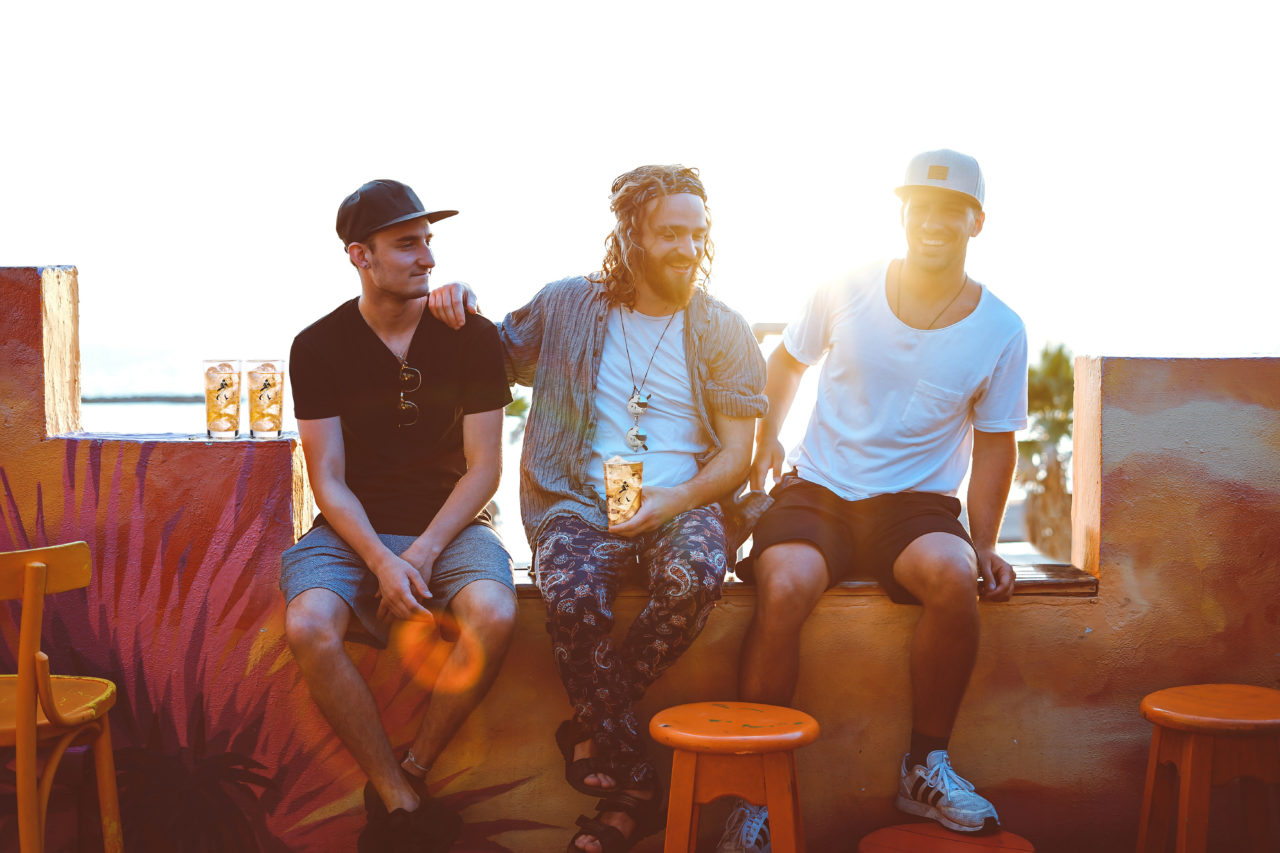 WR: Can you tell us about Johnnie Walker's history in Japan? Johnnie Walker Black Label is now widely available in Japan, but this was not always the case, correct? 
JR: I love this question because whether I am conducting a seminar or working at an industry exhibition, people often approach me with their memories of "Johnnie Kuro." It used to be available only at a high cost in duty-free stores. So it's a pleasant surprise for many people to find Johnnie Walker Black Label readily available at their local supermarkets across Japan nowadays. On one hand, the brand has name recognition and luxury reputation. On the other hand, because it was viewed as a top-end, expensive whisky, some consumers still maintain the image that it would be a waste to mix it with soda in a highball. This is unfortunate, as the highball is my favorite way to enjoy Johnnie Walker Black Label. It's my job to serve a Johnnie Highball to as many consumers as possible, all around Japan.
WR: When traveling around Japan speaking to consumers, are there any current challenges, or misconceptions that people have about the brand? 
JR: Mostly what I already mentioned about the history of Johnnie Walker. We are in the middle of a "highball boom" and Johnnie Walker may have an image that is a bit too "high-brow" for a highball, due to residual impressions from years ago when Black Label was much more expensive. What's beautiful about Black Label is that it is blended with a perfect balance of single malt and grain whiskies from all over Scotland. When mixed with soda, it spreads out the hidden flavors enough to easily distinguish them. That makes is a perfect highball whisky, once you give it a shot!
WR: What advice would you give to someone who wants to represent a brand in Japan as an ambassador? 
JR: If you want to be a brand ambassador, I have two bits of advice. First, know your product, and know your industry. That's the obvious part. Secondly, create memories for consumers wherever your brand is being enjoyed. If you're funny, tell jokes. If you're a great speaker, leave an impact. If you're really good-looking, take a picture I guess! If you're representing the brand, be the conduit for consumers to remember it.

WR: Do you have a personal favorite whisky and/or a specific way to drink it? Please share the recipe if you can!
JR: Like most Japanese people, I'm a highball lover, but at home, I like to mess around with new Johnnie Highball (Craft Style) recipes. This usually means that I will coat the rim of my highball glass  with some kind of fruit or spice or sweets. Then I'll make a highball in the glass with ice, and then Black Label and soda at a 1:3 ratio. All that's left to do is to see how the flavor on the rim pulls out some of the hidden flavors in Black Label. I also enjoy some single malt scotches, such as Caol Ila and Teaninich, which I will either have as a highball, or straight with just a drop or 2 added into it.
Hi there! I created and run nomunication.jp. I've lived in Tokyo since 2008, and I am a certified Shochu Kikisake-shi/Shochu Sommelier (焼酎唎酒師), Cocktail Professor (カクテル検定1級), and I hold Whisky Kentei Levels 3 and JW (ウイスキー検定3級・JW級). I also sit on the Executive Committees for the Tokyo Whisky & Spirits Competition and Japanese Whisky Day. Click here for more details about me and this site. Kampai!