In our recent report we learned much more about the story behind Kaiyō Whisky. This puts us in a better position to get into the whiskies themselves! This is the second bottle of four we'll be reviewing.
Kaiyō Japanese Mizunara Oak Cask Strength Whisky weighs in at 53% abv, which as far as cask strength whiskies go, is fairly low.
Again we have no age statement, so if you're a Japanese whisky age-statement die-hard, you'll be disappointed. In case it's not obvious already, I am not an age-statement die-hard — I would likely just be drinking brandy or bourbon these days, were that the case.
So let's give this whisky a try!
Review: Kaiyō Japanese Mizunara Oak Cask Strength Whisky
Nose: Prune, apricot, dried orange, spiced oak
Palate: Slightly rubbery with blackcurrant, heavy malt, and salted chocolate-vanilla spice. That orange disappeared…
Finish: Starts with a mild heat, with a long ending of chocolate and mizunara oak
Score: B+
Price paid: $99, 750ml, 53% abv
While still fairly young, this is definitely a whisky for mizunara fans looking for more of a kick over the original Kaiyō Whisky. The higher heat highlights the spicier points, but dig deeper and you'll find a basket of salted fruits and chocolates.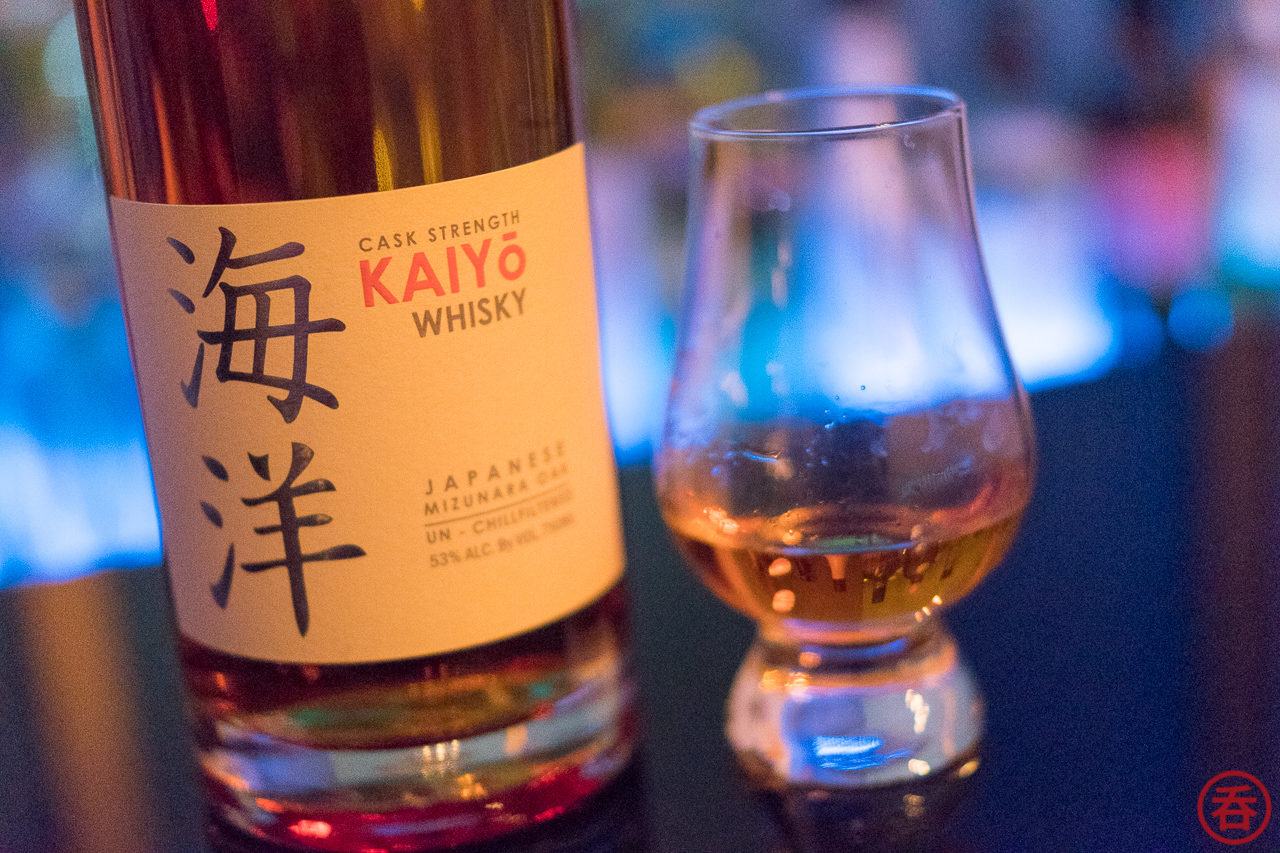 Hi there! I created and run nomunication.jp. I've lived in Tokyo since 2008, and I am a certified Shochu Kikisake-shi/Shochu Sommelier (焼酎唎酒師), Cocktail Professor (カクテル検定1級), and I hold Whisky Kentei Levels 3 and JW (ウイスキー検定3級・JW級). I also sit on the Executive Committees for the Tokyo Whisky & Spirits Competition and Japanese Whisky Day. Click here for more details about me and this site. Kampai!