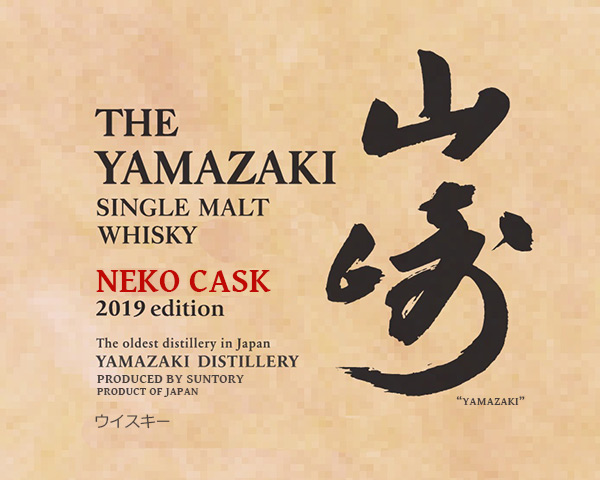 Suntory's Yamazaki Distillery, the first whisky distillery in Japan, celebrates its 100th anniversary in 2023. As a result, we expect several limited edition releases to come out of the distillery to commemorate the occasion. This is similar to how Nikka announced their Limited Edition 2019 bottles to celebrate the 50th anniversary of Miyagikyo.
We now have information coming in about what may be the first of many bottles celebrating the distillery's rich history.
Taking a cue from Scotland's famed distillery cats, the Yamazaki Distillery has been home to many different cats over the decades. Though not yet announced to the public, it seems Suntory has finally decided to pay homage to the cats that have served them, with The Yamazaki Neko Cask 2019 edition. Neko is, of course, Japanese for cat.
Describing the concept behind what is sure to be one of 2019's must-have expressions from the distillery, Fukuyo-san explains: "Being close to a major urban area like Osaka, the Yamazaki Distillery is often a target for nearby mice looking for an easy meal. While we today partner with pest control experts specializing in industrial applications, this hasn't always been the case. In the past, we often relied the services of local cats for assistance. I personally selected these casks as they were located near where many of the cats used to sleep in one of Yamazaki's rackhouses."
The Yamazaki Neko Cask 2019 edition will be released on this year's International Cat Day: August 8, 2019. 250,000 yen before tax, 54% abv, 700ml.
…or not. Happy April Fool's!!
Hi there! I created and run nomunication.jp. I've lived in Tokyo since 2008, and I am a certified Shochu Kikisake-shi/Shochu Sommelier (焼酎唎酒師), Cocktail Professor (カクテル検定1級), and I hold Whisky Kentei Levels 3 and JW (ウイスキー検定3級・JW級). I also sit on the Executive Committees for the Tokyo Whisky & Spirits Competition and Japanese Whisky Day. Click here for more details about me and this site. Kampai!