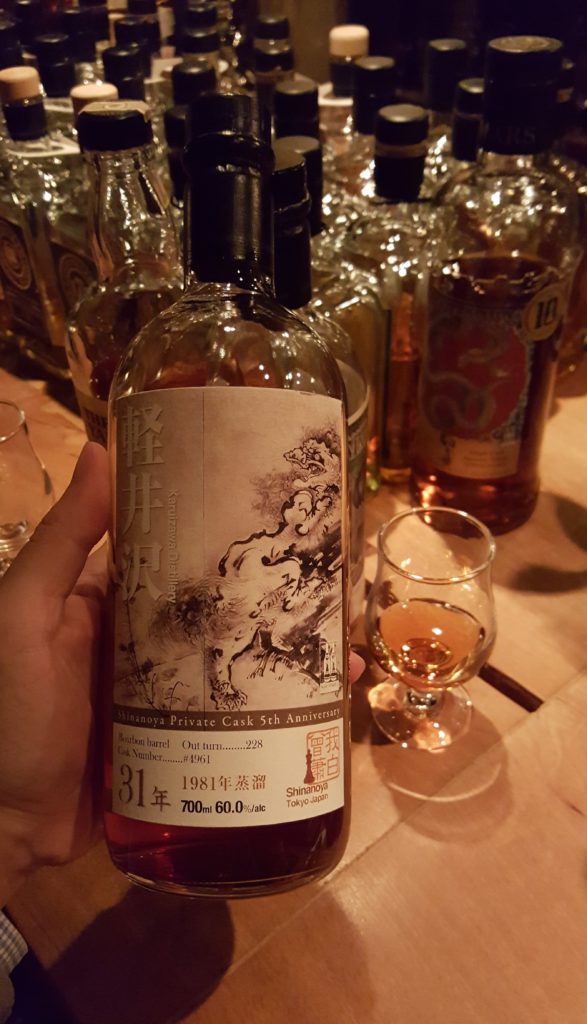 This is a commemorative bottling for the 5th anniversary of Shinanoya, a famous food and liquor shop/distributor in Japan. This is the sister label to Karuizawa 16 year cask 5006. The labels depict screen door painting "Lion and Tiger" by 18th century Japanese painter Soga Shōhaku. The original is supposedly held at the Chiba City Museum of Art. This piece is supposedly meant to be humorous, showing the lion scared of a butterfly. Cask 5006 shows a tiger scared of the wind. Shinanoya and Karuizawa seem to release bottles in pairs nowadays (i.e. Japanese artworks, geishas). Gotta give it to Shinanoya, very good attention to detail that requires some cultural immersion to understand.
Nose: sherry and fruity notes, more towards the meatier red fruits (i.e. not berries, but also not melons), not bad.
Palate: spice, light oak, and tobacco notes. Not very sweet, very little vanilla if any, and no honey syrup notes. Hard to describe, but strange.
Finish: short, spicy numbness hits, minty feeling without the taste, feels like a bourbon on the end, but with time a hint of raw tofu pops up.
Dry glass: a syrup and very light dull wood smell.
A pretty interesting bottle but a little weird. I've noticed Karuizawas are generally spice bombs that hit hard and if my memory serves me correctly, this was my first bourbon barreled Zawa, which I will later discover are not very good. It's unique though. Tongue is a little numb too… didn't know it was 60% abv when I first tried it. Had this at Mash Tun, Tokyo, Japan.
Grade: B-
Could only find one review:
Whiskynotes, Ruben Luyten, 86/100
Instagram: starvinggigolo