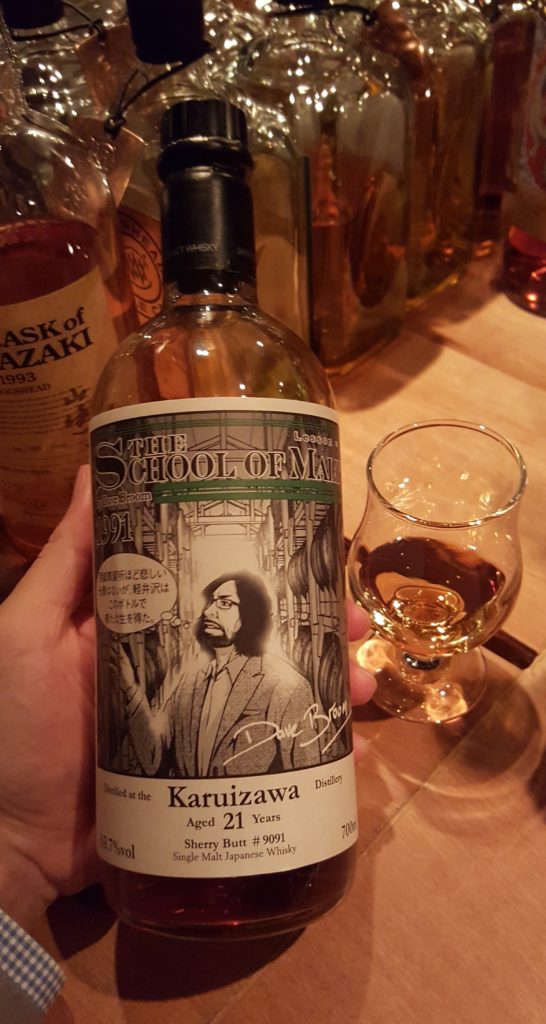 From the, in my opinion, strange looking The School of Malt, Dave Broom labels. Dave Broom is the author of "Whisky: A User's Guide" and also writes/reviews for a variety of outlets, such as Whisky Advocate [he also wrote The Way of Whisky: A Journey Around Japanese Whisky, as we interviewed him last year–Ed.] To be honest, I initially thought it was a label of Jesus, the one from western civilization.
Nose: honey, fruity.
Palate: some wood, some smooth smoke, full body, a variety of strong flavors, none that are dominant. Definitely didn't feel like it's sherry related. Admittedly not the most descriptive of reviews.
Finish: short, initial smoke then smoothes out to a spicey feel.
This was quite good, especially for a midrange dram and admittedly exceeded my lower than low expectations for a Jesus label. A variety of flavors focused on lightly smoked wood chips, full bodied. Nose was good too. Karuizawa is truly something. Had this at Mash Tun, Tokyo, Japan.
Grade: B+
Whiskynotes, Ruben Luyten, 87/100
Thejapanesewhiskyreview, Brian, 78/100
Instagram: starvinggigolo