Volume 5 of the Le Papillon Single Cask Japanese Whisky series from Mars Whisky has now been released: P.maacki, common name alpine black swallowtail.
Looking at the whisky, we can see it's slightly over 4 years old, spending its days in Shinshu in American White Oak, cask #1870. Bottled at 60% abv in August of this year. Per the label, there are only 560 bottles of this one out there.
Like The Lucky Cat May, Le Papillon P.maackii appears to be another stealth release, given that Hombo Shuzo still has no information about this one on their homepage or on their webstore. Rather, this one went directly to retail and bars. So if you got lucky, chances are you've already picked up a bottle, or your local bar has. For the rest of us who don't or can't visit liquor shops everyday, it's only now appearing on auction sites like Mercari. In fact, thanks to this guy for the pic — in return I've linked your auction!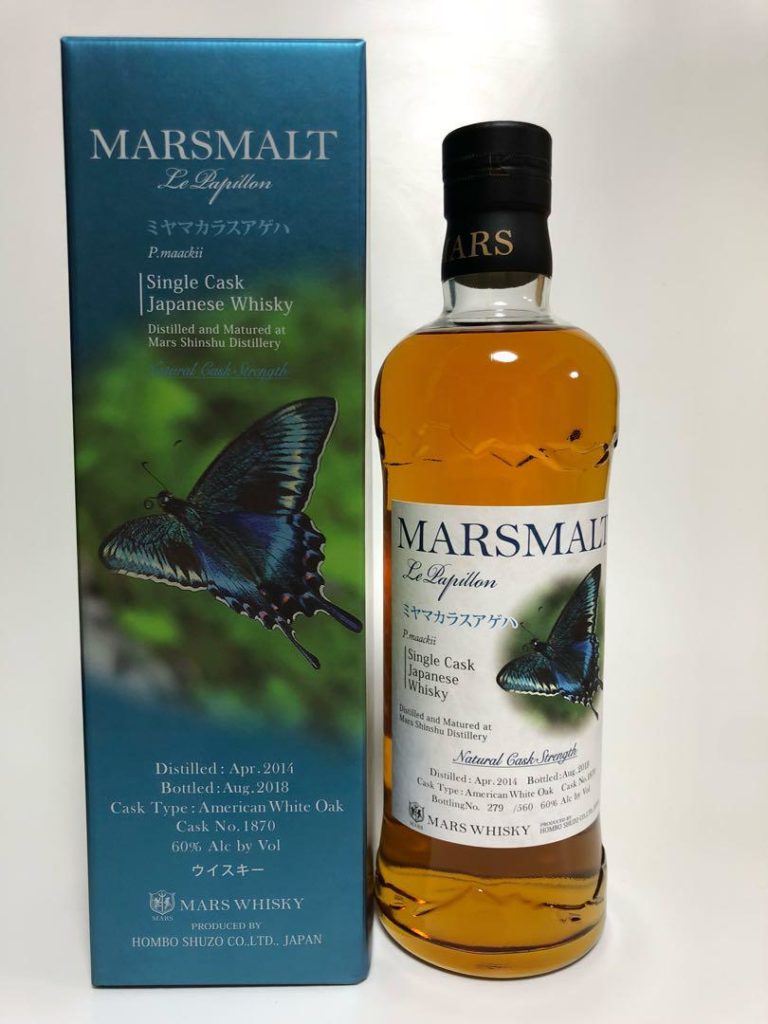 Hi there! I created and run nomunication.jp. I've lived in Tokyo since 2008, and I am a certified Shochu Kikisake-shi/Shochu Sommelier (焼酎唎酒師), Cocktail Professor (カクテル検定1級), and I hold Whisky Kentei Levels 3 and JW (ウイスキー検定3級・JW級). I also sit on the Executive Committees for the Tokyo Whisky & Spirits Competition and Japanese Whisky Day. Click here for more details about me and this site. Kampai!