As Japanese whisky makers enjoy their time in the worldwide spotlight, more and more people are waking up to the reality that Japanese consumers may also know a thing or two about the ways to drink Japanese whisky. Of course, there's the izakaya staple whisky highball, but if you dig a bit deeper, you'll discover there are plenty more interesting ways that Japan drinks their country's whisky.
A common theme you'll find about all these choices: one way or another, you add water to the whisky! Japan generally has no hang-ups about putting water in whisky. If you want to drink Japanese whisky like a local, I suggest you give these a try.
In this 10-part series, we dive into each different serving style.
This week we're drinking the Samboa Highball, a comparatively obscure variation of the standard whisky highball.
From Kobe Highball to Samboa Highball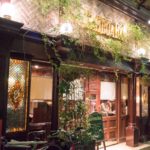 Although whisky highballs have had ups and downs, the lesser-known Samboa Highball, which uses no ice, has retained its niche in Japanese bar scene since its introduction in the early 20th century. At the time, it was known as the "Kobe Highball." The history of the bar that invented it, Kobe Samboa, goes back to 1918. The aptly named bar "Kobe Highball" took up the reins in 1954, and kept the Kobe Highball alive and kicking over the decades.
Though that bar closed down in 1990, the drink itself lives on as the "Samboa Highball." This is largely due to the popularity of the Samboa Bar empire — there are now 14 locations across Kansai and Tokyo. You can, of course, order an authentic Samboa Highball at either the Samboa Bar Ginza or the Samboa Bar Asakusa.
Samboa Highball Today
When I talk about serving a whisky highball with no ice, those familiar with Tokyo's bar scene may point out that Ginza's Rock Fish is well-known for serving exactly that. And absolutely, Rock Fish is more famous than Samboa Bar, especially with the tourist crowd. But prior to starting Rock Fish, Maguchi-san spent 10 years behind the wood at Osaka's Samboa Bar. So it's definitely not a coincidence. On Rock Fish's menu, however, this drink is simply named "Highball."
Many people consider the fact that the Kansai-style highball has no ice to be its advantage. No ice means that there's nothing to change the whisky/water ratio as you continue to work through the drink. You get the same consistent blend of whisky and soda through-and-through. If the ice in a regular highball puts you off, definitely try this! It's not room temperature, but not too cold either.
A proper Samboa Highball calls for Wilkinson "TANSAN" soda as it's from Kobe as well. The old Kobe Highball used mellow Suntory Whisky White, so that's what I'm doing too. Not that today's Suntory White is anything like the Suntory White of yesteryear! These days Rock Fish and the Samboa Bars use Suntory Kakubin for the drink, so it works here too.
Hi there! I created and run nomunication.jp. I've lived in Tokyo since 2008, and I am a certified Shochu Kikisake-shi/Shochu Sommelier (焼酎唎酒師), Cocktail Professor (カクテル検定1級), and I hold Whisky Kentei Levels 3 and JW (ウイスキー検定3級・JW級). I also sit on the Executive Committees for the Tokyo Whisky & Spirits Competition and Japanese Whisky Day. Click here for more details about me and this site. Kampai!