Suntory is bringing some RTDs out on April 3rd that should appeal to the barely more discerning combini drinker. The one who walks into a combini, gets all huffy, and turns to their friend and says: I want a drink, but chuhai is too cheap and I don't feel like beer. Enter "The Cocktail Bar Professional Gin & Tonic" and "The Cocktail Bar Professional Moscow Mule."
Looking at the Gin & Tonic first, the base spirit is a blend of a twice-distilled no-name gin and Suntory's Roku craft gin. No, they didn't give the ratio. That's mixed with a lime-infused spirit — they do the same thing for their Kokushibori series — and topped off with tonic. Look closely and you'll find that it doesn't actually contain any lime juice? I guess we'll just have to wait and see just how limey the infusion turns out.
The Moscow Mule is a tad more simplistic, as it uses a twice white birch-filtered vodka made from Japanese rice with a spicy ginger kick. This one does contain 1% lime juice, so perhaps it could fare a bit better when you're getting smashed at 2AM in front of the 7-11.
Pre-mixed cocktails definitely aren't anything new. And they're usually "meh" at best. But when Suntory does them? Who knows! It's not their first attempt, with this same brand, even. "The Cocktail Bar" originally launched in 1993. This time around Suntory has hopefully learned more about distilling their own liquor, so it's probably worth a try at least. My G&Ts or Moscow Mules tend to be around 14% abv though… hopefully these don't turn out to be too sweet. We'll see.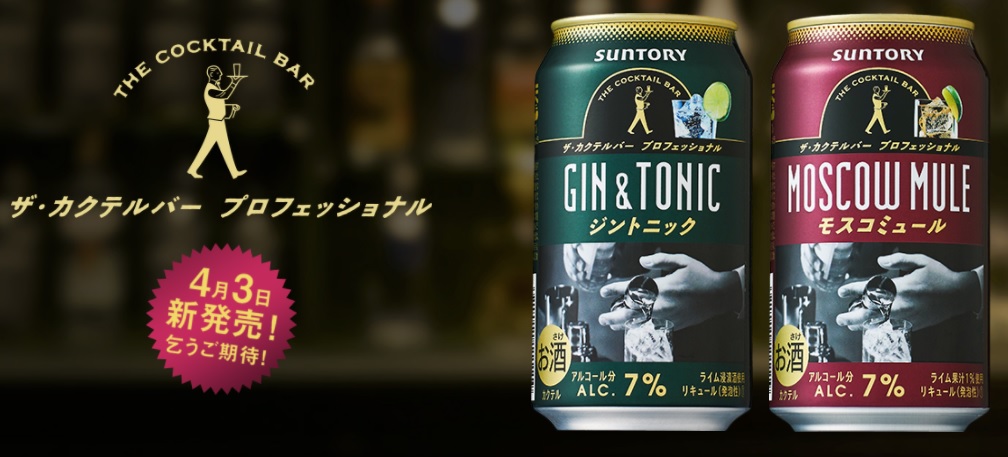 Hi there! I created and run nomunication.jp. I've lived in Tokyo since 2008, and I am a certified Shochu Kikisake-shi/Shochu Sommelier (焼酎唎酒師), Cocktail Professor (カクテル検定1級), and I hold Whisky Kentei Levels 3 and JW (ウイスキー検定3級・JW級). I also sit on the Executive Committees for the Tokyo Whisky & Spirits Competition and Japanese Whisky Day. Click here for more details about me and this site. Kampai!