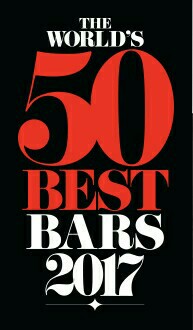 As we await tonight's announcement of the 2017 World's Best Bars (livestream on FB from 8:30PM LDN), let's look at the bars ranked 51-100 for 2017. There are 4 Japanese bars in the rankings:
Last year there was only one Tokyo bar in the global top 50: High Five at #23. It's kept the same spot in the Asia rankings this year, so should we expect it in the global top 50 again this year? Will it be joined by other Tokyo bars? We'll find out tonight!
Just a bonus: here's an interview with Nico de Soto, who will complete visiting all 50 bars on the 2016 list soon.
Hi there! I created and run nomunication.jp. I've lived in Tokyo since 2008, and I am a certified Shochu Kikisake-shi/Shochu Sommelier (焼酎唎酒師), Cocktail Professor (カクテル検定1級), and I hold Whisky Kentei Levels 3 and JW (ウイスキー検定3級・JW級). I also sit on the Executive Committees for the Tokyo Whisky & Spirits Competition and Japanese Whisky Day. Click here for more details about me and this site. Kampai!