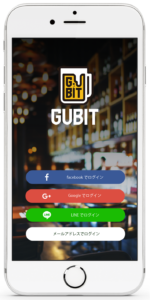 A new app is launching soon called gubit, promising you a free first drink everyday for a monthly fee of 980 yen. Looks like the Tokyo/Japan version of Hooch.
Using the app is simple: choose a place from the listings, go there, and get your first drink free. For users, it could be a good way to discover new places -- which is useful in Tokyo because there are so many! The appeal for bar/restaurant owners is simply getting more customers in the door, hoping that they stay to order more drinks and food after that first drink. And if Hooch's success is any indicator, they will.
Of course, here in Tokyo, you'll still be charged the otoshi or seating charge where applicable. So the "free" drink might not be completely free.
They're also running a pre-launch campaign where the first 3 months drop to 100 yen/month.
I'm Whiskey Richard, and I am the founder of nomunication.jp. I've lived in Tokyo for over a decade, and I am a certified Shochu Kikisake-shi/Shochu Sommelier (焼酎唎酒師), Cocktail Professor (カクテル検定1級), and I hold Whisky Kentei Level 3 (ウイスキー検定3級). Click here for more details about me and this site. Kampai!