Tochigi prefecture's capital, Utsunomiya, is an oasis of drinks with a classical cocktail bar culture rivaling nearly anywhere in Tokyo. After five nights on the ground–visiting 22 bars–tonight nomunication.jp is ready to take you on a whirlwind tour of one of Japan's best yet oft-overlooked cocktail scenes.
Utsunomiya typically whizzes by for tourists headed to nearby Nikko. But if you're into cocktails or spirits, you owe it to yourself to spend time in the city. Gyoza may be Utsunomiya's claim to fame for many. For drinks fans in the know, however, the city has always been about great bars.
What makes Utsunomiya special?
Tokyo has plenty of great bars. Why go to Utsunomiya?
While going to several different places on a night out in Tokyo is common, bar hopping between cocktail bars isn't. One reason is the cost: with many places requiring cover charges of 1000-2000 yen, then with drinks priced between 1000 and 2000 yen, going to various bars hits the wallet hard. Generally, Tokyoites will go to a single cocktail bar on a night out, if they go to any cocktail bars at all.
In Utsunomiya, however, cover charges tend to be 500 yen or less, and most cocktails are around 700-1000 yen. It may not sound like much, but the savings add up if you want to visit a lot of places. This and the tight-knit nature of Utsunomiya's bar scene has created a bar-hopping culture where having just a drink or two, then moving elsewhere, isn't just accepted. It's encouraged! Bars in Tokyo often have regulars keeping the same seats warm night after night. In Utsunomiya, you're already a regular everywhere.
Then there's geography. Ginza and Shinjuku, for example, aren't exactly close. But most of the bars of the Utsunomiya Cocktail Club are clustered in an area that's less than a kilometer end-to-end. If you've found one bar, you've essentially found them all. There's no waiting for taxis or public transport. There's only one traffic light. Some open at dusk; others are open until dawn. Bring your liver.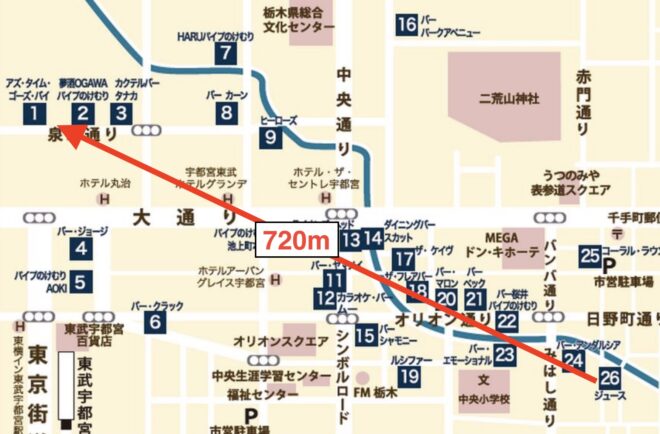 The city was spurred into cocktailing largely through the efforts of Toru Otsuka, who launched Paipu no Kemuri in 1974. In 1977 he took the national title, and in 1979 he won a silver medal at the global competition. Otsuka-san pushed his staff to hone their own techniques. At the time, that was Takei-san, Ogawa-san, and Yamanoi-san. These three went on to win national titles in their own right, eventually opening their own bars.
This isn't exactly ancient history, either. As of this writing, Ogawa-san and Yamanoi-san are still behind the wood. They have also trained the next generation of bartenders. Speak to the bartender at virtually any Utsunomiya Cocktail Club bar, and they are likely somehow connected to that original Paipu no Kemuri group.
From 1987 to 1990, the city's bartenders took home the top prize at Japan's national cocktail competition for an unprecedented four consecutive years. Those four went on to win silver medals and 1st or 2nd place in technicals at global competitions. The former head of the Utsunomiya Cocktail Club, Sasaki-san, has said it was harder to win the Tochigi regional final than the national title in those days.
Once a bartender wins a national title, the understanding is that they won't enter the competition the following year. This was to encourage the younger generations to improve their skills so they themselves could win.
The Utsunomiya Cocktail Club was launched in 1999 as a joint effort of Utsunomiya's bars. The goal is to call the attention of general consumers to that cocktail culture.
Getting there
Utsunomiya isn't hard to get to from Tokyo. The Tohoku Shinkansen from JR Tokyo Station takes only an hour. You can also take the Tobu line from Tobu Asakusa for a more leisurely ride.
Rather than JR Utsunomiya, most of the member bars of the Utsunomiya Cocktail Club are clustered in the nightlife area around Tobu Utsunomiya. So that's where my hotel is too.
After a quick shower and bite to eat–you don't want nights like this on an empty stomach–it's time to venture out. Let's get some drinks in Utsunomiya.
---
Hi there! I created and run nomunication.jp. I've lived in Tokyo since 2008, and I am a certified Shochu Kikisake-shi/Shochu Sommelier (焼酎唎酒師), Cocktail Professor (カクテル検定1級), and I hold Whisky Kentei Levels 3 and JW (ウイスキー検定3級・JW級). I also sit on the Executive Committees for the Tokyo Whisky & Spirits Competition and Japanese Whisky Day. Click here for more details about me and this site. Kampai!