Nagano Prefecture's village of Nozawa Onsen originally became popular for its enclave of onsen. The first record of it being an onsen village dates back to 1272 in the Kamakura Period, and by the beginning of the Edo Period, there were no less than 24 different inns.
Fast forward to 1912 and a local was the first one to ski. About a decade later, the Nozawa Onsen Ski Club was launched, and increased accessibility by rail led the village to experience a rapid period of growth. In 1971, the village established a sister village relationship with St.Anton in Austria, complete with ski instructor exchange programs.
That's all to say Nozawa Onsen has a long history of welcoming guests from both inside and outside of Japan, plus a history of enjoying pristine water, be it via onsen, snow, or fresh veggies. In more recent years, Nozawa Onsen has attracted a lot of interest from outside Japan for outdoor holidays, making it easy to draw parallels between Nozawa Onsen and other snow/green season resort areas like Niseko and Hakuba. Foreign-funded real estate investment and development, especially in hospitality, has followed. In December 2022, the village welcomed an entirely new kind of facility: the Nozawa Onsen Distillery.
It's one of those hospitality companies behind the Nozawa Onsen Distillery. Stay Nozawa has for several years run a series of lodges, hotels, cafes, restaurants, and bars in the village, so a gin and whisky distillery seems like a suitable next step. The distillery is being launched by a founding team centering on David Ellsworth, Philip Richard, Bradley de Martino Rosaroll (who we interviewed about the distillery around a year ago), and Isamu Yoneda as Head Distiller. Fans of Kiuchi Shuzo might recognize that final name, as he was formerly at their Yasato Distillery.
Nozawa Onsen Distillery is housed in a former canning factory just up the hill from Nozawa Onsen's landmark Oyu hot spring. In fact, the distillery's bar takes full advantage of this, as it is mobile via a small indoor rail left over from the factory.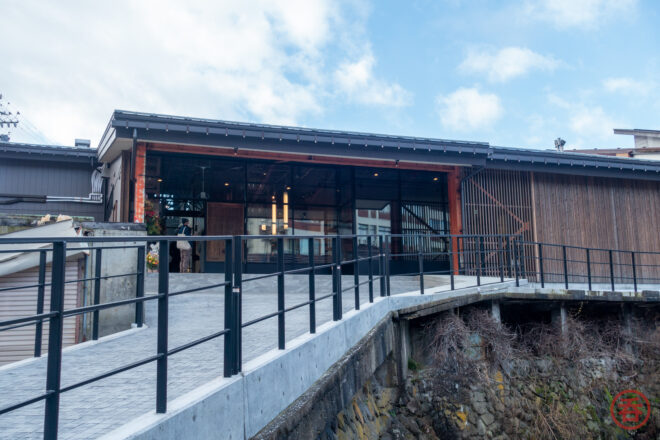 After the Schutte Hammermill hammer mill and Micropure mash filter from the US, all distillation equipment was supplied by Carl in Germany. The mash tun is 2200L and made of stainless steel, but here's where things get interesting: it's not a lauter tun, meaning it has no capacity to extract wort from the mash inside.
Instead, in a first for any Japanese whisky distillery, the Nozawa Onsen Distillery is using a mash filter. But before we get into that, let's have a quick review of a standard mash tun setup at a Japanese craft whisky distillery.
The purpose of a mash tun is to extract fermentable sugars from grist by allowing its naturally occurring enzymes to break down starch. From a process standpoint, it's fairly straightforward: add the crushed grains and hot water in the tun, stir it, then drain its water a couple times while adding more water back. Usually twice, dubbed a "first charge" and "second charge." Your husks — you did mill your malt into flour, grits, and husks, right? — will naturally fall to the bottom of the mash tun, acting as something of a filter to prevent too much of the flour and grits from leaving the mash tun alongside the clearer wort. (As you might expect this explanation is quite simplified and there are many intricacies in the process that can drastically impact the extracted wort)
What if, instead of relying husks for filtration, you could just jump inside the mash tun and squeeze the wort out yourself? Then you wouldn't need husks at all. That squeezing is the concept of a mash filter. Load up your mash in each vertical chamber of the mash filter, pump air in the spaces between each chamber, and you'll be extracting your wort quickly and easily.
Mash filters offer clearer and higher gravity wort (the unit is dubbed a "Plato") than a lauter tun, and they're more efficient in terms of yield, speed, and sparge water use. They can also handle a wider variety of grains when compared to a lauter tun.
It's an exciting piece of equipment that offers Nozawa Onsen flexibility and advantages over other Japanese craft whisky distilleries. This is in addition to the distillery's original mashing plan for an all-grain wort, i.e., not using the mash filter at all. With either type of wort, it's over to the 2200L fermentation tanks. The stills, also both from Carl, are 1000L for the wash still and 700L for the spirit still. Both are lantern-style, where the spirit still also has an optional column still and gin basket attached that afford Nozawa Onsen even more options.
While there are a handful of casks at the distillery, the vast majority of maturation will happen up on the slopes of the mountain at the former Nagasawa Center Gondola Station. The current wood program consists of mostly Bourbon barrels but also wine casks from local Nagano wineries.
Nozawa Onsen Distillery has already released three gins:
Classic Dry Gin: notes of citrus with sansho pepper, 48% abv, 500ml, 4850 yen
Iwai Gin: sakura, plum, and applewood, 42% abv, 500ml, 4850 yen
Nozawa Gin: cedar, kuromoji, and wasabi, 45% abv, 500ml, 4850 yen
In fact, it was only gin being served at the opening ceremony on December 15, 2022: the distillery was about a week away from launching their whisky distillation at the time. Hopefully, we won't have to wait much longer.
The Nozawa Onsen Distillery plans not just to be a tourist destination–it's only about two-and-a-half hours from Tokyo–the team also plans to serve as a sort of local gathering spot for events and cultural activities.
Hi there! I created and run nomunication.jp. I've lived in Tokyo since 2008, and I am a certified Shochu Kikisake-shi/Shochu Sommelier (焼酎唎酒師), Cocktail Professor (カクテル検定1級), and I hold Whisky Kentei Levels 3 and JW (ウイスキー検定3級・JW級). I also sit on the Executive Committees for the Tokyo Whisky & Spirits Competition and Japanese Whisky Day. Click here for more details about me and this site. Kampai!