In Akashi, Hyogo prefecture, the maker of "Akashi-Tai" sake encountered new unexpected opportunities while building routes to market in the UK. They are now the sister distillery of Torabhaig in Scotland, and have begun whiskymaking fusing the techniques of both Japan and the West.
Text: Mamoru Tsuchiya
Images: Mamoru Tsuchiya, "Fishing Cafe" Editing Department
Translation: Whiskey Richard
This article originally appeared in Japanese in Whisky Galore Vol.29 / December 2021.
Header image: The wash and spirit stills stand alone. The batch size is a micro 700kg of malt.
From either the Japan National Route 2 highway or the Sanyo Main Line train line, anyone can peer inside the glass-walled distillery and see two copper stills enshrined within. Locals have been wondering what was going on since 2020, but in 2021, that veil has finally been lifted. It's Akashi Sake Brewery's Kaikyo Distillery. As the name indicates, it's adjacent to the Akashi Strait, and the massive Akashi Kaikyo Bridge that links Honshu, Awajishima, and Shikoku passes overhead.
Akashi Sake Brewery was established in 1856, or Ansei 3, or three years after the arrival of Commodore Perry's black ships at Uraga. Historically they made mirin, sake, kourui shochu, and brewer's alcohol, but between being bombed during World War II and the brewery collapsing during the Great Hanshin Earthquake in 1995, they've experienced relentless hardship. Even current president Kimio Yonezawa has faced headwind since taking over, such as 2008's financial crisis. That's around when the company gave up on the shrinking domestic market for Japanese sake, and instead looked overseas for new market opportunities. While in London, an importer took a liking to the company's "Akashi-Tai" sake, saying they wanted to import it to the UK. Today, "Akashi-Tai" can be found on the menus of luxury hotels and fine dining establishments not just in London, but across the UK. It was also selected for the menu of the MS Queen Elizabeth, a luxury cruiseliner, making it the only sake available onboard.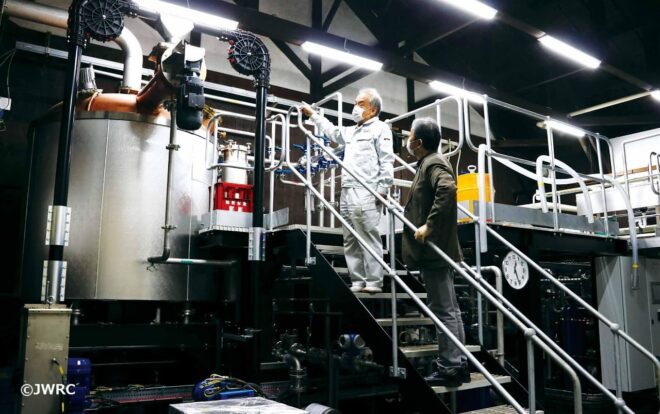 Akashi Sake Brewery's decision to make whisky was also the result of a similar chance encounter. Through an investment agreement with Netherlands-based Marussia Beverages, they've built the Kaikyo Distillery for making whisky and gin, right next to the sake brewery.
Learning whisky-making at Torabhaig on Isle of Skye
The Kaikyo Distillery began operation in 2017. They used a single Forsyths still for both the wash and spirit run at the time, but in 2021, they added an additional still, and have committed more seriously to making whisky. Yonezawa-san and the distillery's staff, with no prior whiskymaking experience, went through training at Torabhaig Distillery, owned by Marussia Beverages. Torabhaig is a craft distillery opened on the Isle of Skye in 2016, making it a sister distillery to Kaikyo.
Kaikyo's current batch size is 700kg, and they use non-peated malt imported from the UK. As the distillery has no malt mill, it's brought in as grist. The mash tun, also made by Forsyths, is a semi-lauter style that yields about 3500 liters of wort. There are three stainless steel washbacks, one of which is equipped with a cooling device. They've also made space for a wooden washback, but due to covid, these plans have been pushed back. As mentioned above there are two pot stills, both bulge shaped, and both also have a sight glass for the wash run. That's because the first still was used for both wash and spirit runs.
Kaikyo Distillery's whisky is named "Hatozaki," and it's already available overseas. It will be available in Japan during 2022. Although their malt at the moment is not entirely made in-house, there are plans in the future to create a bonafide single malt Japanese whisky. Hatozaki, by the way, is Japan's oldest stone lighthouse.
As mentioned, gin is also being made at the distillery, and "135 East Hyogo Dry Gin" is now available in Japan. 135 degrees east is the meridian that passes through Akashi, and is the meridian used to calculate Japan Standard Time.