Gifu prefecture's Gujo Hachiman is a scenic area that's a world apart from the hustle and bustle of the city. On a bank of the Innaki River sits Shohei Tatsumi's Alchemiae Tatsumi Distillery, opened in a renovated ironworks building. From handling the raw materials to the distillation, it's a one-man operation. Cue the medieval alchemist imagery.
Header image: Tatsumi-san gathering wormwood, one of the ingredients of absinthe.
Images/text: Mamoru Tsuchiya
Translation: Whiskey Richard
This article originally appeared in Japanese in Whisky Galore Vol.13 / April 2019.
Absinthe and Gin made by a modern-day alchemist
And hour and half by bus from JR Gifu Station, then another hour and 20 minutes by local train from Mino-Ota Station, the Alchemiae Tatsumi Distillery is located in Gujo City's Hachiman.
Gujo Hachiman, famous for the Gujo Odori Bon Festival, is frequented by tourists due to its scenery. Founder Shohei Tatsumi visited all sorts of alcohol makers around the world, and learned the craft during his travels. He says that his choosing Gujo Hachiman was because of a chance meeting.
Tatsumi-san currently makes gin, curacao, and absinthe. The distillery, in a renovated ironworks facility, is packed to the brim with distillation equipment. He has three stills: a 1000L still that formerly made Yubari Melon Brandy, a 30L still, and a wooden kabutogama still restored by Oishi Shuzo, a Kagoshima shochu maker where Tatsumi-san learned his skills. This arsenal allows him to make both gin and absinthe.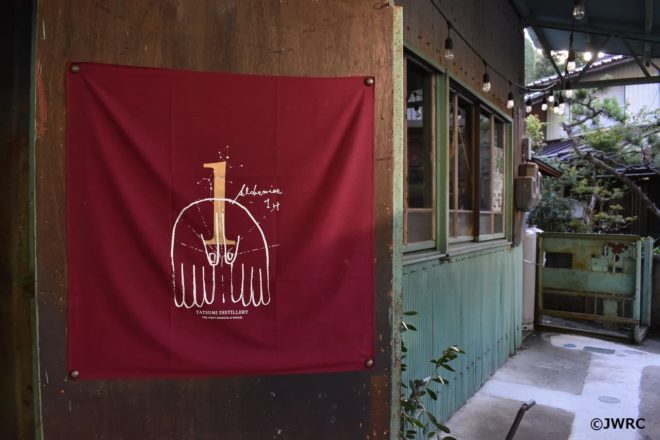 The upper part of the kabutogama still is a copper "helmet" shaped like an Asian rice hat turned upside down. Cold water is placed inside helmet to cool the alcohol steam. The pot underneath, made of stainless steel, holds the wash or spirits. It's heated using indirect heating. The capacity is a mere 200L. Oak surrounds the pot and supports the helmet. The entire setup can be taken apart. Or rather, the parts are apart to begin with, and you simply put them together when you want to distill. All of this is done by Tatsumi-san himself. He's truly a modern-day alchemist.