On a cold January evening last week, I took a stroll over to Bar Arai Tateguten, which opened just last month in Tsukishima. The area is a quiet neighborhood known mostly for its monjayaki restaurants. Little did I know, I was about to discover one of Tokyo's newest Japanese craft cocktail gems.
The name Arai Tateguten doesn't quite roll off the tongue for those that don't speak Japanese. Bartender Arai-san's uncle runs a tategu business — the word's closest English translation is probably "joiner." Arai Tateguten is indeed an actual joiner business located in Sumida ward, so Arai-san has simply borrowed the name for his bar.
Bar Arai Tateguten
Bar Arai Tateguten takes up the first floor of a beautiful wooden home, a Japanese style known as a kominka. Upon opening the door, you're greeted with a wonderful woody aroma alongside your irasshaimase: in a rarity for Tokyo, Arai Tateguten is entirely non-smoking. There's seating for six at the bar, plus an additional semi-private room for four more.
While many Japanese bars can feel cramped, that's not the case here. The bar's aesthetic absolutely reminds one of a Japanese tea ceremony but it also pays homage to Arai-san's roots. His family assisted with the interior, and he displays some tools actually used by his grandfather on the wall.
Arai-san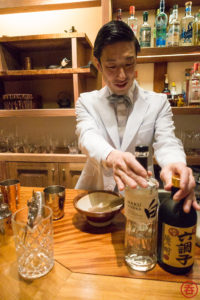 Arai-san has a pretty unique background. He's been behind the wood in bars and restaurants in Tokyo, London, and New York. But he's also been further up the drinks chain — he previously worked at Suntory, in both bar consulting and in consumer product development.
In fact, one of his final projects during his time at Suntory was Suntory World Whisky Ao, the company's international blended whisky. So in addition to creating new cocktails, he's also versed in creating bars, liqueurs, and spirits. And of course he remains connected at Suntory — we talked about their new budget Japanese gin Sui, which as of this writing hasn't been officially announced.
On The Menu
My first order is named 24 Solar Terms, the bar's signature signature cocktail. The concept here is that every two weeks or so, Arai-san comes up with a cocktail inspired by the particular solar term we're in. So I guess we should call it a microseasonal cocktail, for lack of a better term.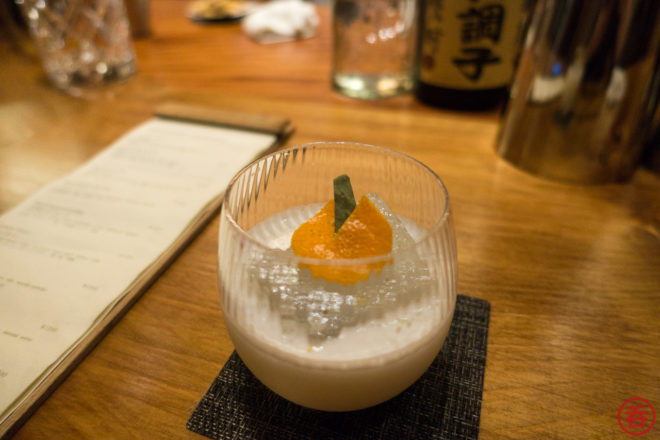 I visited during 小寒, or a microseason roughly translating to "a bit frigid." My 24 Solar Terms cocktail was a mix of coriander, nandina (traditionally displayed during celebratory periods such as the new year), Haku vodka, rice shochu, simple, and milk. The garnish is Kaffir lime inside the skin of a mandarin — again fruits all associated with this time of the year. As we've said time and time again, it's challenging to use shochu in a cocktail. It's great to see bartenders making use of this traditional Japanese spirit.
24 Solar Terms cocktails don't get their own names, but there's something quintessentially Japanese about only being able to enjoy certain things at certain times of the year. This solar term had just the right balance of sweetness and spiciness with a thick mouthfeel.
Up next is the Sasa Bamboo Martini, made entirely without vermouth. Instead, our sweet comes from bamboo grass infused gin plus a dash of kukicha bitters, both Arai-san's creations.
Being a whisky drinker I of course needed to try the Old Fashioned riff. Here at Arai Tateguten that is a Spicebush Old Fashioned. Eagle-eyed readers of nomunication may remember spicebush, or kuromoji, as being featured heavily in last year's Kanomori gin out of Yomeishu. Spicebush bitters is used alongside sliced ginger (no fruit in this Old Fashioned), Ao, and simply syrup. Arai-san also garnishes with an actual branch of spicebush, which he chars per-order to help bring out more of the aroma.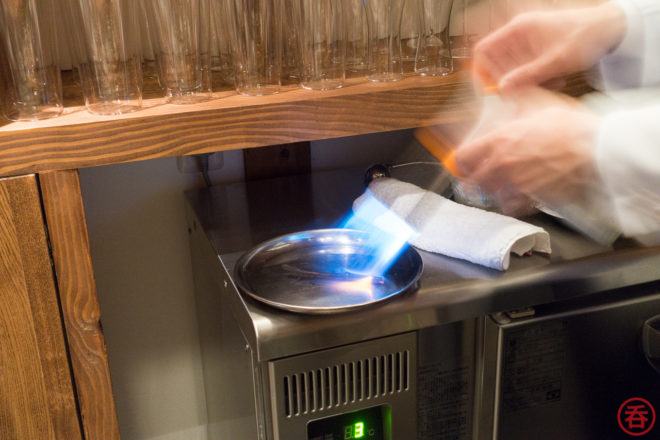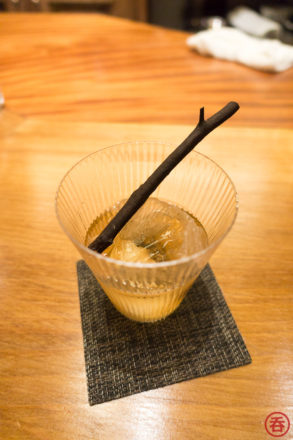 On my visit there were nine different signature cocktails, each priced at 1200 yen. Classic cocktails and spirits are around the same price, if not slightly cheaper. There's also a 500 yen cover charge — another Japanese tradition.
Hang out a bit at Bar Arai Tateguten and you may hear someone ordering something off-menu as well. Brandy and uulong tea apparently make a great combination. And what happens when you put a mizunara stick in a bottle of gin? There's an easy way to get an answer.
See you there next microseason.
The Data
Bar Arai Tateguten (no official website)
Address: Tokyo-to Chuo-ku Tsukishima 3-7-5
Hours: 6PM to 2AM daily
Smoking: No
English menu: Yes
Phone: 090-6349-7337
Email: bar.arai.tateguten@gmail.com
Socials: Instagram
Hi there! I created and run nomunication.jp. I've lived in Tokyo since 2008, and I am a certified Shochu Kikisake-shi/Shochu Sommelier (焼酎唎酒師), Cocktail Professor (カクテル検定1級), and I hold Whisky Kentei Levels 3 and JW (ウイスキー検定3級・JW級). I also sit on the Executive Committees for the Tokyo Whisky & Spirits Competition and Japanese Whisky Day. Click here for more details about me and this site. Kampai!