This 2019 release of Ichiro's Malt Chichibu "On The Way" follows after the 2013 and 2015 releases of the same name. 2017 got skipped somehow!
Although there's no age specified for this bottle, we can at least hope it contains some of the 10+ year single malt whisky that the Chichibu Distillery now has on their hands.
Chichibu Distillery essentially opened the floodgates for the Japanese craft whisky industry. Especially over the past 2-3 years, there has been an onslaught of new distillery announcements, many of them looking to emulate the success that Chichibu has achieved. Chichibu themselves of course are cognizant of this popularity. They broke ground on second distillery this year, with a drastically higher capacity than the current one.
It's extraordinarily difficult to track all of the various releases coming out of Chichibu. They have their official releases of course, but they also do tons and tons of exclusive bottlings for bars, liquor shops, and so on. On The Way 2019 falls into the former category, not being an exclusive release. In fact, there are some 11,000 bottles floating around, quite a welcome number given the current state of decently aged Japanese whisky.
We aren't quite yet at a point where Chichibu can simply release "Single Malt Chichibu 10" and keep the bottles coming. But we are… On The Way.
Review: Ichiro's Malt Chichibu On The Way 2019
Nose: Hefty with dried oranges and heaps of spicy, woody malt. Given a couple minutes it reminded me of county fair cotton-candy though.
Palate: Fruity with apples, pear, then grape. Again more malty, oak tannins with some vanilla to top things off.
Finish: There's a hint of smoke as that malt lingers on, and a chewiness of some leather. Spicy!
Score: B+
Price paid: 1500 yen, 30ml pour. 51.5% abv (700ml bottles are priced around 13750 yen in primary markets)
Venue: Malt Bar Hero Shimbashi
With a significant reliance on standard ex-Bourbon casks, there's plenty for oak lovers to enjoy here. Overall it's a pretty nice blend that highlights Chichibu's tendency towards malty, fruity, and spicy whiskies.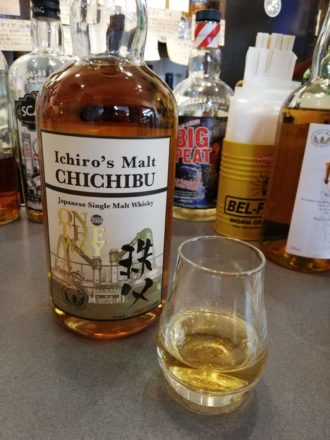 Hi there! I created and run nomunication.jp. I've lived in Tokyo since 2008, and I am a certified Shochu Kikisake-shi/Shochu Sommelier (焼酎唎酒師), Cocktail Professor (カクテル検定1級), and I hold Whisky Kentei Levels 3 and JW (ウイスキー検定3級・JW級). I also sit on the Executive Committees for the Tokyo Whisky & Spirits Competition and Japanese Whisky Day. Click here for more details about me and this site. Kampai!