In our recent report we learned much more about the story behind Kaiyō Whisky. This puts us in a better position to get into the whiskies themselves! The last bottle of the series we're reviewing is the only one with an age statement, at 7 years.
7 Years Old Kaiyō Japanese Mizunara Oak Finish The SINGLE is a slight departure from the other bottles we've reviewed. For starters, it's the only one with an age statement. Next, it's specifically a "Mizunara Oak Finish" rather than simply "Mizunara Oak." Given what we heard about the other bottles, the 7 Years Old bottle is likely aged significantly longer prior to its journey at sea, the Kaiyō trademark. Now, I don't really know where to draw the line between "Mizunara Oak" and "Mizunara Oak Finish." But apparently it's somewhere after 3 years of maturity. Bourbon casks on land, then Kaiyō's own mizunara casks at sea.
What "The SINGLE" refers to is unclear. Single malt? Unlikely, given Kaiyō is specific about using teaspooned whiskies. Single cask? Seems like we would get a cask number in that case.
Looking around online you see a lot of indications that this is a whisky created using "coffee malt," likely some confusion there with Coffey malt. Nikka Whisky of course makes both Coffey Malt and Coffey Grain up in Miyagikyo on a Coffey still. So was this whisky originally distilled there, teaspooned, then given the Kaiyō treatment afterwards? Nikka and Asahi are connected, too, so it fits in with the Kaiyō narrative.
Let's give it a try!
Review: 7 Years Old Kaiyō Whisky Japanese Mizunara Oak Finish The SINGLE
Nose: Another fruity number, but more tropical this time around. I get banana, coconut and vanilla.
Palate: Nearly weightless, quite delicate more malt-driven than oak. White pepper and other spices along the way.
Finish: Begin with some citrus, think orange and tangy grapefruit, alongside a hint of sea spray. Then moves over to warm spiced oak, but goes back towards the tropics at the end. A wonderful bottle for the winter!
Score: A-
Price paid: $49.99, 750ml, 48% abv
The most affordable bottle of the series and also one of my personal favorites. Spicy, fruity, complex, and keeps you reaching for the glass over and over again.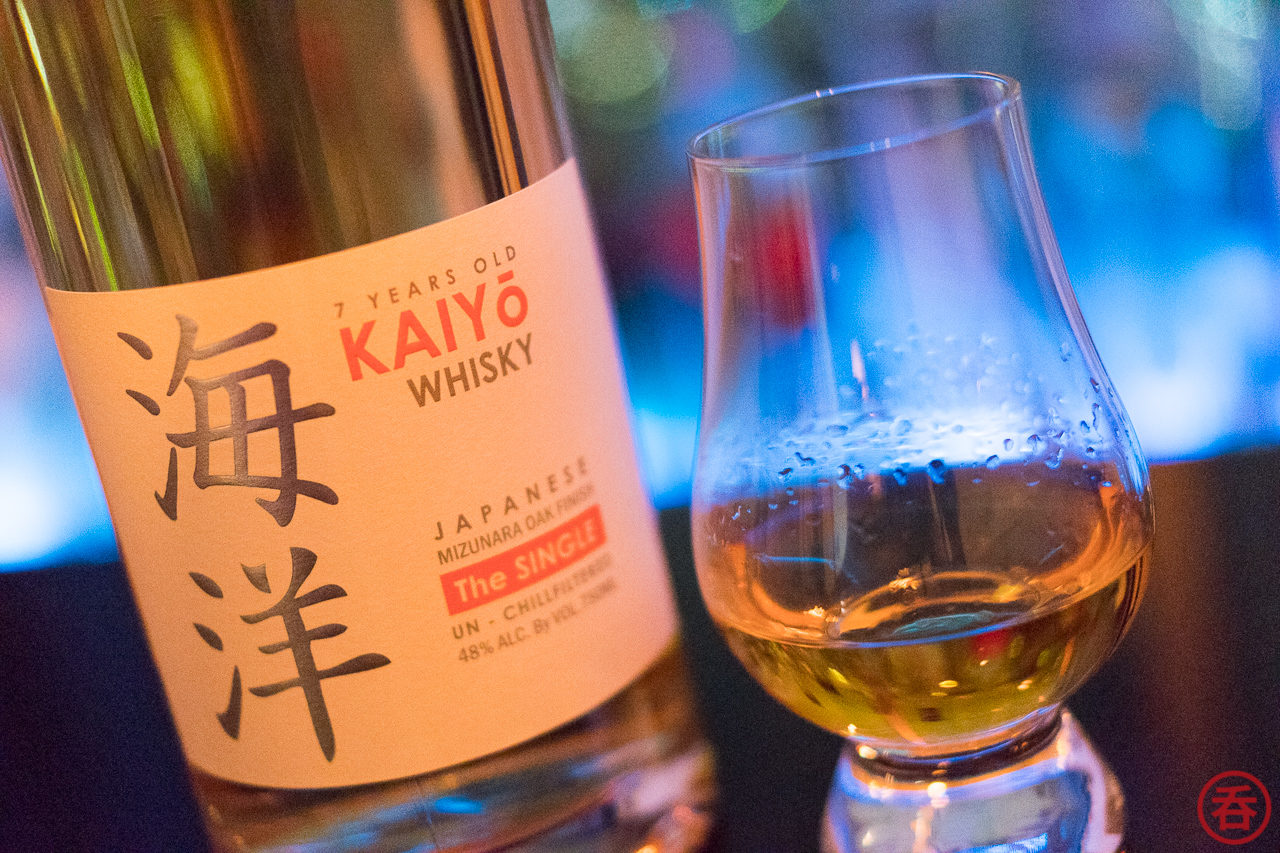 Hi there! I created and run nomunication.jp. I've lived in Tokyo since 2008, and I am a certified Shochu Kikisake-shi/Shochu Sommelier (焼酎唎酒師), Cocktail Professor (カクテル検定1級), and I hold Whisky Kentei Levels 3 and JW (ウイスキー検定3級・JW級). I also sit on the Executive Committees for the Tokyo Whisky & Spirits Competition and Japanese Whisky Day. Click here for more details about me and this site. Kampai!