Weighing in at just under 4 years is the first 2019 single cask single malt in Mars Whisky's Le Papillon series, "C. thyodamas."
This one was aged in a sherry butt in Mars Tsunuki, a first for the series, yielding 464 bottles at a cask strength of 58% abv.
C. thyodamas is also known as the "common map," and the butterfly is found throughout much of Southeast Asia and the Indian subcontinent. Here in Japan it's found only south of the Kii Peninsula, or the prefecture of Nara.
Palate: Sweet marsala, nutmeg, seared orange slices, toffee, an earthy note, candy coated nuts, BBQ sauce, plum sauce, Turkish Delight, some flintiness, tar. With water this is more earthy also, vanilla, hession, sea spray.
Palate: Sherry, cherries, ash, coal, tar, earthy peat, toffee, cashews, juicy dates, salt, pepper, oranges. Full bodied with a medium peating level. With water more tart, tangy and smokey.
Finish: Long on cherries, dates, toffee, ash, cashews, cacao nibs, cigar leaf, earthy peat. Water adds bonfire smoke and peppermint.
Last Word: Almost half the bottle has gone and I'm going to have to hide this one from myself. Great young whisky! Mars does not always get sherry cask matured whisky right but they've nailed it with this one!
Rating: 90/100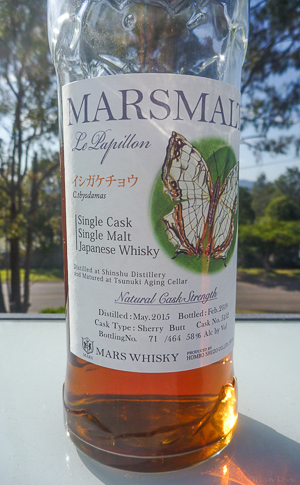 Hi there! I created and run nomunication.jp. I've lived in Tokyo since 2008, and I am a certified Shochu Kikisake-shi/Shochu Sommelier (焼酎唎酒師), Cocktail Professor (カクテル検定1級), and I hold Whisky Kentei Levels 3 and JW (ウイスキー検定3級・JW級). I also sit on the Executive Committees for the Tokyo Whisky & Spirits Competition and Japanese Whisky Day. Click here for more details about me and this site. Kampai!