Japan-based organic food brand Brown Sugar 1st has teamed up with Royal Warrant-holder London & Scottish International to bring along a gin called "Black Chai Gin."
So no, it's not actually a Japanese craft gin, given it's not distilled in Japan. Instead it's being distilled at the Thames Distillery, one of the world's leading OEM suppliers of spirit. That said, the recipe itself is said to come from a collaboration between Brown Sugar 1st and London & Scottish International, the latter known for their Juniper Green Organic Gin.
Brown Sugar 1st is a pretty big organic food brand here in Japan, being started by a new mother simply wondering what food would be appropriate to give to her baby. These days their products are available at some 3000+ retail shops in Japan, and they also supply restaurants such as Huge's Rigoletto.
Black Chai Gin is their first venture into spirits, and probably not appropriate for most babies as it's 43% abv. Though we don't have a full list, we know it has 14 organic spices and botanicals. Black chai is supposed to have plenty of spices on its own, so this one could be quite interesting to try.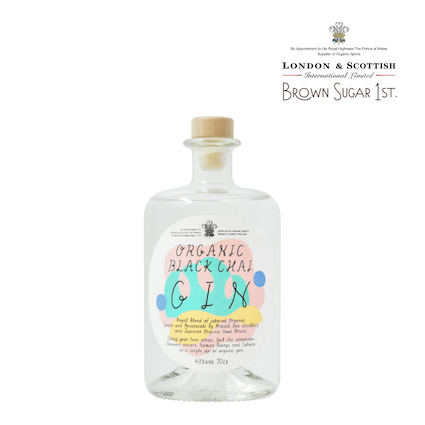 Hi there! I created and run nomunication.jp. I've lived in Tokyo since 2008, and I am a certified Shochu Kikisake-shi/Shochu Sommelier (焼酎唎酒師), Cocktail Professor (カクテル検定1級), and I hold Whisky Kentei Levels 3 and JW (ウイスキー検定3級・JW級). I also sit on the Executive Committees for the Tokyo Whisky & Spirits Competition and Japanese Whisky Day. Click here for more details about me and this site. Kampai!