Yamaguchi-based Asahi Shuzo is preparing a global launch of "Dassai Umeshu" for March 1, 2019. In development for the past three years, it's a honkaku umeshu, meaning it contains only liquor, sugar, and plums — thus no added flavoring, coloring, or souring agents. The report comes via the Shokuhin Sangyo Shimbunsha, a food and beverage industry daily.
In some ways, Dassai is like the Dom Perignon of the sake world. The company sells only Daiginjo-style sakes, so the brand name is synonymous with luxury sakes both within Japan and abroad. It's a favorite gift of Japanese PM Abe, who is from Yamaguchi, presented to foreign leaders when they visit Japan.
The liquor used in the new umeshu is of course Dassai's world-famous Junmai Daiginjo 23%, with its rice being milled down to 23% of its original inner white core.
This is Asahi Shuzo's first venture into the world of umeshu. They have teamed up with the Umeshu Kenkyu-kai to make this happen, bringing in "Kounan-ume" Japanese apricots from nearby Wakayama prefecture. While ordinarily you would use green apricots for umeshu, they instead chose to go with ripe apricots, giving the umeshu a pinkish hue.
This new release will be extremely limited in quantity. Despite the fact that it's a global launch–with bottles being available in Dassai stores in Japan, France, China, and Taiwan–only 800 bottles will be available for this first run. The price here in Japan is 12,960 yen per bottle.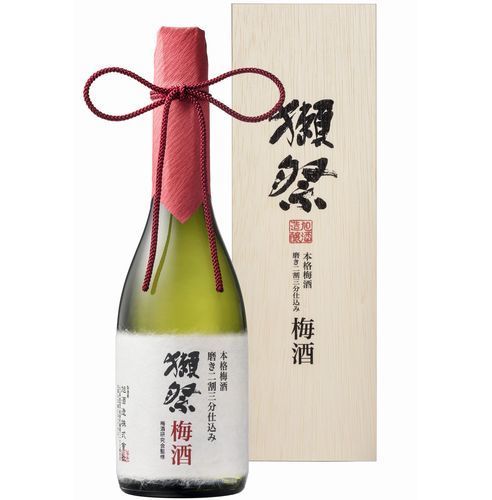 Hi there! I created and run nomunication.jp. I've lived in Tokyo since 2008, and I am a certified Shochu Kikisake-shi/Shochu Sommelier (焼酎唎酒師), Cocktail Professor (カクテル検定1級), and I hold Whisky Kentei Levels 3 and JW (ウイスキー検定3級・JW級). I also sit on the Executive Committees for the Tokyo Whisky & Spirits Competition and Japanese Whisky Day. Click here for more details about me and this site. Kampai!