On November 11th Mrs. Whiskey Richard and myself attended the "Tsukiji Hashigo-shu," a sake-themed pub crawl in the Tsukiji neighborhood where everything costs only 500 yen. This time the event featured 37 izakayas and restaurants, and I figured it's a good opportunity to get to know Tsukiji a bit better.
Tsukiji is of course world famous for its fish market. And quite a market it is: looking at the latest data, some 300 billion yen (around $2.8bio USD) worth of seafood has changed hands there this year. The market first opened up in 1935, and while it's well-known for seafood, it also serves as a market for produce, meat, and even flowers and trees. Varieties of tuna are probably the biggest single contributor though, representing about 16bio yen of that 300bio yen figure. So it's no surprise that seeing the tuna auctions or getting fresh sashimi is high on the list of things to do for many tourists that visit Tokyo. Those Tsukiji tuna auctions regularly make worldwide headlines for the eye-popping amounts spent on even a single fish.
Even for Tokyo locals though, Tsukiji has been in the news a lot this year. The Tokyo Metropolitan Government has built an entirely new complex out in Toyosu and planned to open it this month. But it seems someone may not have done their homework as there have been a lot of questions raised about the cleanliness of the new site, as it was formerly a landfill. Tokyo's new governor has made an executive decision to delay the opening of the market until it's proven safe. It's also been revealed that despite going far over budget, the some of the buildings have empty space rather than actual soil under them. Yikes!
Getting back to the event. Tsukiji Hashigo-shu is held three times a year, though this is the first time we've attended. Tsukiji has for me always just been about sushi; I had never really considered going there to drink let alone eat something besides sushi/sashimi. "Hashigo" is roughly translated as barhopping, so just based on the name this event had me interested. Bars? In Tsukiji? It was only 600 yen to register so with basically nothing to lose, we joined the event.
The first order of business was checking in at the modernist Hongan-ji, a big Buddhist temple in Tsukiji that's typically ignored by tourists. You pick up a wrist band, a map, and you're on your way!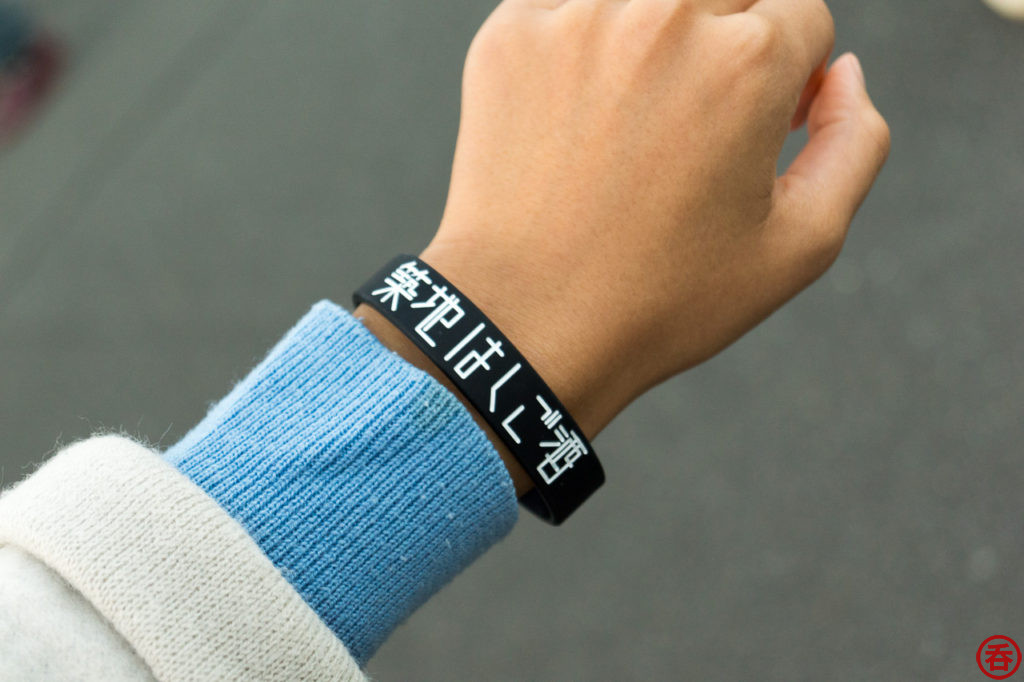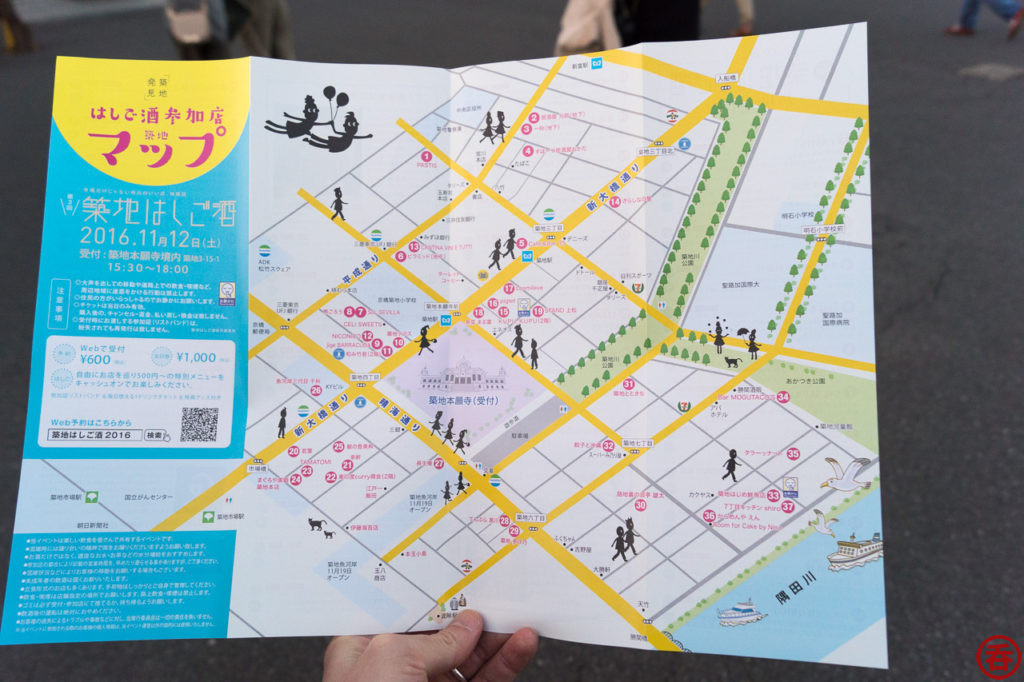 Each of the 37 restaurants and izakayas was closed to the general public and only open to event participants, so getting in to most places was no issue despite it being a Saturday night. Some places also simply served people outside, as the weather was pretty warm for a November evening. The concept of the event is making it easy to pop in and out anywhere. So the pricing was simplistic — 500 yen for any drink or dish, cash-only cash-on-delivery, order from the event-only menu. No otōshi!
Having never heard of any of the places on the map, we decided to just take a geographic approach to visiting the places we wanted. This turned out to be something of a mistake, more on that later. So with zero expectations we headed to the closest place, right across the street!
Nagomi Takewaka was a pretty standard sushi restaurant. However after seeing the event menu we had a better idea of what to expect for the rest of the night. There was pretty much only two options for sake: cold half-gō or a hot 1-gō. That paste you see there was actually a tasty namerou! In search of more variety we quickly downed our drinks and decided to head to the next place.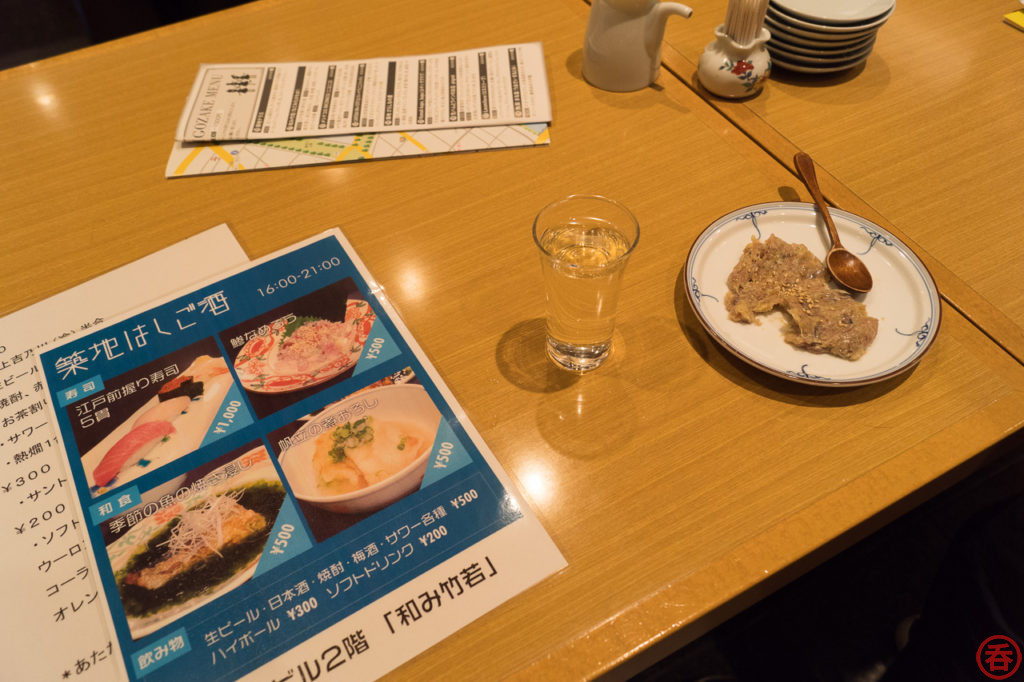 We didn't actually go inside Tsukiji Kumagorō, since they had a table setup outside serving drinks. They had a decent variety of sake to choose from, so I went with something dry while Mrs. Richard had a winter-only sparkling nigori from Okayama. We got some sashimi as well to go with this, also 500 yen of course.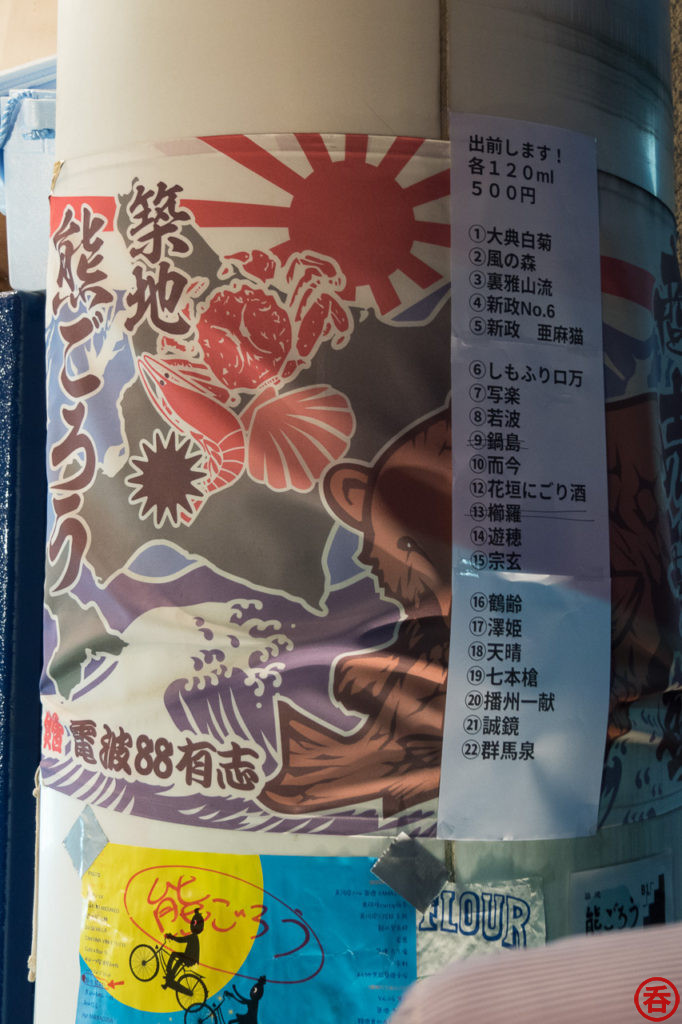 Next stop was a German restaurant called Pyramid. German beer tends to be quite expensive in Tokyo, so there aren't many opportunities to drink it for 500 yen. Danke! For whatever reason this place also had a variety of curries, so we ordered an "ultra-spicy" curry and, well, they weren't kidding. Yikes!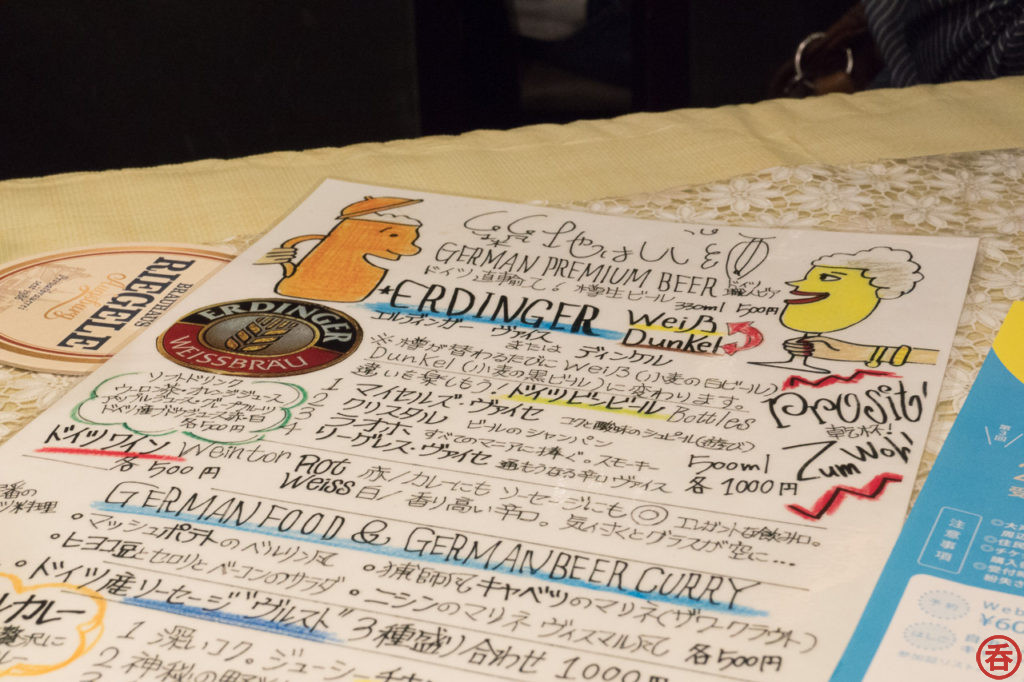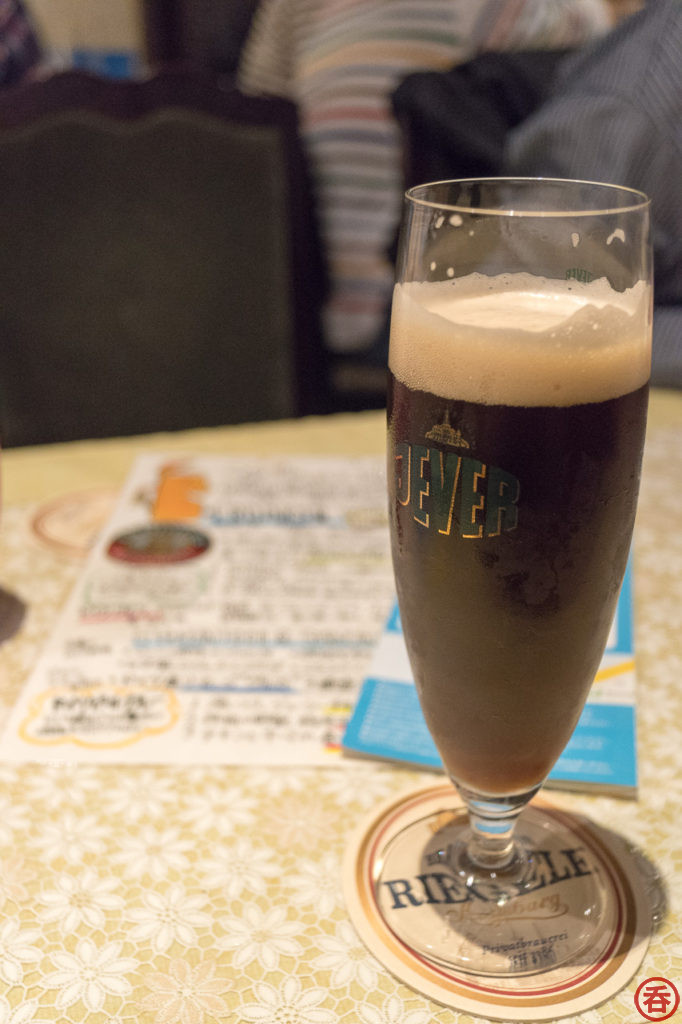 On to Cafe & Bar 15, which is probably the closest we got to a cocktail bar all night. This is actually the hotel bar of First Cabin Tsukiji, one of a chain of hotels that's trying to combat the salaryman-only image of capsule hotels by catering more towards foreign tourists and women. The bar is put front and center of the hotel — you can't even check-in without walking through the bar. Unfortunately the event menu was quite limited though: just beer, wine, or call drinks. But Tsukiji doesn't really have modern-style spaces like this, so it's a welcome addition to the area. It's probably worth coming back here to check out the regular menu some day.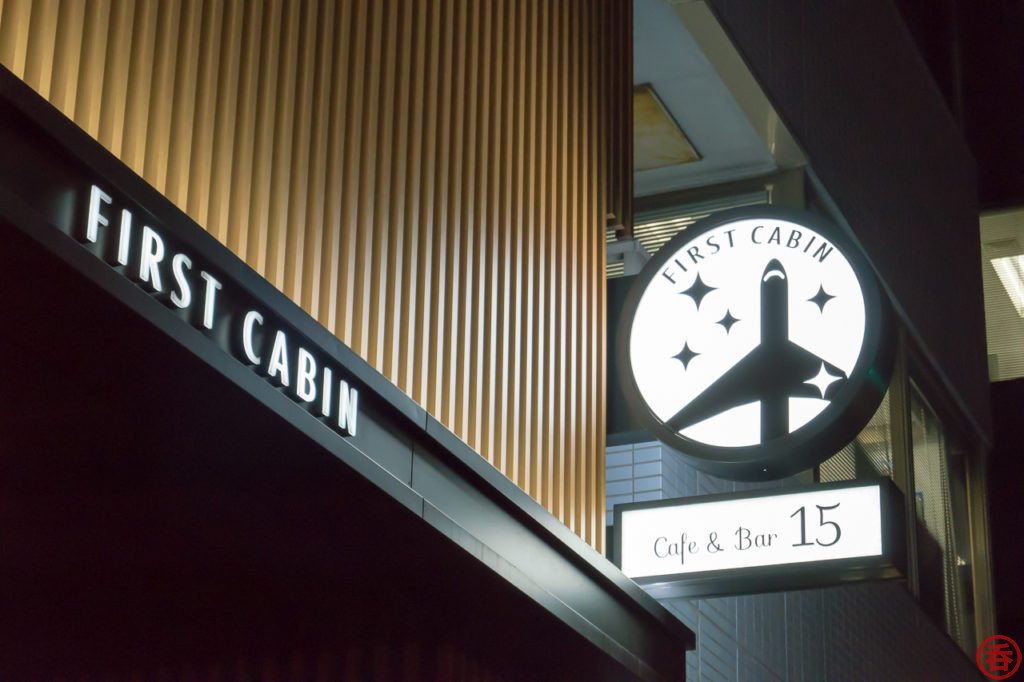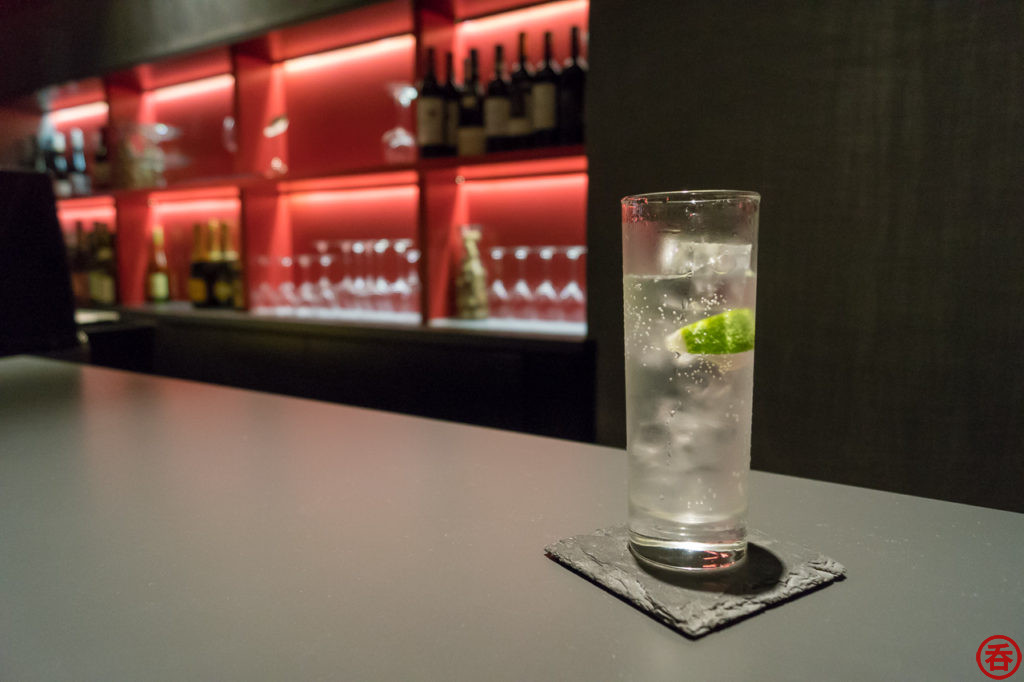 Venturing further away from Tsukiji station we come to Sports Izakaya Okada, and for the first time all night, we have to wait in line to get in. "Sports Izakaya" apparently just means there's a big-screen TV showing a baseball game and the owner's sports memorabilia is littered throughout. They were out of beer, that's probably the #1 thing to avoid as an izakaya owner. They were also out of the 6PM sake that was supposed to last until 7PM. And they were out of 2 of 3 items on the food menu. Needless to say we didn't stick around for long!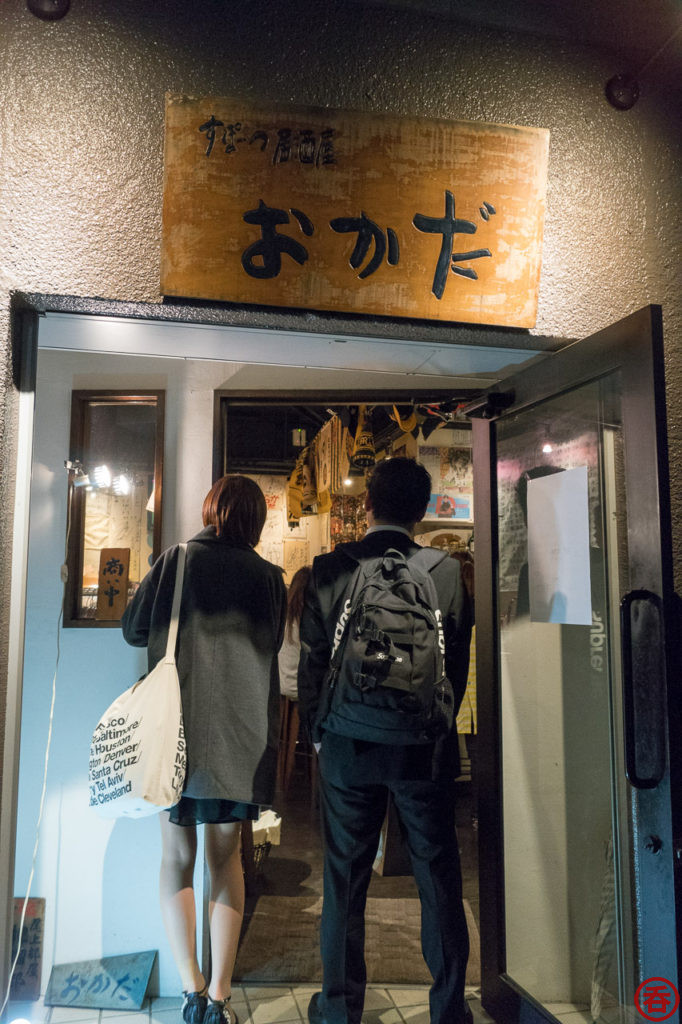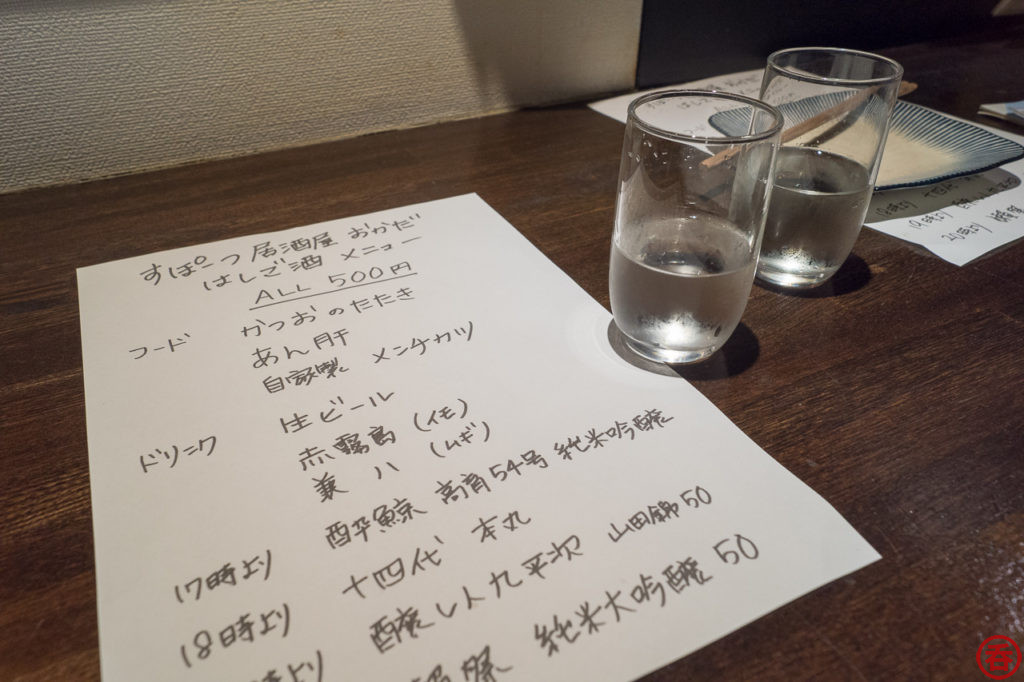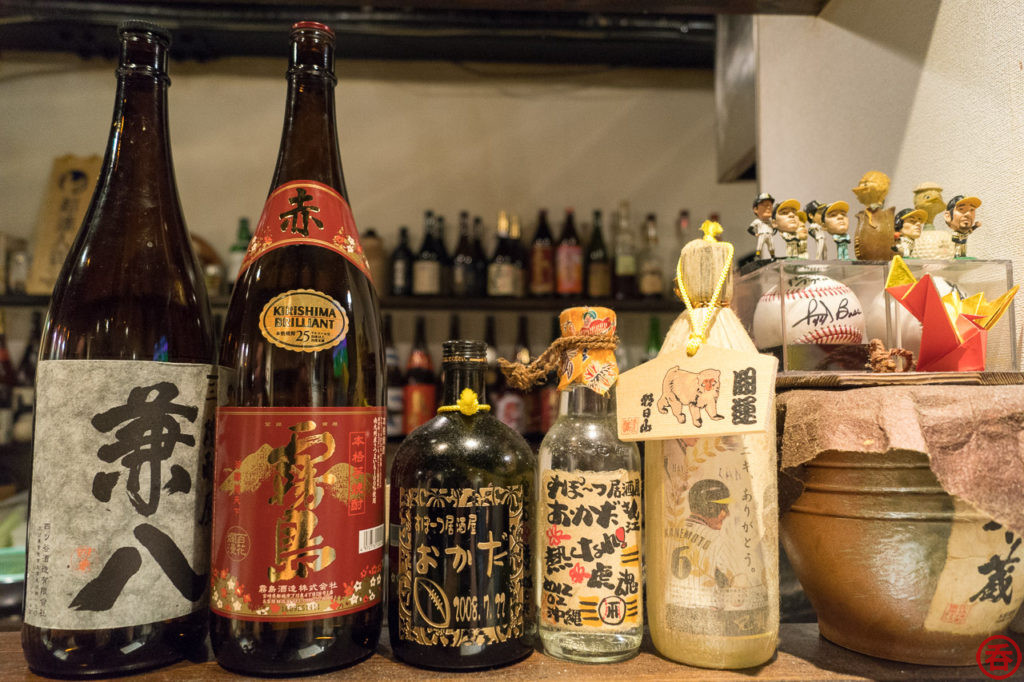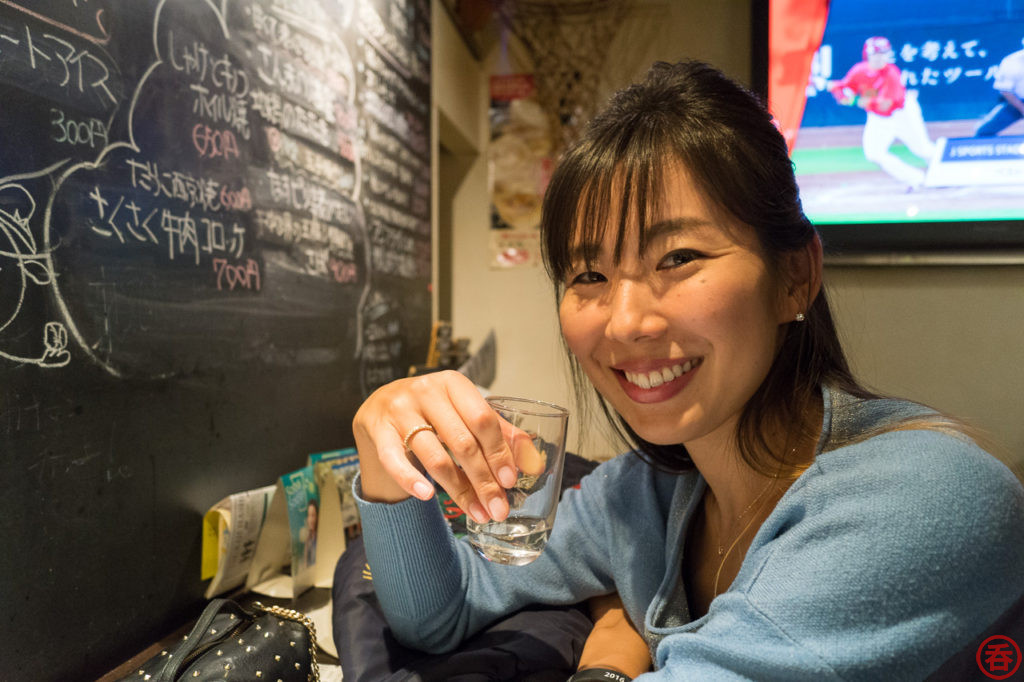 Up next was Stand Uematsu, a tachinomi with a pretty striking white interior that reminded me of kitchen drinking at home. This same shop is a bread store during the daytime, but at night they offer a selection of himono as well. But we weren't feeling so courageous; instead we ordered a cheese and sausage plate to go with our sake.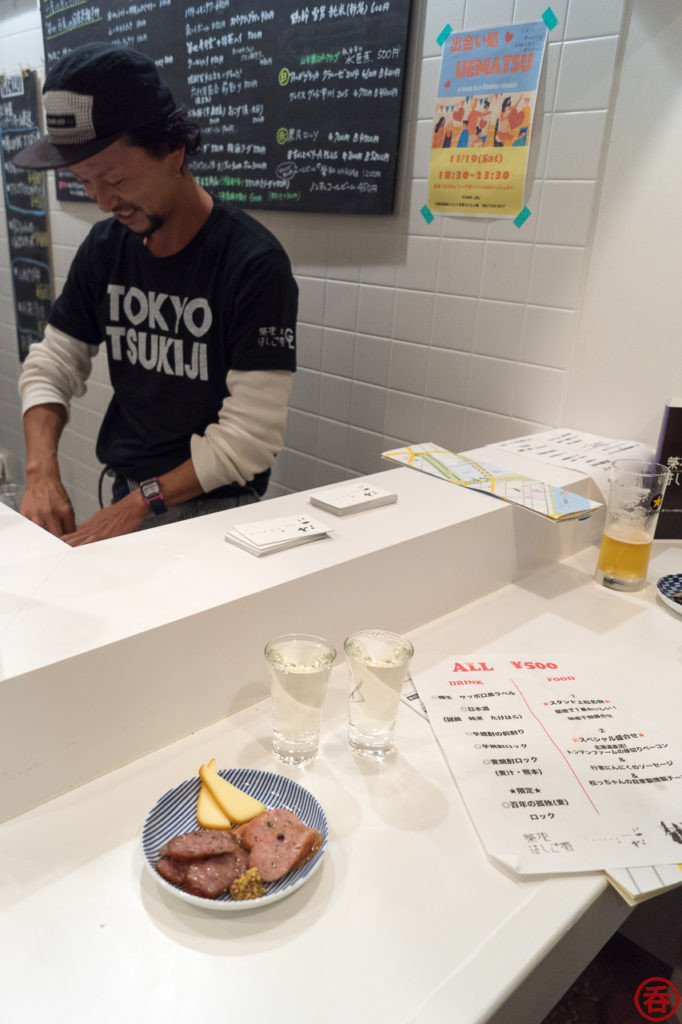 Heading back in the direction of Tsukiji station we saw that Marutomi would be offering Dassai for 500 yen. Dassai is a pretty well-known brand of sake that's from Yamaguchi. Former PM Abe, from Yamaguchi himself, presented a bottle to outgoing President Obama when he visited Japan. Anyway, it's quite rare to find Dassai for a price like this, even in Tokyo. So in terms of cost performance, this may have been the best we did all night.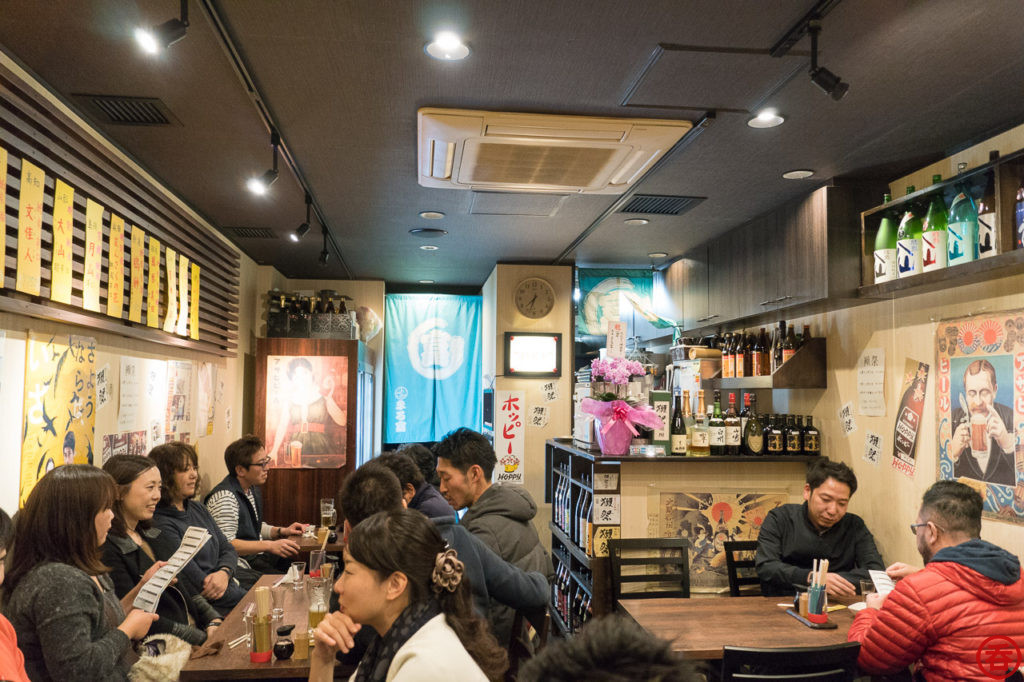 In search of some more food we headed for the jōgai area of Tsukiji, the Outer Market. During the morning and daytime the market is quite chaotic with its narrow streets and row after row of vendors selling anything and everything related to food, especially seafood. Our target here was Maguro-ya Kurogin, which normally sells Japan-bred tuna in blocks. But for this event they stayed open to sell plates of tuna sashimi for 1000 yen a pop. Not cheap but again there aren't many opportunities to get this quality of fresh tuna at this price.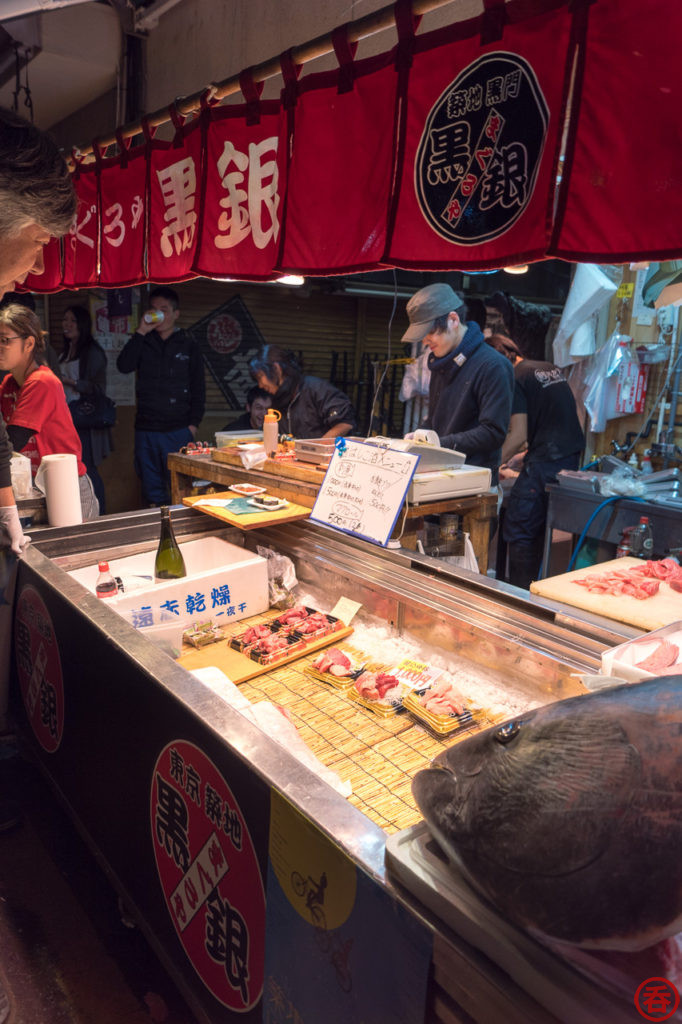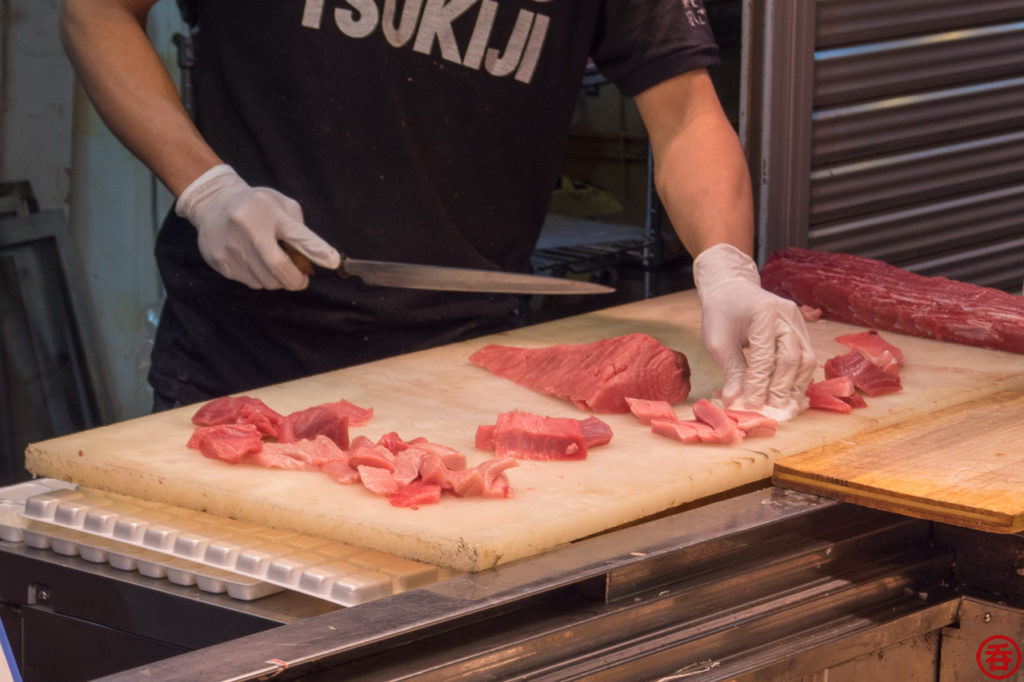 This where things started to go downhill. Our plan was to walk deeper into the jōgai area (i.e. closer to the actual market) to hit a few more spots before crossing over to the area that also had a cluster of event participants near the Sumida River. But the tempura restaurant we planned to visit was closed despite the fact that it wasn't even 9PM. It seems that the strategy to take is hitting these spots at the beginning of the event (around 4PM) rather than later since you get better cost performance out of those closer to the fish market. Maybe next time!
Somewhat defeated and still a bit hungry we decided to regroup at Tsukiji Terrace, a cafe/bar that sits right across the street from Hongan-ji and has some outdoor seating. There's really nothing Japanese about this place so sake wasn't even being offered. We went for some sparkling wine instead.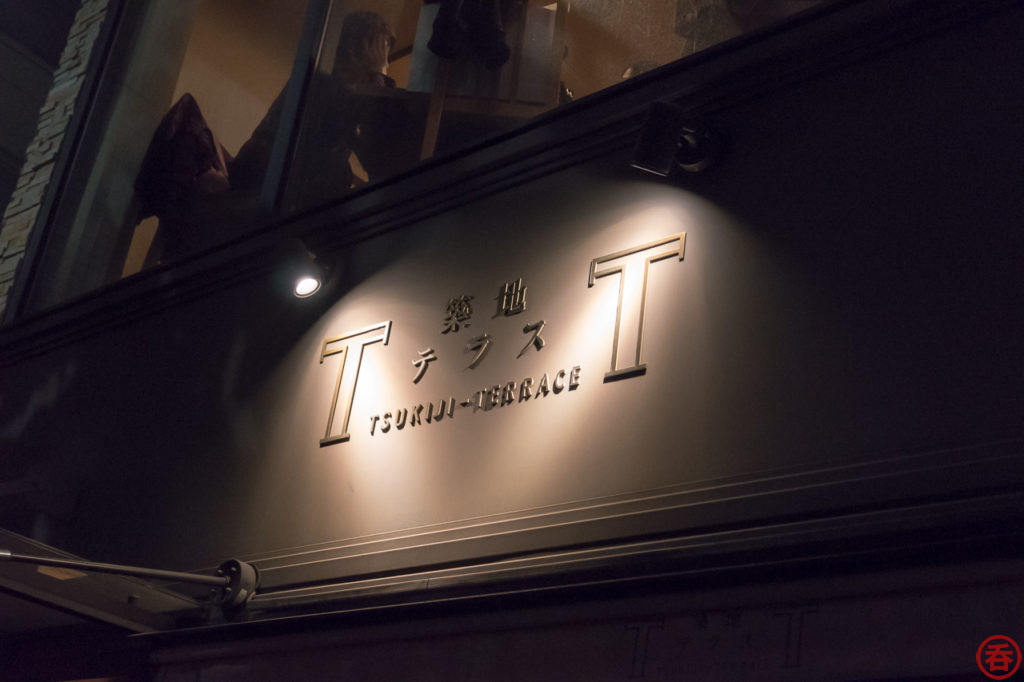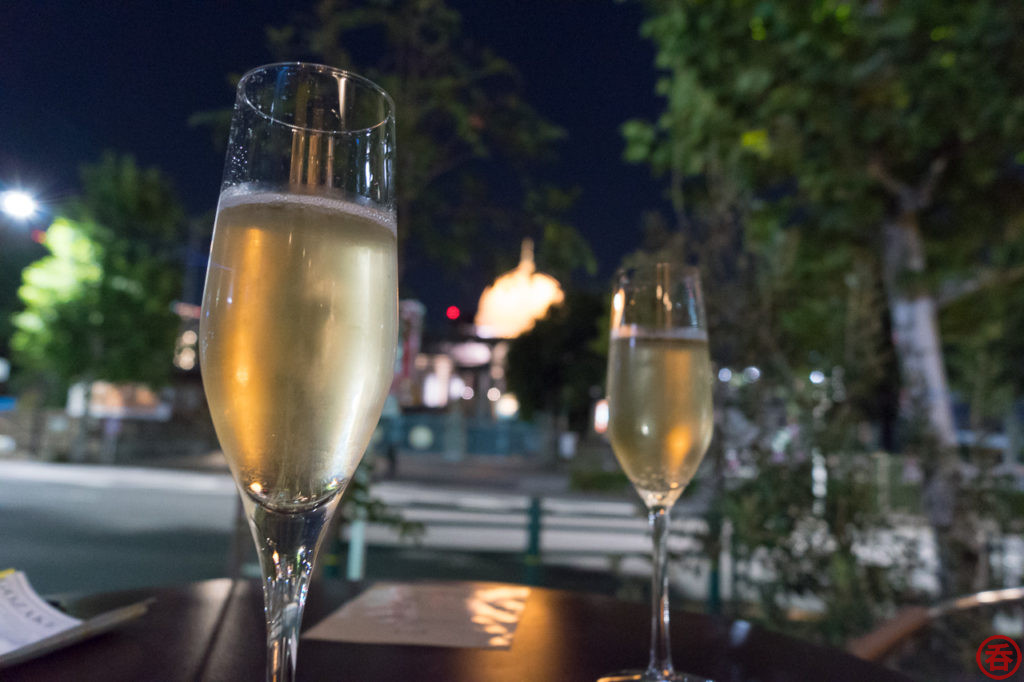 Our last stop of the night was Niconico, since they were continuing with the event until 10PM rather than 9PM. Luckily we managed to order fried mackerel before they closed up shop.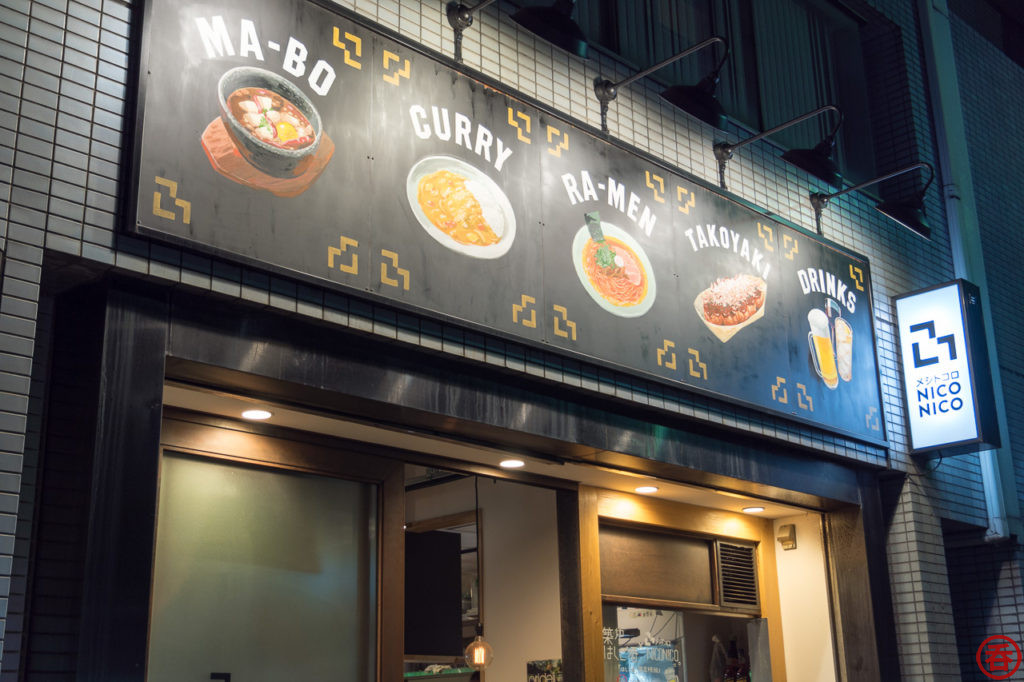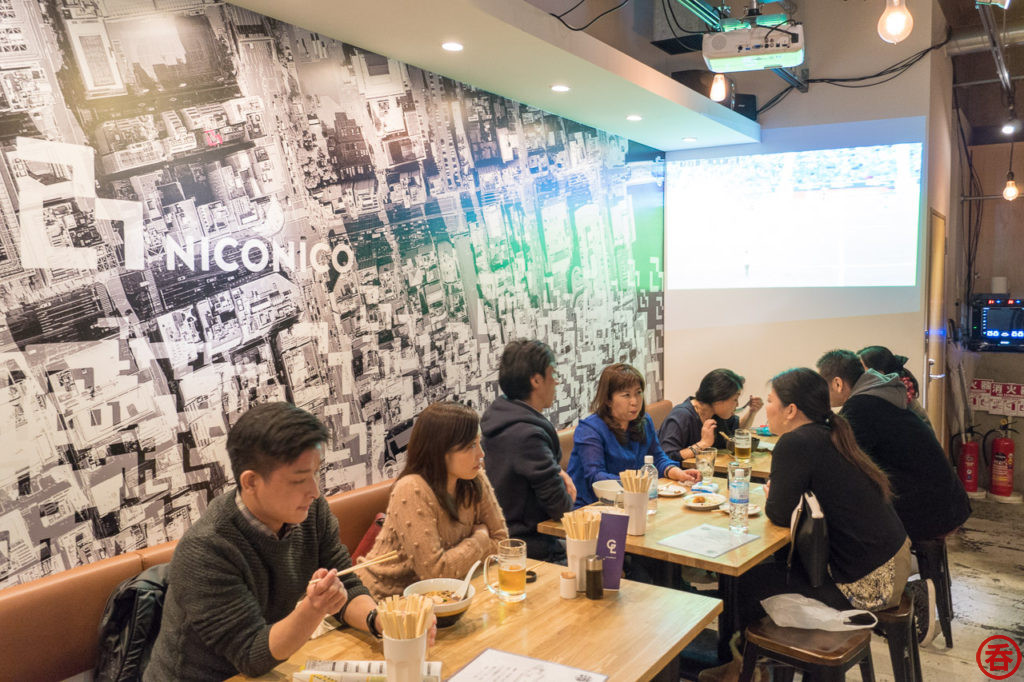 Now that we've been to the event once, we'll definitely try to improve our strategy for next time. That means going earlier to the immediate vicinity of the fish market, and spending more time at places that provide a good cost/performance ratio!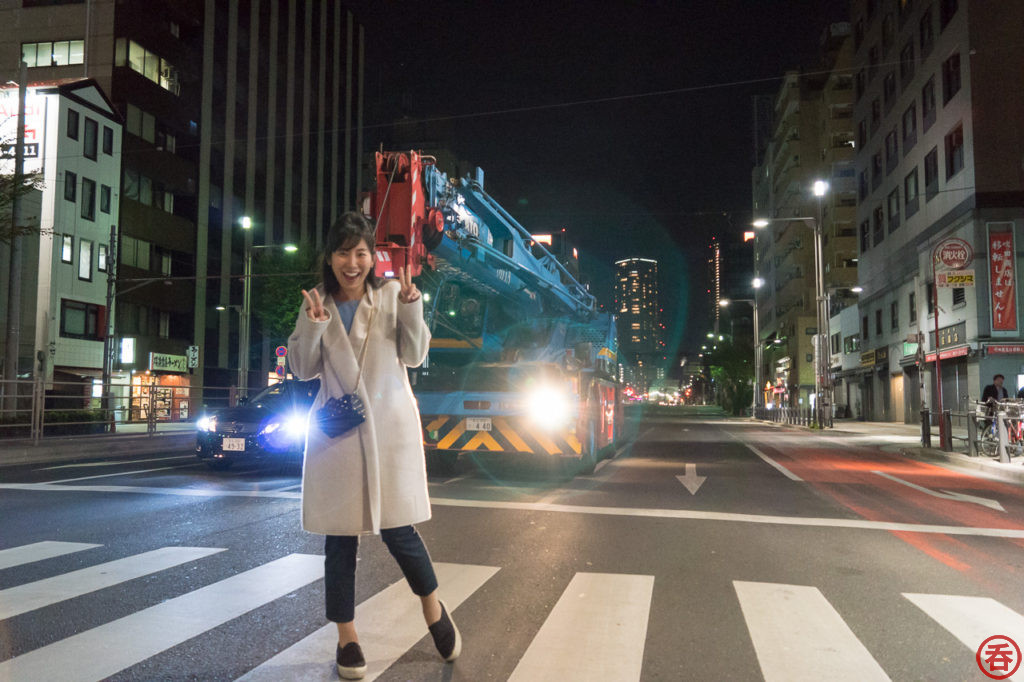 Hi there! I created and run nomunication.jp. I've lived in Tokyo since 2008, and I am a certified Shochu Kikisake-shi/Shochu Sommelier (焼酎唎酒師), Cocktail Professor (カクテル検定1級), and I hold Whisky Kentei Levels 3 and JW (ウイスキー検定3級・JW級). I also sit on the Executive Committees for the Tokyo Whisky & Spirits Competition and Japanese Whisky Day. Click here for more details about me and this site. Kampai!