Niigata prefecture's Farm8 recently launched a monthly sake mystery box dubbed Sakepost. Every month you receive three 100ml servings of sake in the mail from Niigata-based sake breweries, where the label and brewery name are revealed only when scanning QR codes on the back of each pouch.
What's your favorite sake? Favorite flavor profile? Style or category of sake? Region?
These are simple questions, but answering them can be difficult. Many of us don't know enough about sake, or maybe we've done the homework but haven't tried enough variety to understand its depth and breadth.
A great way to tackle that problem is a sake subscription service. You leave choice in someone else's hands and explore the category without going further than your mailbox. Some you'll love, some will be middling, and others won't match your preferences at all. That's all part of your journey into sake.
Sakepost isn't the world's first sake subscription service–Umami Mart's Sake Gumi for example has been around in the US for years now–but it has some unique aspects: 1) all the sake comes from Niigata, and only Niigata, 2) you scan a QR code to get label/brewery info; the pouches are unlabeled and 3) the website offers some online community features like comparing your tasting thoughts with everyone else.
Here in Japan, Sakepost offers two tiers:
Daily (Honjozo, Junmai, or Futsushu) for 1474 yen after shipping
Ginjoshu (Junmai Ginjo, Junmai Daiginjo, Daginjo, or Ginjoshu) for 2244 yen after shipping
Either option lands you three pouches at 100ml each. While not a standard 180ml ichigo, it's enough to get a decent taste of each sake.
Importantly for many nomunication.jp readers, Sakepost is also gearing up to launch in Hong Kong and Singapore in English. Understandably, the cost will be higher.
Sakepost currently has arrangements with 40 breweries in Niigata, or nearly half of the prefecture's total of 88. You won't find major names like Hakkaisan on the list, but you can try those big brands anywhere. It's better to think of Sakepost as an introduction to lesser-known breweries and brands. And if you're a member for long enough–there's a 3-month membership minimum–you'll meet a lot of them.
While I enjoy the non-biased, blind tasting option of Sakepost, I will have to knock it slightly because it's too blind for sake: you have no idea what serving temperature is recommended for a given pouch. They could easily tell us that without giving up the brand or brewery. What's more, scanning the QR code beforehand won't answer the question, because that info isn't always offered even on the Sakepost description page.
After scanning the QR code, you're presented with the label and brewery info. Scroll further down and there's a community section, with Twitter-style polls asking you about the nose, flavor, pairings, and more. Presumably, those poll results are fed back to the brewery. You can also send free-input comments, and even stamps, to the brewery in a separate section of the site. (Please note these shots are from the JP version of the site)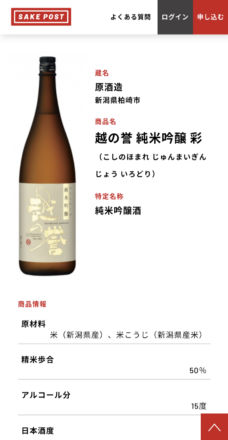 Sakepost launched in November 2021, less than a year ago, and I hope their site will offer more features one day. Presumably, many customers are relatively new to sake. It would be great to have an education section. For example, if one of your pouches is a muroka sake, you just might ask "what does muroka mean?" Then there's the upsell: I want to buy a full-size bottle of what's in my pouch. Sakepost has my credit card number and mailing address. Seems like a no-brainer.
As for the price point. 2244 yen for 300ml of the ginjos isn't cheap. Well, you're paying for more than just the drinks. You're paying for convenience. Rather than be overwhelmed with choice, let someone else guide you. For Niigata's wide variety of sake, Sakepost offers precisely that.
Hi there! I created and run nomunication.jp. I've lived in Tokyo since 2008, and I am a certified Shochu Kikisake-shi/Shochu Sommelier (焼酎唎酒師), Cocktail Professor (カクテル検定1級), and I hold Whisky Kentei Levels 3 and JW (ウイスキー検定3級・JW級). I also sit on the Executive Committees for the Tokyo Whisky & Spirits Competition and Japanese Whisky Day. Click here for more details about me and this site. Kampai!