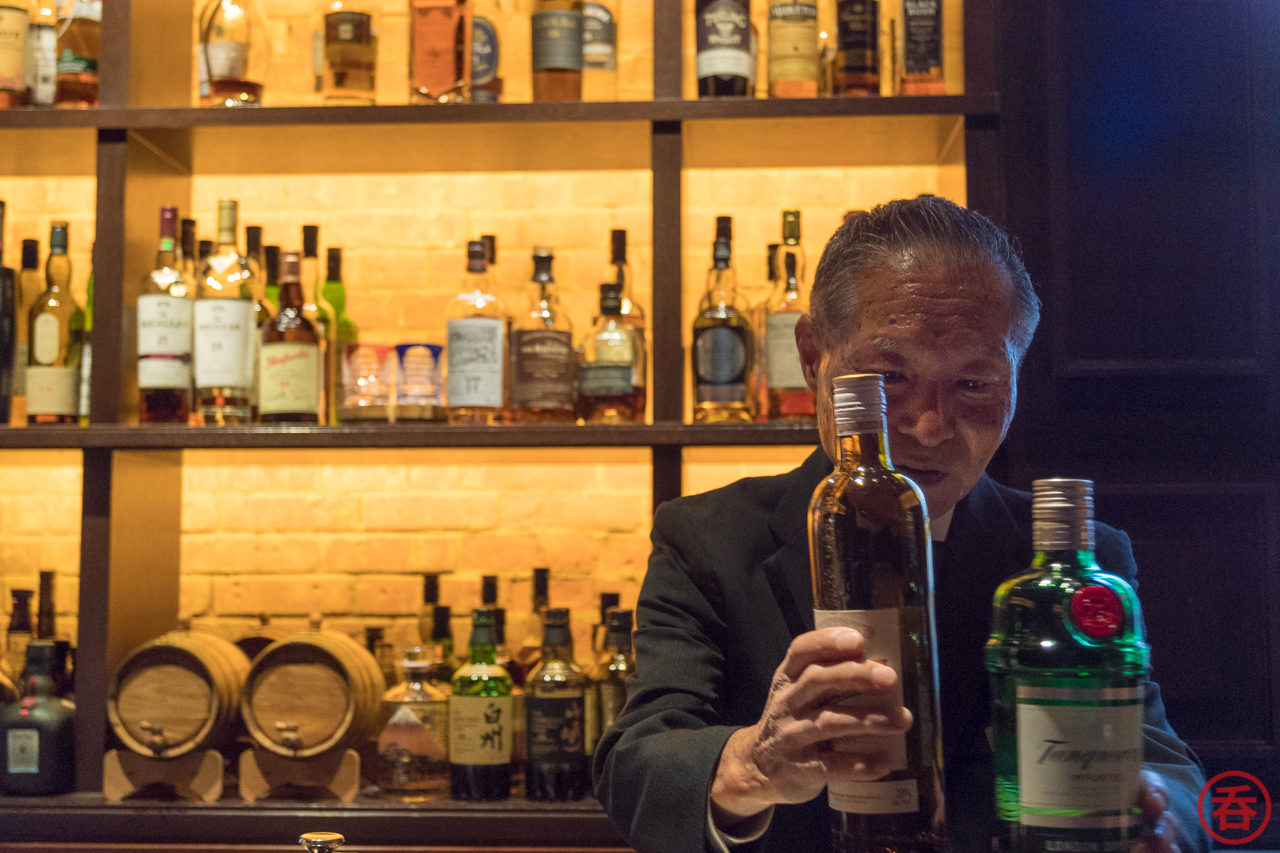 T
here are bartenders that have been behind the wood for a long time, then there's Hisashi Sugimoto. Joining
The Tokyo Station Hotel
in 1958, Sugimoto-san has been tending bar there for over 50 years. "At the time, the bar didn't have a name. It was simply a bar attached to the dining room," he says. I'm flanked by Hama-san, the PR manager for the hotel. Of course that bar has a name now:
Bar Oak
.
Our conversation delved into his decades working in one of Tokyo's most iconic hotels, the changes Tokyo station has seen over the years, and of course his tastes for cocktails and whiskies. Bar Oak is located in The Tokyo Station Hotel, situated within the same famous building as "The Gateway to Japan," Tokyo station. If you want to meet Sugimoto-san in person, this is where to do it.
"I work five days a week. I don't use a cell phone or email," he says with a laugh. Since many people come specifically to meet Sugimoto-san and Bar Oak does not take reservations, it's not uncommon to see a line form outside the bar that seats 16. His popularity led The Tokyo Station Hotel to ask him to continue working despite his age: this year he turns 79 years old. "So for the Olympics you'll be 80 years old?" Hama-san asks. "I was 24 years old for the Olympics." No Sugimoto-san, not those Olympics. The next ones.
When I ask about what whiskies he personally prefers, he pulls a bottle of Johnnie Walker Red Label from the back bar. "Easy-to-drink blended Scotch. The cheap stuff. It's good," he says. Does he drink Japanese whisky? "Too expensive," he replies. Understandable! He says that's the same reason he doesn't really drink single malts very often. So we're back at Red Label quickly. "Slice up an apple, take off the skin, and put it in the whisky. When you're done, eat the apple. The whisky has apple aromas to begin with," as he passes over the bottle for a nose. Perhaps it's no coincidence that Johnnie Walker themselves recommend a mix of Red Label and apple.
That's not to say that Bar Oak doesn't offer Japanese whisky. In fact they have an extensive offering despite the climate we're in. "We're doing a promotion right now for Ichiro's Malt," Hama-san adds, motioning towards the lineup positioned on the bar. "Akuto-san visited last year," says Sugimoto-san. "He used to work for Suntory, then went to work for the family business. But they don't make sake anymore — only whisky now."
Tokyo Station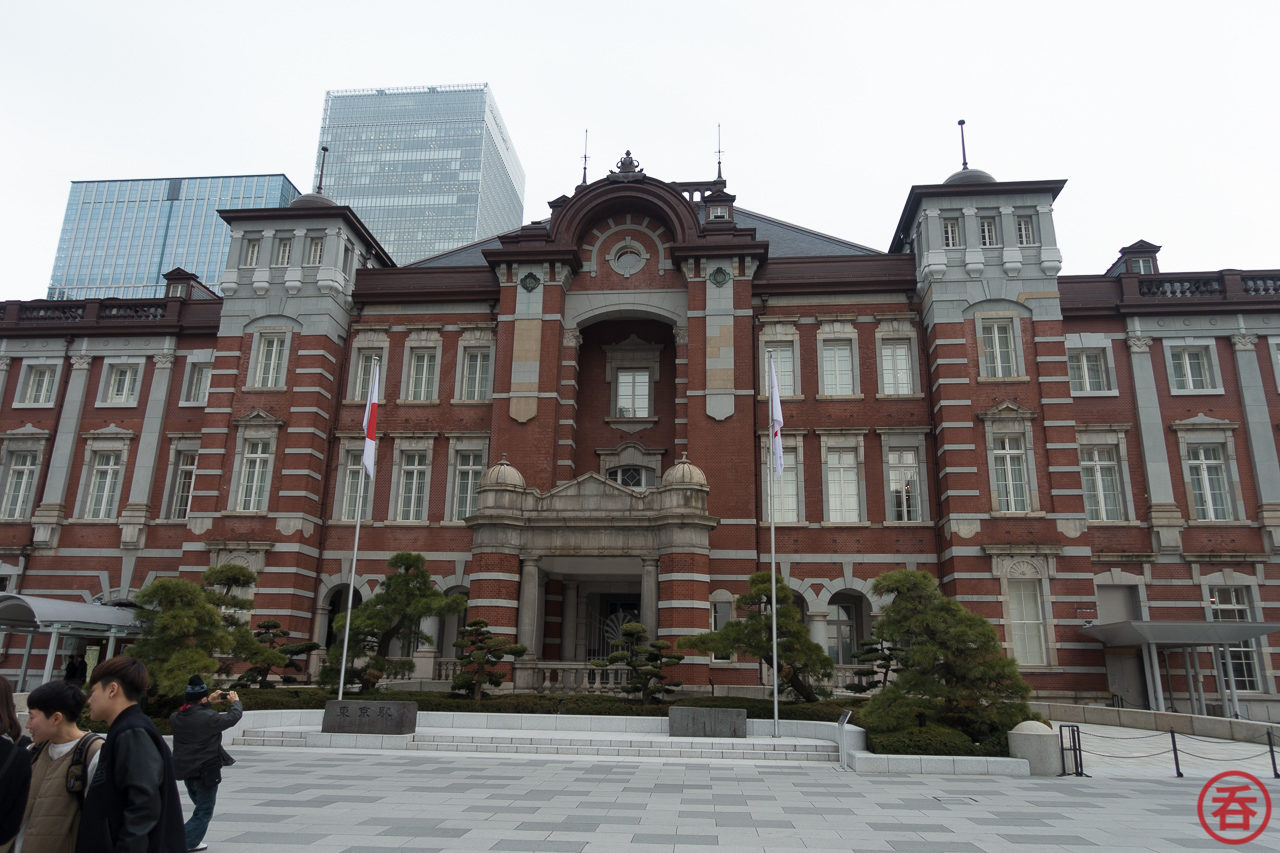 Tokyo station wasn't included on the route of the first passenger trains in Japan. Instead that honor falls to the Shimbashi/Sakuragicho (Yokohama) stations, which opened in 1872. In fact it's not even among the first ten stations, being beaten to the punch by the likes of Shinjuku, Akibahara, Shinagawa, and Ueno stations.
Tokyo station was born out of necessity. Prior to its existence, there was a gap in Tokyo's train lines: passengers had to either walk or hire a rickshaw to travel from Shimbashi to Ueno. That changed in 1882, when a horse-drawn train line was introduced. With up to 70 departures per hour–that's more departures than the current Yamanote/Keihin-Tohoku lines!–it was clear that there needed to be an actual train line cover this route.
Plans were drawn up, and famed architect Tatsuno Kingo was brought in to design the main station building. While it's hard not to see a resemblance between the Tokyo Station building and Amsterdam Centraal, there is in fact no record of Kingo-san ever setting foot in Amsterdam. Tokyo Station officially opened on December 20, 1914. Though not to as much fanfare as one may expect. Only 9,500 people passed through the station per day when it first opened.
Of course, over the past century it has become a behemoth of a train station. In 2017, 452,000 people per day passed through, putting it in the top ten busiest train stations in the world. But more important is why it's called the Gateway to Japan: you can use one of the roughly 4,000 trains that depart daily to access 32 of Japan's 47 prefectures with no transfers. It's also located a stone's throw from the famed Marunouchi business district and of course the Emperor's Palace. The Emperor has his own entrance, and rumor has it that the Tokyo Station Master personally escorts His Imperial Majesty as he uses the station.
Tokyo station Marunouchi Building is also one of the safest buildings to be in should there be an earthquake. "The original Tokyo station building had over 11,000 columns. During the upgrade [from 2006-2012], every column was removed, and 350 base isolation systems and 160 oil dampers were added. So now you don't really feel earthquakes at all. The building is only four stories high, and there's a plenty of open space," says Hama-san. A few years back there was an earthquake in Tokyo. Sugimoto-san says that "the guests noticed but I didn't — the back bar was not shaking at all."
About Bar Oak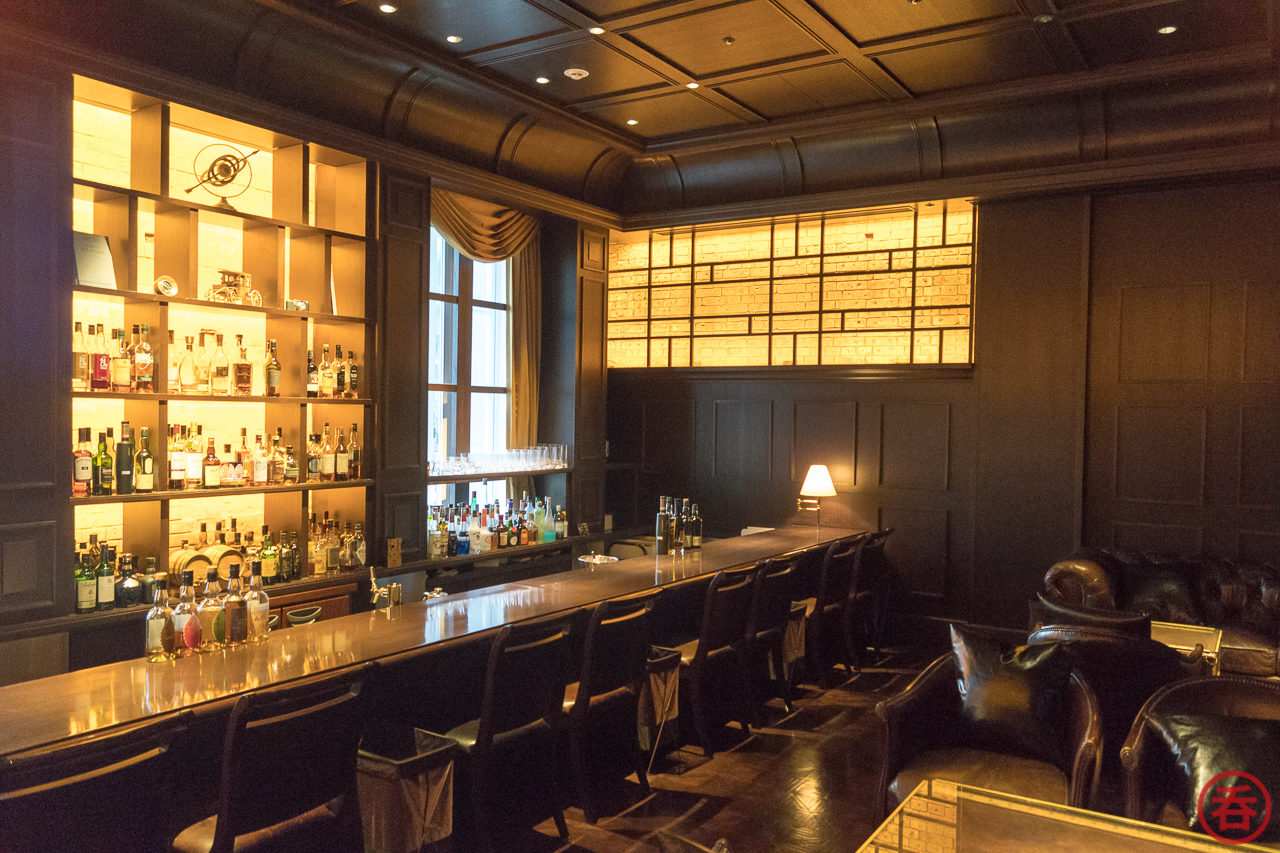 Opened in 1989, Bar Oak is a sanctuary for the traveler: the dark woody interior calls forth images of a luxury bar car from trains of yesteryear. It's been in its current location since 2012, since as part of the renovations, Bar Oak was moved and redesigned. Exposed brick from the first days of Tokyo station celebrate the rich history of this location, making this a great spot for relaxing with one of their original travel-inspired cocktails or your whisky of choice.
One such cocktail is the aptly named "The Tokyo Station," Bar Oak and Sugimoto-san's signature cocktail. It was devised to celebrate the 75th anniversary of Tokyo station. "It's our most popular cocktail. And pretty affordable, at 1300 yen," explains Hama-san.
The simplicity of the recipe calls back to days when cocktails didn't involve infusions, foams, or homemade bitters: it uses only Tanqueray, Suze, pomegranate syrup, and lime. Something jumped out at me about this recipe. Suze isn't such a common ingredient for cocktails even now in 2019 — how did he go about discovering it some 30+ years ago? "Actually it's been imported to Japan for 30-35 years. Maybe a bit rare," Sugimoto-san replies.
Being the bar's signature cocktail, it's ordered all the time. "We likely go through the most Suze of any bar in Tokyo. And thus probably all of Japan." And I would guess the entire world, too.
The Tokyo Station cocktail is symbolic in its recipe, flavor profile, and color. The T of Tanqueray represents Tokyo, and the S of Suze represents Station. Once you are used to the herbal-forward notes cocktail of gin and Suze, squeeze the lime garnish for the remainder of the drink for a noticeably sweeter experience. "It's to represent the arrival and departure of trains at Tokyo station," Sugimoto-san tells us. There's also a red glow reminiscent of the red brick of Tokyo station itself.
Have customer tastes changed over the years? Since Sugimoto-san began his career, Japan's economic bubble grew and popped, and with it tastes shifted away from sake and shochu towards Western alcohol like beer and whisky. "Most people have some specific cocktails they like. Martini, Daiquiri, or a Sidecar for example." He spent a year in New York during the 1964 World's Fair, smack in the days of the Three-martini lunch. "'Drier, drier, drier,' they would say," Hama-san tells. "Of course some people like their martinis sweet as well," Sugimoto-san recounts. "I remember the faces" to remember his regular guests' favorite cocktails, he says. "You wouldn't offer them brandy if they just want juice."
The Tokyo Station Hotel
While a hotel targeting overseas guests was included in the original plans for Tokyo Station, some debate within the government led to its construction being slightly delayed. As a result, The Tokyo Station Hotel opened on November 2, 1915, so roughly a year after Tokyo Station itself.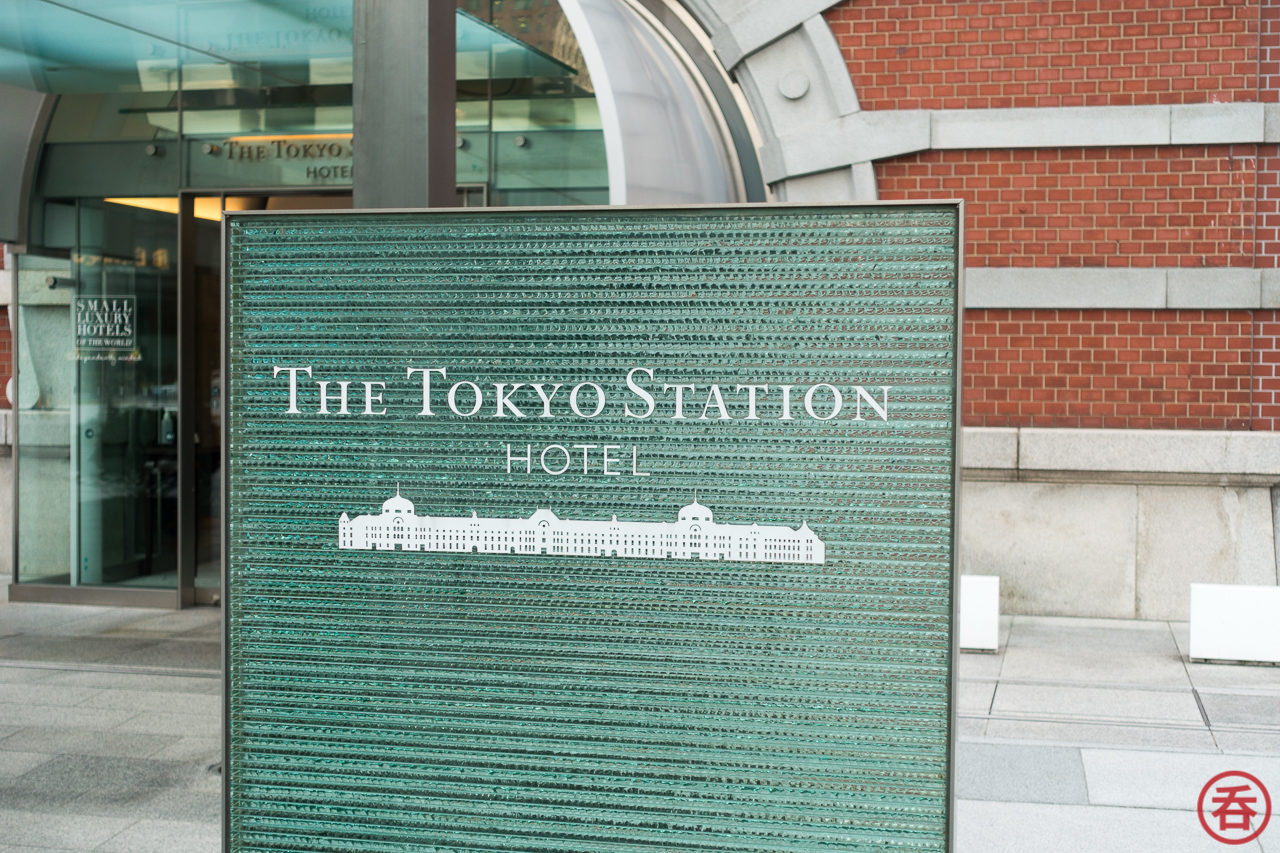 In its original form, The Tokyo Station Hotel was a 3-story hotel, though damage sustained from a B-29 firebombing led to post-war renovations turning it into a two-story building. The Tokyo Station building was designated an Important Cultural Property in 2003. A preservation/restoration of the Tokyo Station building was launched, so The Tokyo Station Hotel was closed in 2006. It reopened on October 3, 2012. As Tokyo's first hotel to join the Small Luxury Hotels of The World collection, it has 150 guest rooms, three banquet rooms, fitness lounge, bathing/relaxation, as well as ten restaurants and bars. There's also Bar & Cafe Camellia that dates back to 1951. But it's only Bar Oak where you'll find Sugimoto-san.
Hi there! I created and run nomunication.jp. I've lived in Tokyo since 2008, and I am a certified Shochu Kikisake-shi/Shochu Sommelier (焼酎唎酒師), Cocktail Professor (カクテル検定1級), and I hold Whisky Kentei Levels 3 and JW (ウイスキー検定3級・JW級). I also sit on the Executive Committees for the Tokyo Whisky & Spirits Competition and Japanese Whisky Day. Click here for more details about me and this site. Kampai!