Sake maker Masuizumi has teamed up with Pernod Ricard Japan to bring out a sake called "Link 8888," which has been aged in ex-Chivas Regal casks. The 8888 in the name refers to the fact that the brewery of Masuizumi is located approximately 8,888km from the Chivas Regal's Strathisla Distillery in Kieth, Scotland (it's actually 8814km according to Google Maps, but close enough).
Chivas Regal has been putting plenty of their weight behind the Japanese market, notably with the formerly Japan-only release of Chivas Regal Mizunara. But this collaboration with Masuizumi for making a sake is a first for the company. Obviously the sake is matured in ex-Chivas Regal casks shipped over to Japan from Scotland, but they also went a step further and brought Chivas Brothers' blending expertise as well. Link 888 is a blend of sakes made using Yamadabo, Yamadanishiki, and Kuromai, a kind of brown rice. Each sake was individually aged in American white oak 12+ year ex-Chivas casks, then later blended to create Link 8888.
It went on sale from December 19th, with only 50 bottles being available for 6500 yen each. It will also be available by the glass at the "CHIVAS REGAL Experience at Mercedes me Tokyo," running until January 9 on upstairs at the Mercedes showroom in Roppongi.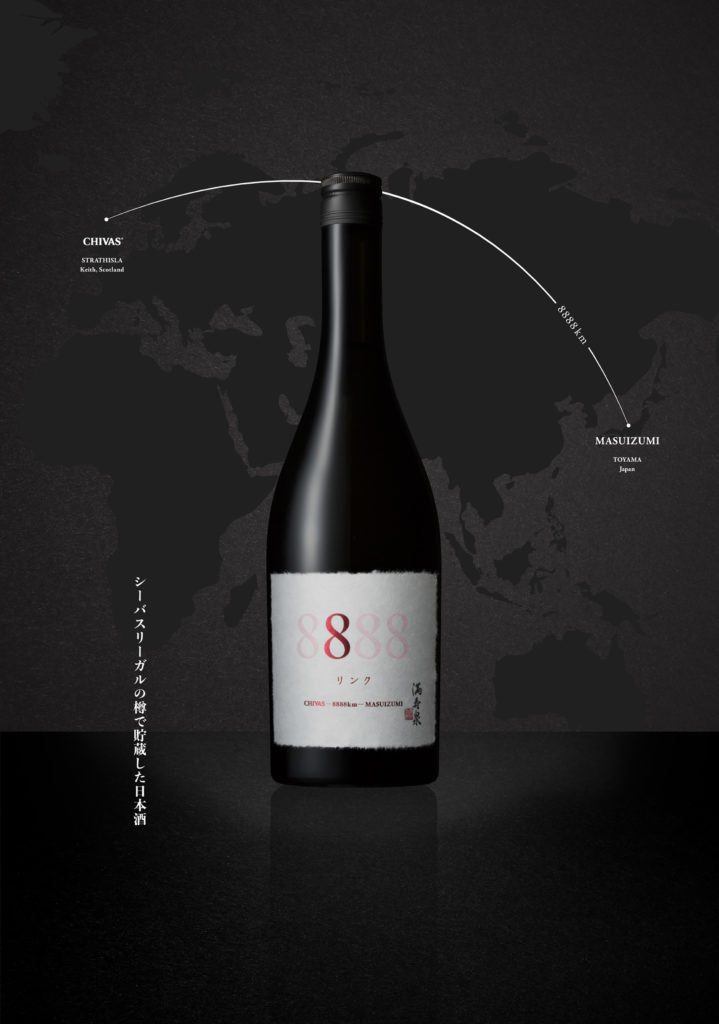 Hi there! I created and run nomunication.jp. I've lived in Tokyo since 2008, and I am a certified Shochu Kikisake-shi/Shochu Sommelier (焼酎唎酒師), Cocktail Professor (カクテル検定1級), and I hold Whisky Kentei Levels 3 and JW (ウイスキー検定3級・JW級). I also sit on the Executive Committees for the Tokyo Whisky & Spirits Competition and Japanese Whisky Day. Click here for more details about me and this site. Kampai!