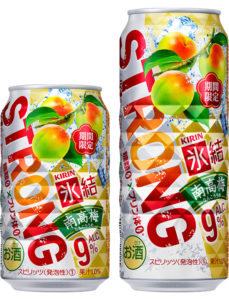 Ume, or plum, is Japan's third best-selling flavor of chuhai after lemon and grapefruit. While the plum flavor is already available year-round in Kirin's regular Hyoketsu series, for the first time, Kirin has announced the Hyoketsu Strong Nanko Ume.
Available on December 5 for a season-limited release, it's 9% abv and available in 350ml or 500ml sizes. Wakayama prefecture is responsible for 60% of Japan's production of ume, but within that 60%, "Nanko Ume" are especially prized for the fruit size, tenderness, small seeds, and sweetness. In fact Nanko Ume runs about double the price of a standard ume, and "Kishu Minabeinami Nanko Ume" is a trademarked name for the fruit.
Interestingly, Nanko Ume was mired in controversy in 2011, when it was revealed that suspicion of a "Plum Cartel" led the Japan Fair Trade Commission to raid dozens of local plum processors and their associated union offices. Since around 2004, the two major plum processor unions would meet up to agree on a specific price at which they would purchase that season's crop from farmers, rather than negotiate with local farmers independently.
Hi there! I created and run nomunication.jp. I've lived in Tokyo since 2008, and I am a certified Shochu Kikisake-shi/Shochu Sommelier (焼酎唎酒師), Cocktail Professor (カクテル検定1級), and I hold Whisky Kentei Levels 3 and JW (ウイスキー検定3級・JW級). I also sit on the Executive Committees for the Tokyo Whisky & Spirits Competition and Japanese Whisky Day. Click here for more details about me and this site. Kampai!