Importer Gaiaflow teamed up with Sweden's Box Destilleri this past Monday, October 23, to host a Tokyo launch reception at the swanky TOKYO Whisky Library in Omotesando. The event featured tastings of four different bottles from Box, one of which was a private bottling specifically for Gaiaflow. Distillery Manager Roger Melander was also in Tokyo to give a brief introduction of the distillery and its whiskies, as well as answer questions first-hand.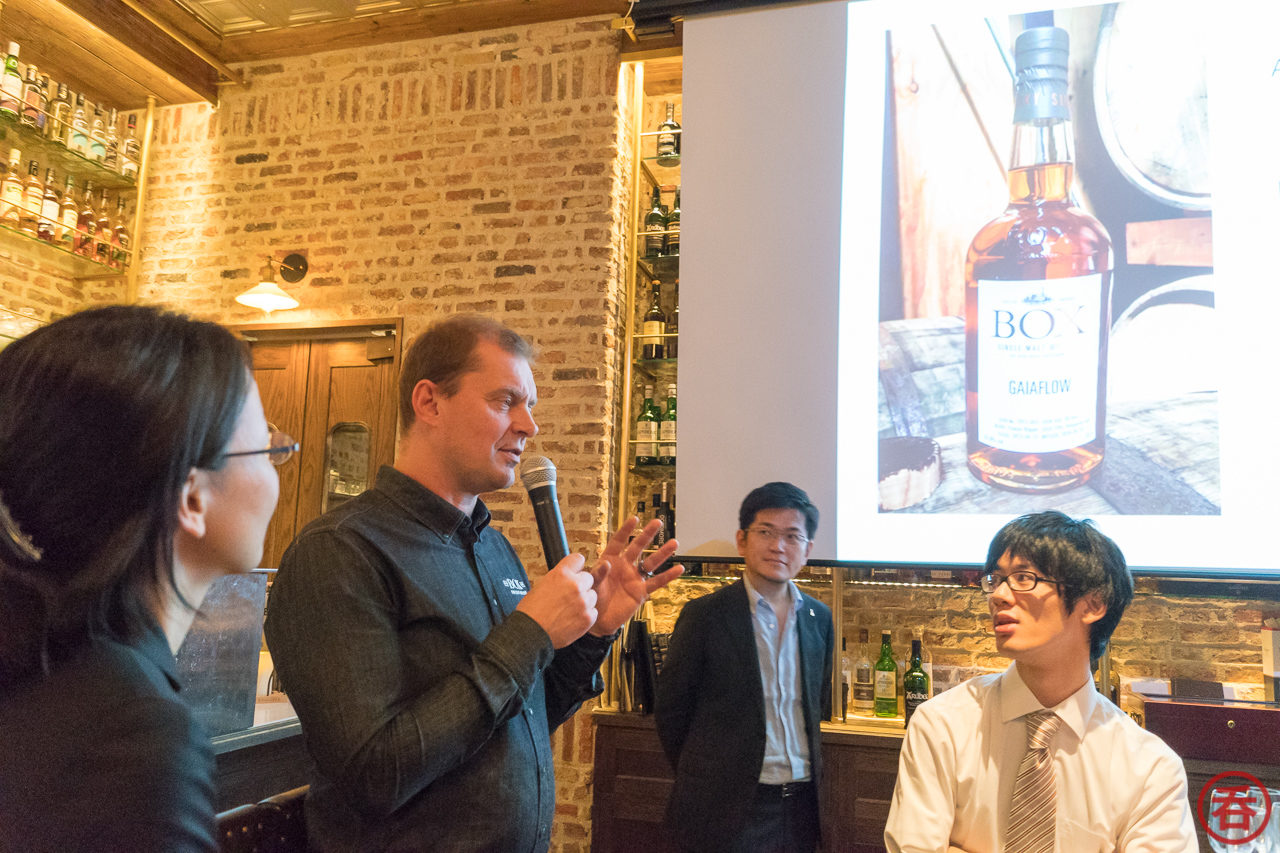 About Box High Coast Distillery
At 63°N latitude, Box Destilleri ("High Coast Distillery") is one of the northernmost distilleries in the world. In fact it was the furthest north in the world when they began operations 7 years ago. That title has since gone to Norway's Bivrost, but Box remains the northernmost distillery within Sweden, which itself sits further north than the rest of the world's traditional whisky countries.
This extreme latitude works wonders for Box's whisky. Summers get up to a toasty 30°C, but during the bitter winters, temperatures drop to -30°C. The distillery has the coldest cooling water of any in the world, as the immediately adjacent Ångerman River originates even further north in the Scandanavian Mountains. But there's a bigger benefit from this temperature variation: aging. Box's cask storage facilities are not temperature controlled, meaning they're entirely exposed to the swings. This pushes the whisky in and out of the casks to impart some wonderful fruity flavors more and fully than one would expect given the age.
The Box Destilleri itself is converted from a power station of the same name that was established in 1912. Prior to the power station, a firm named AB Box processed wood to be exported to England in the manufacture of boxes.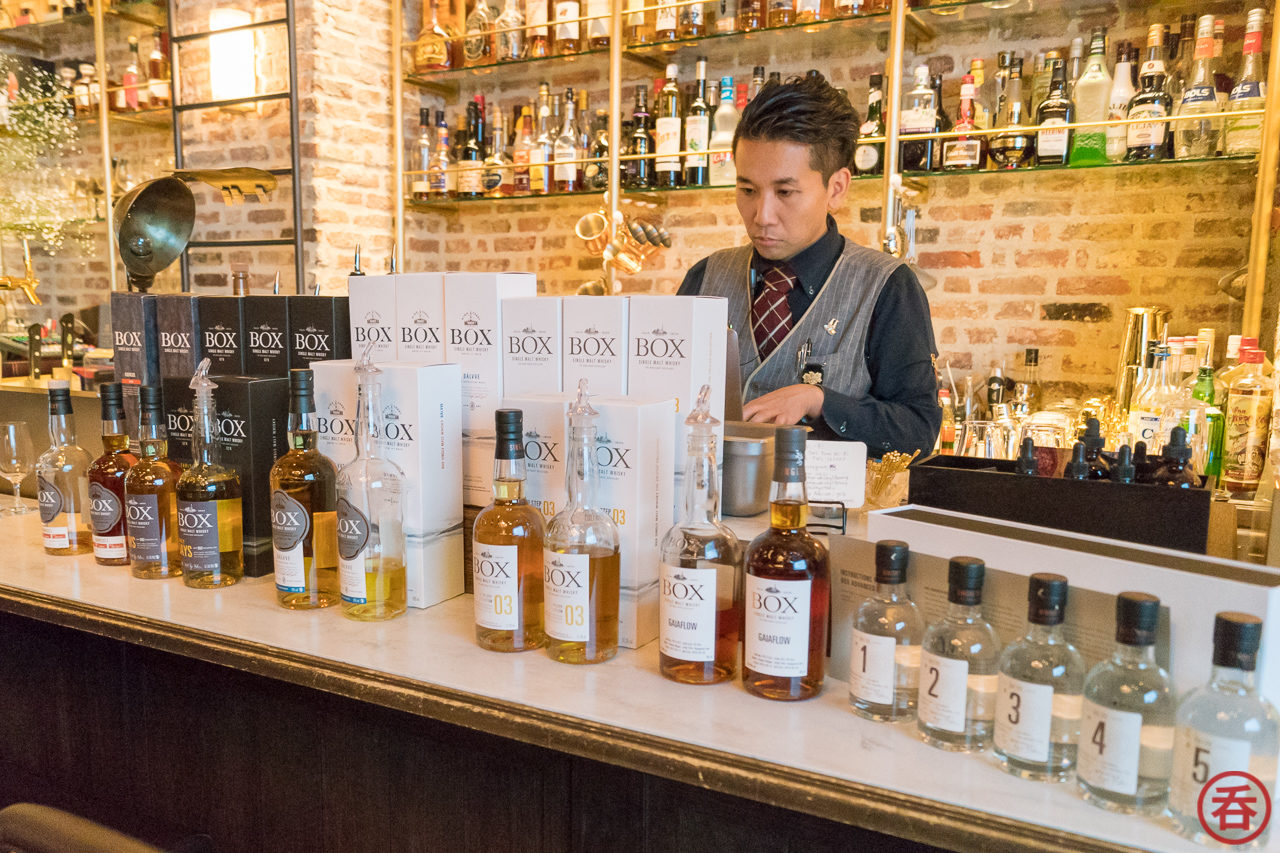 Sweden is very unique market environment due to the looming presence of the Systembolaget, the country's monopoly on any alcoholic beverage over 3.5% abv. This means that domestically, Box Destilleri has only one customer on paper: the government. You're either in the monopoly or you're out of the monopoly, so stakes are high to maintain quality and keep competition from stealing your spot in the monopoly. It's also illegal to market directly to consumers. That means no advertising in print, TV, or anywhere else. Box Destilleri seems to have no trouble though as it's Sweden's most popular domestic whisky. Mr. Melander related a stories of how they had 1500 people running full-sprint across a field to collect one of 1000 vouchers to be able to purchase a special bottling, and how security regularly has to push crowds back from their booths at whisky events.
In terms of capacity, Box currently does about 100,000L of alcohol per year. They have two copper stills at the moment, where the first distillation produces about 3150L, and they do 2 runs per day. The company plans to double their number of stills in the very near future though, and expects to produce 350,000L next year. As a result they're expanding warehouse space as well.
Speaking of the storehouse, Box Destilleri has been adventurous in experimentation with their barrels. That means everything: kind of oak, charring levels, virgin vs. first, size, and even shape — they've experimented with using square barrels too. For the oak barrels they're using American oak, French oak, Hungarian oak, and Asian oak. The last one may sound like mizunara but it's actually not. Instead it's Mongolian oak from China near the Russian border, of which Japan's Mizunara is a subspecies. The latter is easier to work with, according to Mr. Melander, so they're still keeping their eyes open.
Box Destilleri's Whisky
Moving to the whisky itself, there were four samples provided at the event: Dálvve Batch 3, Early Days 002, The 2nd Step Collection 03, and Ankare Cask No. 2013-553 for Gaiaflow. Let's look at each individually.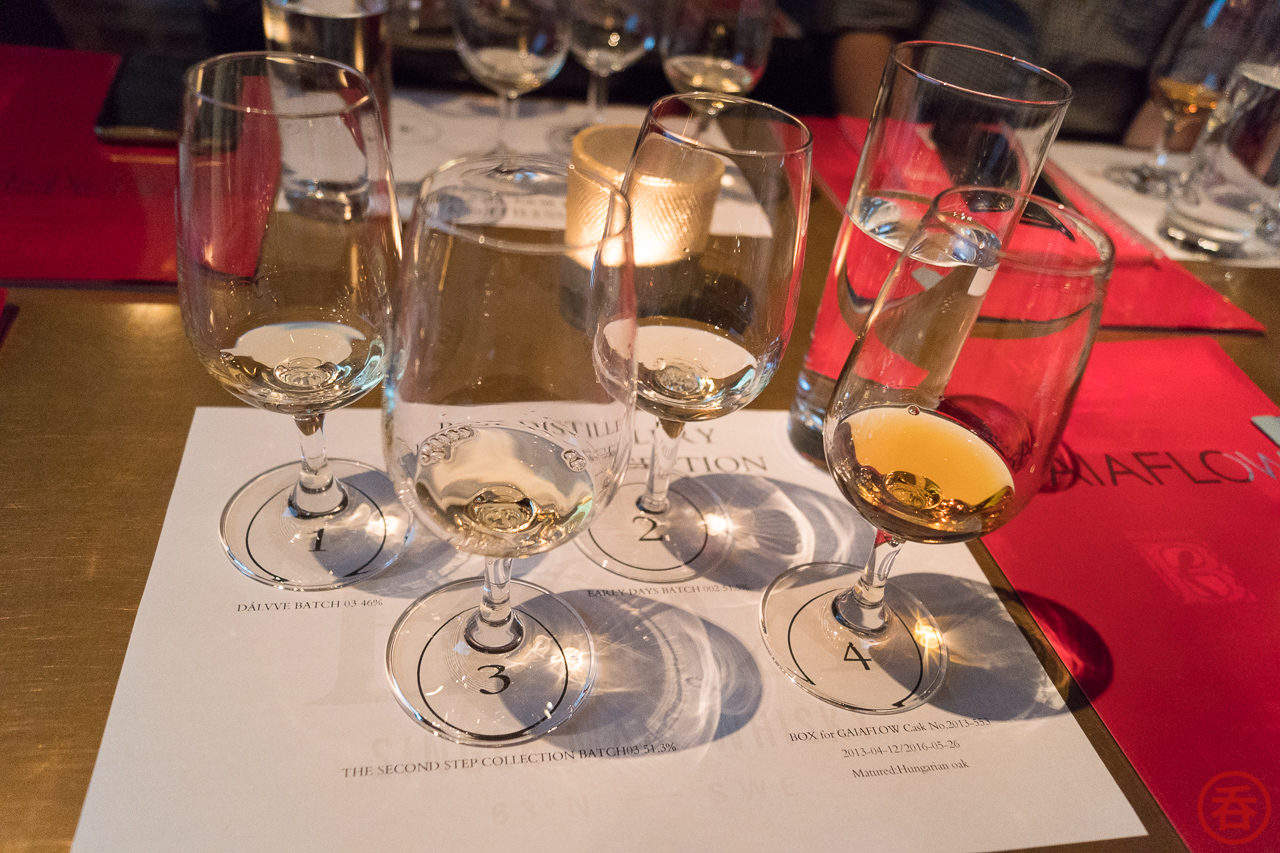 Dálvve Batch 3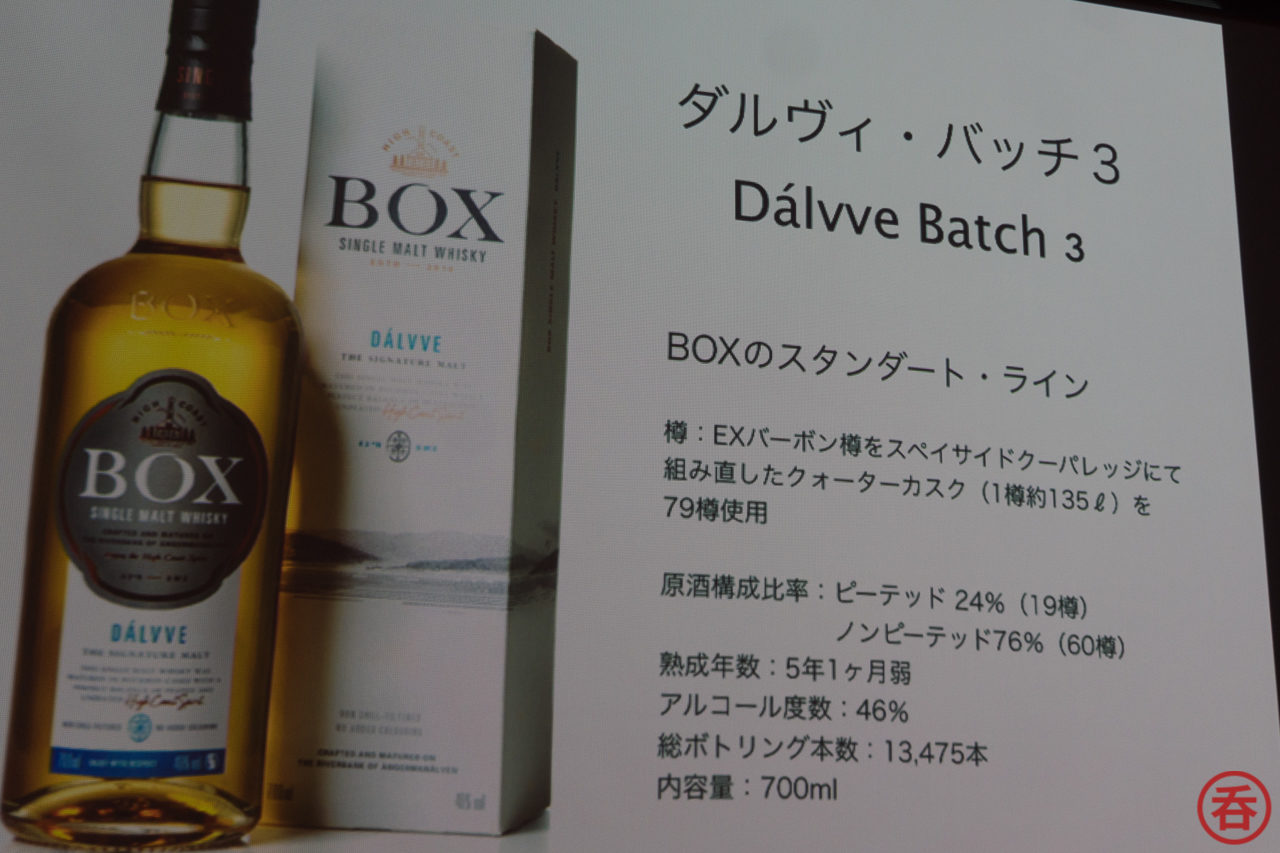 This is Box's standard whisky, and Batch 3 yielded 13,475 bottles of 700ml aged for just over 5 years. It's 46% abv, using 24% peated and 76% non-peated blend. The cask is ex-bourbon, reassembled by Speyside Cooperage to a 135L quarter cask.
My tasting notes
Nose: Prunes grown in a bog
Palate: Caramel, toffee
Finish: Trailing off quite smoky!
Early Days Batch 002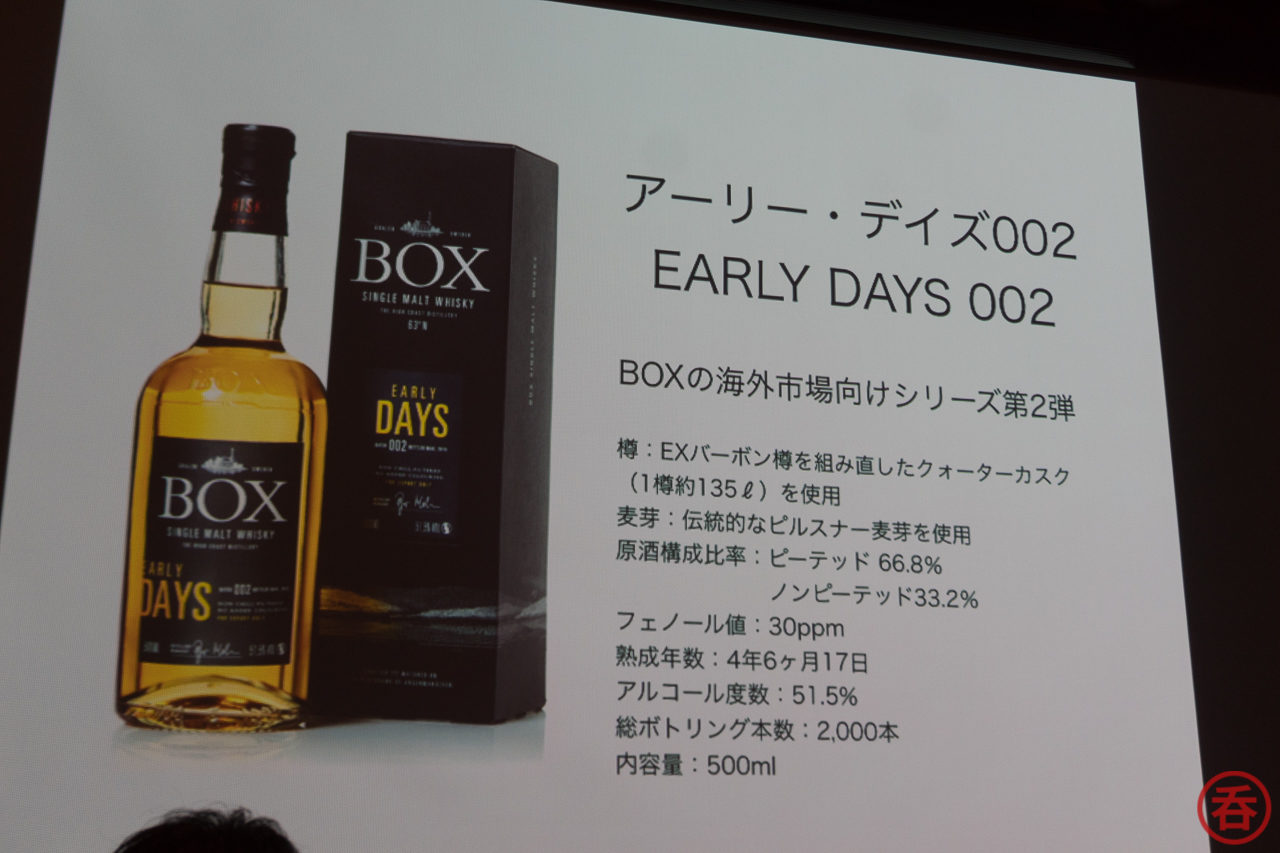 My favorite of the provided samples is the Early Days 002, which wasn't released in Box's domestic market. However that seemingly didn't stop about half of the bottles making their way back to Sweden. This one uses pilsner malt, and is a blend of 66.8% peated (30ppm) and 33.2% non-peated liquid. It was also aged in ex-bourbon casks, for 4 years, 6 months, and 17 days. That's specific age statement! Bottled at 51.5% abv.
My tasting notes
Nose: Peaty seared orange peel
Palate: Vanilla shisha tobacco, florals
Finish: Dark chocolate
The 2nd Step Collection 03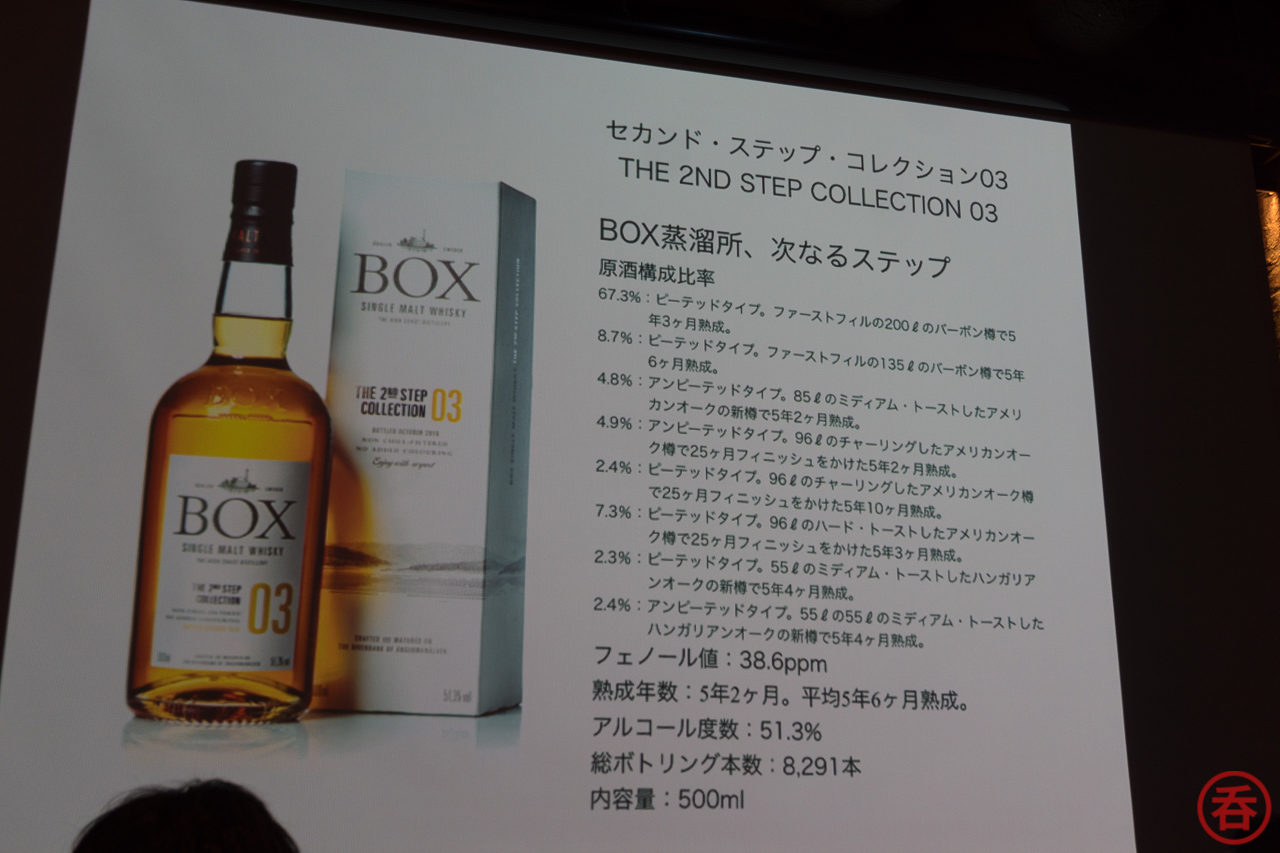 Slated to be released in November, this is The 2nd Step Collection 03. It's a blend of not two but eight different whiskies, where two-thirds of it is a 5y3m first-fill bourbon cask peated (38.6ppm) whisky. The other seven whiskies are aged for roughly the same duration in casks with various charring levels, peat/non-peat, and American or Hungarian oak.
My tasting notes
Nose: Smoky vanilla
Palate: Gingerbread cookies
Finish: Wet autumn leaves
Ankare Cask No. 2013-553 for Gaiaflow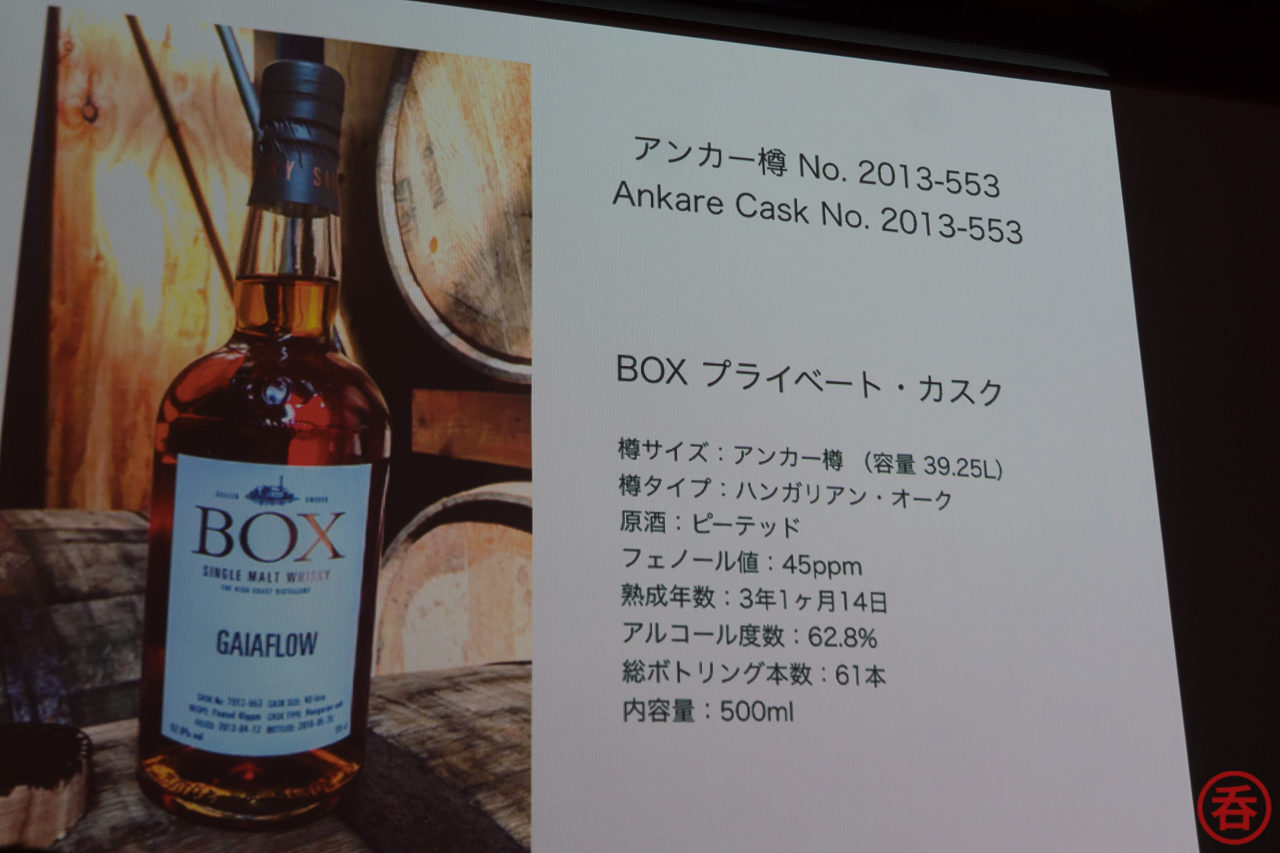 Gaiaflow's private bottling won't be sold, but it's a peaty monster of 3 years, 1 month, and 14 days. Box's Ankare casks are 39.25L, and this one was Hungarian oak, yielding 61 bottles at 500ml. It was bottled at a super hot 62.8% abv. According to Gaiaflow reps, this one won't be released for sale at all, so I don't expect to see it outside of events like this one. The difference between this and Box's other three whiskies was like night and day, and demonstrates the range of flavors Box Destilleri can help customers create.
My tasting notes
Nose: Sweet honey
Palate: Licorice, mezcal smokiness
Finish: Lingering peat
Thanks to Gaiaflow for organizing the event, and Box Destilleri for the presentation!
Hi there! I created and run nomunication.jp. I've lived in Tokyo since 2008, and I am a certified Shochu Kikisake-shi/Shochu Sommelier (焼酎唎酒師), Cocktail Professor (カクテル検定1級), and I hold Whisky Kentei Levels 3 and JW (ウイスキー検定3級・JW級). I also sit on the Executive Committees for the Tokyo Whisky & Spirits Competition and Japanese Whisky Day. Click here for more details about me and this site. Kampai!