Japan Import System is hosting cognac maker Paul Giraud for a visit to Japan in early September. This is a very exciting opportunity to meet him and learn more about what makes Paul Giraud's cognac such a unique spirit.
About Cognac Paul Giraud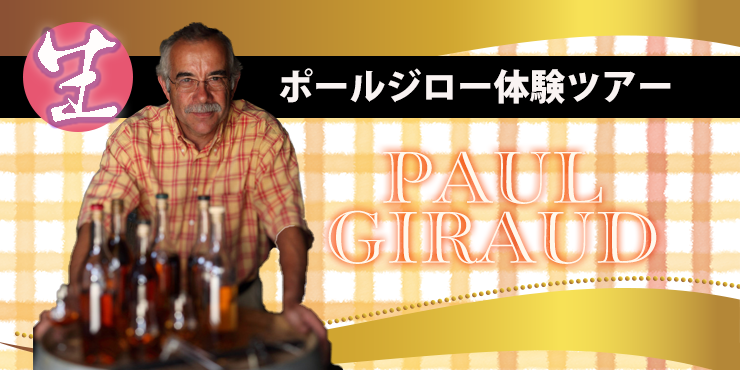 Situated in Cognac, France's Grand Champagne region since the 17th century, Cognac Paul Giraud is the definition of farm-to-table. They use only hand-picked(!) grapes grown in their own vineyard, make their own wine, then distill it themselves. There's a good profile of the distillery at drinkspirits.com if you're interested in learning more.
Japan Import System is holding the event in Tokyo on September 5, Osaka on September 7, and Fukuoka on September 8.
This isn't just a simple seminar where you sit and listen to Paul Giraud speak. Instead each event is more akin to a guided distillery tour. Paul Giraud will accompany the group (limited to 30 people) around various parts of the venue, each of which represents a different part of the cognac making process. This will give you an opportunity to hear him speak and ask questions on a far more personal basis than just a seminar.
The Tokyo event is being held at Kudanshita's Hotel Grand Palace, with tours launching at 11:15AM, 12PM, 12:45PM, 1:45PM, 2:30PM, and 3:15PM. Each tour lasts 40 minutes and features a free tasting session at the end. The tour cost is 2000 yen, including free tasting, but tickets for just the free tasting are also available for free.
Tickets can be purchased via Yahoo Japan's Passmarket.
Hi there! I created and run nomunication.jp. I've lived in Tokyo since 2008, and I am a certified Shochu Kikisake-shi/Shochu Sommelier (焼酎唎酒師), Cocktail Professor (カクテル検定1級), and I hold Whisky Kentei Levels 3 and JW (ウイスキー検定3級・JW級). I also sit on the Executive Committees for the Tokyo Whisky & Spirits Competition and Japanese Whisky Day. Click here for more details about me and this site. Kampai!