Nagano Prefecture's Komoro Distillery is now fully operational and plans to open to the public for tours and classes at the end of July. In advance of the public reveal, I was invited to visit.
Earlier this year, both Ian Chang and Koji Shimaoka–who we also spoke to last year–showed me around the grounds. Perhaps it was too early: the pot stills had just arrived and remained in their shipment packaging. Some details were still under construction. In any case, the images accompanying this post should give you an idea of what to expect should you be able to visit one day. For some more recent photos, check out their FB or IG.
Just 10 minutes from JR Komoro station, the Komoro Distillery is perched atop a hill overlooking the town. While we've seen many distilleries utilize existing facilities like old brewery buildings and warehouses, that's not the case here. Komoro is an entirely new construction. One of the building's facades is floor-to-ceiling glass, ensuring anyone passing by has an excellent view of the shiny distillation equipment.
If you're interested in visiting, tour reservations have already opened up, and you can make reservations via the distillery's reservation website. Tours will run three times daily.
Back to the equipment. Komoro has two pot stills, both from Forsyths: one 5000L wash still and one 7200L spirit still, where low wines from two runs are combined. Those stills are fed by ten washbacks, five of which are stainless steel and built by Forsyths. The other five are Douglas fir and were constructed on-site by a Japanese company. Eventually, the distillery plans to run two shifts, but for this first year, it's just one.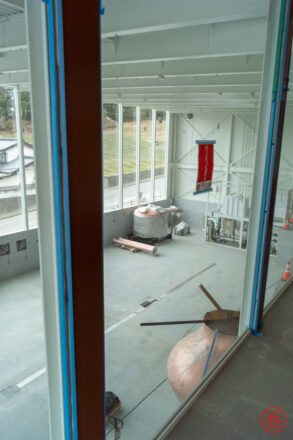 Don't expect a heavily peated whisky to come out of Komoro. To retain the fruity character that the distillery is aiming for, even during the two weeks of the year they'll run peated whisky, the malt will be 15-20ppm.
Apart from the distillery equipment, the first floor has the distillery's bar/shop and tour reception area. Then, the second floor houses the distillery's Whisky Academy, with another bar and a classroom-style space. The blending room and other distillery offices are also on the second floor.
This Whisky Academy is the first of its kind for Japan. There are five courses on offer: Tasting 101, Production 101, Whisky & Cocktails, Art of Maturation, and the Story of Peat. Each focuses on different aspects of whisky, running for 60 minutes. Combine them with the tour, and you can easily make a morning or afternoon of it. Komoro is aiming not just to offer good whisky but also this kind of experience at the distillery.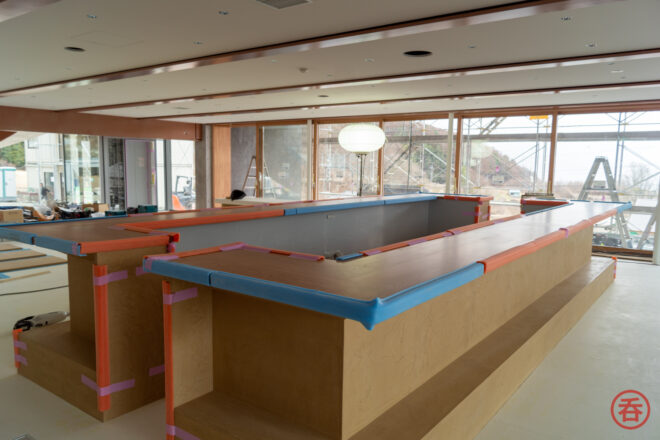 Crucially, Komoro Distillery also offers most of these courses in English once a week — select "Eddie's Course" on the reservation site for those dates and times.
One thing that struck me about the facilities is the extensive use of glass, even indoors. The still room occupies both the first and second floors. You'll probably have a decent view of those stills no matter where you are inside. Skylights add even more natural light throughout.
Just up the hill are the distillery's two dunnage-style warehouses, which resemble hangars. The upper portion of one of the larch facades is–again–glass, making the warehouses feel quite different from what's typical. Each will house around 3,000 casks. The setup will be palletized, meaning casks will be stacked on their heads rather than on their sides. Palletized warehouses are not seen very often in Japanese whisky.
Bourbon and Mizunara casks are a given for nearly any distillery in Japan these days. But the world is explicitly watching Komoro Distillery to see how they utilize Ian Chang's expertise with STR (Shave, Toast, Rechar) casks. That process is slated to happen off-site. There are also plans to bring in a variety of other casks, such as Sherry and wine casks from France, Spain, Portugal, and more.
Komoro Distillery assured me they plan to make the best possible spirit and "sacrifice quantity for quality." Even so, the output should be at least 100,000 LPA. A variety of scientific equipment, particularly when cutting new make, ensures consistency.
The distillery is taking quite a unique approach to making what I assume will be quality Japanese whisky and ensuring the visit is worthwhile for anyone who makes the trip. If you can make it, don't hesitate.
Hi there! I created and run nomunication.jp. I've lived in Tokyo since 2008, and I am a certified Shochu Kikisake-shi/Shochu Sommelier (焼酎唎酒師), Cocktail Professor (カクテル検定1級), and I hold Whisky Kentei Levels 3 and JW (ウイスキー検定3級・JW級). I also sit on the Executive Committees for the Tokyo Whisky & Spirits Competition and Japanese Whisky Day. Click here for more details about me and this site. Kampai!