Today I have a crack at blending my own whisky with The Fuji Gotemba BLEND KIT. This review will be in a slightly different format from our normal bottle reviews, since the objective here is creating the whisky to match my own preferences. Instead, I'll rate how effectively it provides that experience.
At-home whisky blending kits aren't a new concept — Chivas offers a similar kit, and here in Japan, Nikka Whisky also did one about a decade ago.
But The Fuji Gotemba BLEND KIT is a more recent release, hitting the market just in 2015. What's more surprising is that as of this writing, it's not yet sold out,  perhaps due in part to Kirin's decision to sell it exclusively via their Drinx online shop.
The blending kit goes for 10,800 yen including tax, and features five whiskies, a bottle of each at 200ml:
Grain whisky (Heavy type). Corn, rye, malt. Continuous distillation on a beer column & doubler still. Virgin casks
Grain whisky (Medium type). Corn, malt. Batched distilled with a kettle & column still. Virgin casks, ex-Bourbon casks, old casks
Grain whisky (Light type). Corn, malt. Continuous distillation on a multi-column still. Old casks.
Malt whisky (Fruity type). Malt. Distilled twice, pot still. Ex-Bourbon casks
Malt whisky (Malty type). Malt. Distilled twice, pot still. Ex-Bourbon casks, virgin casks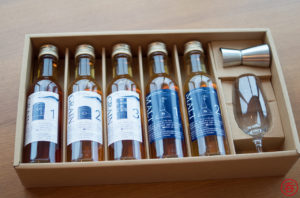 In the package you'll also find a pretty flimsy 15/30ml jigger as well as a Fuji Gotemba Distillery tasting glass. The latter is more important; each glass is handmade the same way since the distillery opened in 1973. Per Kirin, this is the same glass used by everyone at the distillery from still operator to Master Blender. There's also a Japanese-only guide to the provides the basics of blending, as well as some details about the included whiskies (not their maturities though).
What you're really paying for here is the opportunity to get at the heart of what makes Kirin's whisky famous. Where most distilleries have only one or zero grain whisky stills, the Kirin Fuji Gotemba Distillery has three on their premises. This allows for a wide variety of whiskies, and you can taste that for yourself with this kit. As we saw during our visit to the distillery last year, those three stills make light, medium, or heavy types of grain whisky, which are in turn blended with malt whiskies to create bottles like Fuji Sanroku Signature Blend. But the grain definitely stands on its own — Kirin's 25 year Small Batch grain has won World's Best Grain Whisky at WWA, for three of the last four years.
So it's no surprise to see those same three grain whiskies in the kit. The distillery tour does provide samples of these components, but not any real opportunity to actually try blending them on your own.
So what's the blending like?
It turns out that the included guide is actually extremely helpful and user-friendly for anyone new to blending whisky (like me). If you read Japanese, anyway.
We begin with getting a taste for each component whisky. I split this experience across two different tasting sessions: one for grain and one for malt. I find it drastically easier to make comparisons of whiskies when I can do so directly, i.e. go back and forth between them.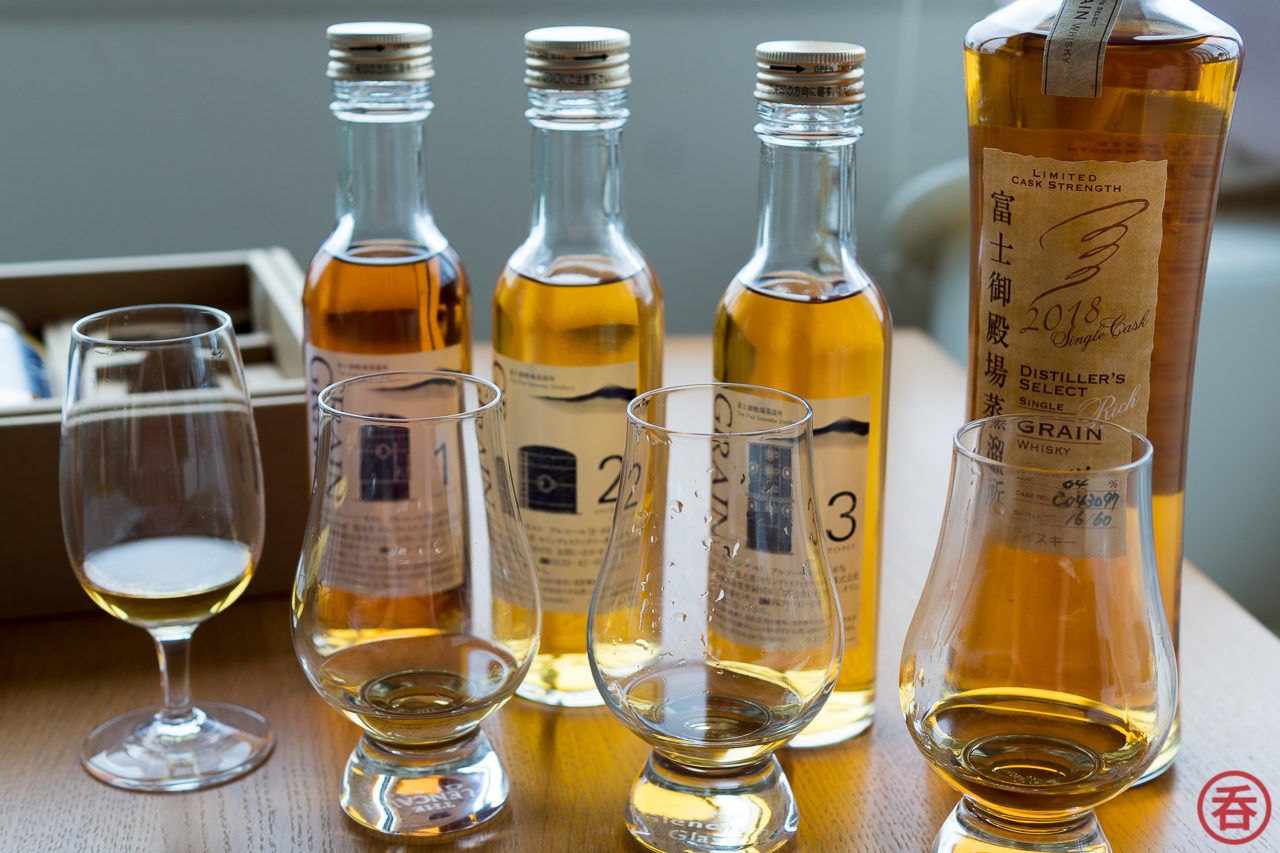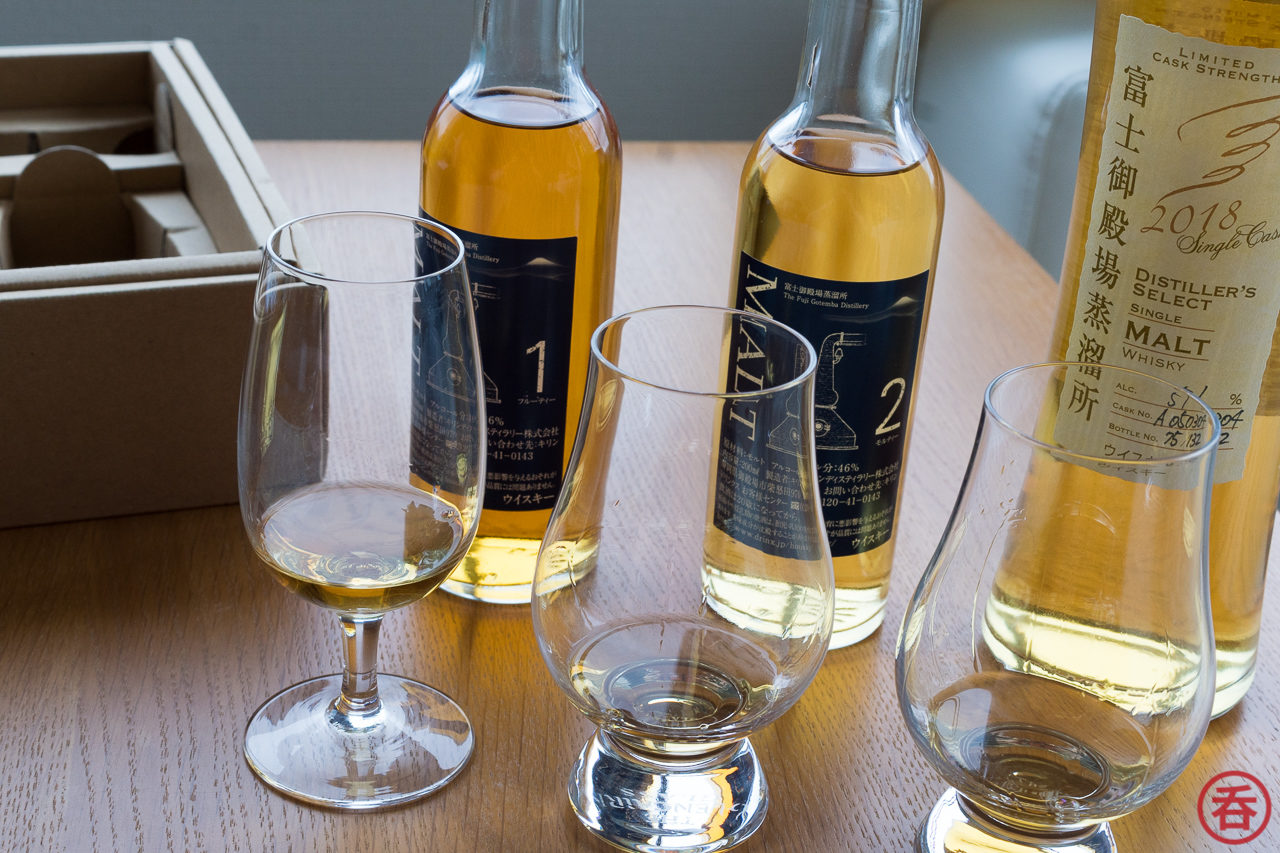 As a supplement, from my collection I also pulled my bottles of the 2018 edition of Fuji Gotemba Distillery Distiller's Select Single Malt and Single Grain. Those are both single cask bottlings. So while they shouldn't be compared directly, it was interesting to break the component whiskies down even further. Of course, even if you don't have any other Fuji Gotemba bottles around, you can certainly just enjoy the blending kit as-is.
Kirin recommends you explore the components twice up. I did that, but not before trying them straight as well. This is your private blending session — it's up to you!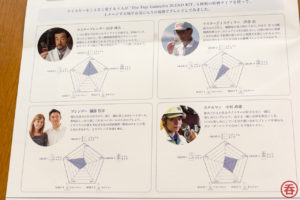 Once you get an idea for the components, such as if you prefer fruitiness over malt, or spiciness over mellow, it's time to begin thinking about your blend. Kirin provides some suggestions, with ratios, from four different employees of the distillery. One is from Master Blender Jota Tanaka. Notice that he doesn't use any malt whiskies!
With 200ml in each bottle, there's ample capacity to experiment. My first blend's ratio looked like this:
Grain whisky (Light type): 1
Grain whisky (Medium type): 4
Grain whisky (Heavy type): 1
Malt whisky (Fruity type): 3
Malt whisky (Malty type): 1
It's good to revisit your blend again some days later as well. While you may prefer something deep and heavy one day, perhaps you want something lighter the next day. Or you want a whisky good for a highball, or you want to lean towards bourbon vs. Japanese.
Kirin provides us with several different levers to pull to create our own blended. Peaty, malty, fruity, oaky, spicy. What do you prefer?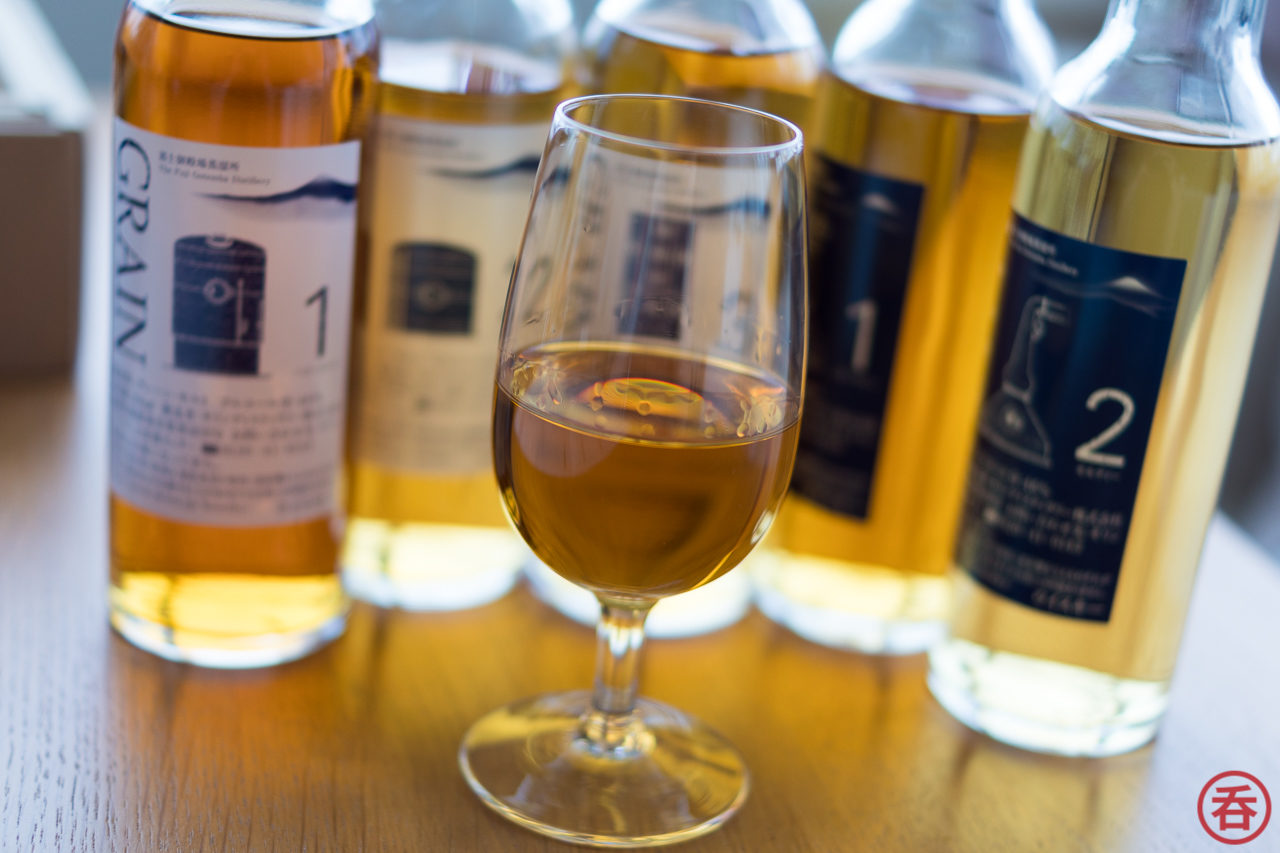 The real killer app for Kirin here would be to somehow link this with a system that allows you to purchase custom blended bottles of the whisky you create. If you've spent a couple hours coming up with your own personal wonderful blend of Kirin's whisky, who wouldn't want order a full bottle of it? Wishful thinking in this day and age, perhaps.
Rating: A
Price paid: 10,800 yen
Though fairly pricey for what is ultimately just 1L of component whiskies, keep in mind that these components are usually only available at the distillery or in this kit. The Fuji Gotemba BLEND KIT is a great way to get a feel for what makes the distillery so special, and make your own Japanese blended whisky.
Hi there! I created and run nomunication.jp. I've lived in Tokyo since 2008, and I am a certified Shochu Kikisake-shi/Shochu Sommelier (焼酎唎酒師), Cocktail Professor (カクテル検定1級), and I hold Whisky Kentei Levels 3 and JW (ウイスキー検定3級・JW級). I also sit on the Executive Committees for the Tokyo Whisky & Spirits Competition and Japanese Whisky Day. Click here for more details about me and this site. Kampai!