Dramtastic of The Japanese Whisky Review and myself have agreed to cross-post some content between our sites. For nomunication.jp readers, this means that his authoritative tasting notes of Japanese whiskies can be found on this site. More info about Dramtastic and The Japanese Whisky Review is available in our recent Kampai Samurai interview with him.
Ichiro's Malt & Grain Japanese Blended Whisky Limited Edition 2018 took home the title of "World's Best Blended Limited Release" at the World Whiskies Awards 2018. The 2019 edition has retained the title.
Only 500 bottles were released to department stores in Japan in March 2018. Despite the 129,000 yen retail price, it sold out instantly.
Inside the bottle you'll find a blend of three different whiskies: a 27 year old malt from Hanyu, a 35 year old grain from Kawasaki, and a 5 year old malt from Chichibu. Ichiro Akuto's blending abilities have earned him the title of Master Blender of the Year at International Spirits Challenge 2019. In a single bottle, you can enjoy both the past and future of Japanese whisky.
This whisky is not to be confused with the similarly-named Ichiro's Malt & Grain World Blended Whisky Limited Edition. That one is a blend of world whiskies alongside Chichibu liquid, while the Japanese Blended Whisky Limited Edition uses only whisky distilled and matured here in Japan. Some confusion arose from the similarly-colored labels — World Blended uses a dark purple label, while Japanese Blended uses a dark green one. Frankly, from afar, they can be quite difficult to tell apart.
Palate: Fruit mince pie, plum sauce, currants, molasses, pumpernickel, sea spray, sherry, saddles bags, sweet pipe tobacco, cockles, caramel, vanilla, roses. Ever evolving!
Palate: Sherry, mixed nuts, orange juice, nutmeg, pepper, roses, peppermint, papaya, plum sauce, cherry cream filled chocolate, molasses, raisins.
Finish: Floral's, macadamia's, old leather, honey, marmalade, dried mango, peppermint, burnt eucalyptus.
Last Word: The ghosts of the flavors linger until the following day.
Rating: 92/100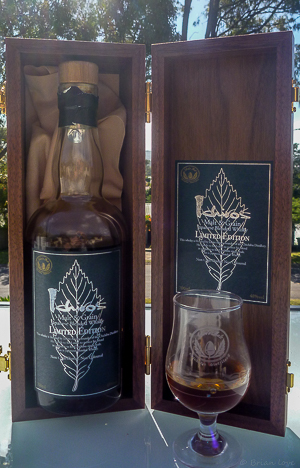 Hi there! I created and run nomunication.jp. I've lived in Tokyo since 2008, and I am a certified Shochu Kikisake-shi/Shochu Sommelier (焼酎唎酒師), Cocktail Professor (カクテル検定1級), and I hold Whisky Kentei Levels 3 and JW (ウイスキー検定3級・JW級). I also sit on the Executive Committees for the Tokyo Whisky & Spirits Competition and Japanese Whisky Day. Click here for more details about me and this site. Kampai!