Several weeks back we discussed what the meaning of Kyoto Distillery's newly minted liqueur distillation license might be. That question was answered with the announcement of the 2019 Tokyo BarShow limited edition bottles: in the lineup was "Ki No Bi Sloe Gin-type Haskap Liqueur."
That liqueur will soon be released to the public. 4000 bottles–worldwide!–of Ki No Bi Sloe Gin-type Haskap Liqueur will be available from May 28. Weighing in at 30% abv, it should go for about 6000 yen before tax.
While we would ordinarily expect a sloe gin to be made with gin and sloe berries (thus the name), the Kyoto Distillery has instead reached for Haskap berries. "Haskap" is the Japanese name for edible blue honeysuckle. Some are calling Haskap "the next superfood" due to the berries containing more antioxidants than blueberries.
It's no secret that before finalizing on the current 11 botanicals found in Ki No Bi, the team at the Kyoto Distillery considered 50+ botanicals over the course of a year. This process has left them with an arsenal of flavors they can tap for limited editions like this. Considering they are now fully licensed to liqueurs, hopefully we'll more in the future as well.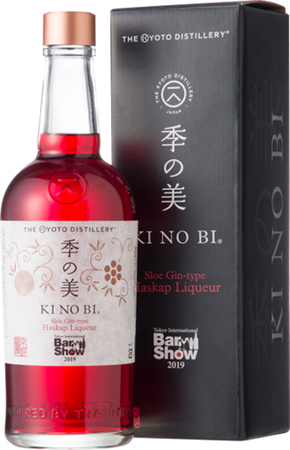 Hi there! I created and run nomunication.jp. I've lived in Tokyo since 2008, and I am a certified Shochu Kikisake-shi/Shochu Sommelier (焼酎唎酒師), Cocktail Professor (カクテル検定1級), and I hold Whisky Kentei Levels 3 and JW (ウイスキー検定3級・JW級). I also sit on the Executive Committees for the Tokyo Whisky & Spirits Competition and Japanese Whisky Day. Click here for more details about me and this site. Kampai!