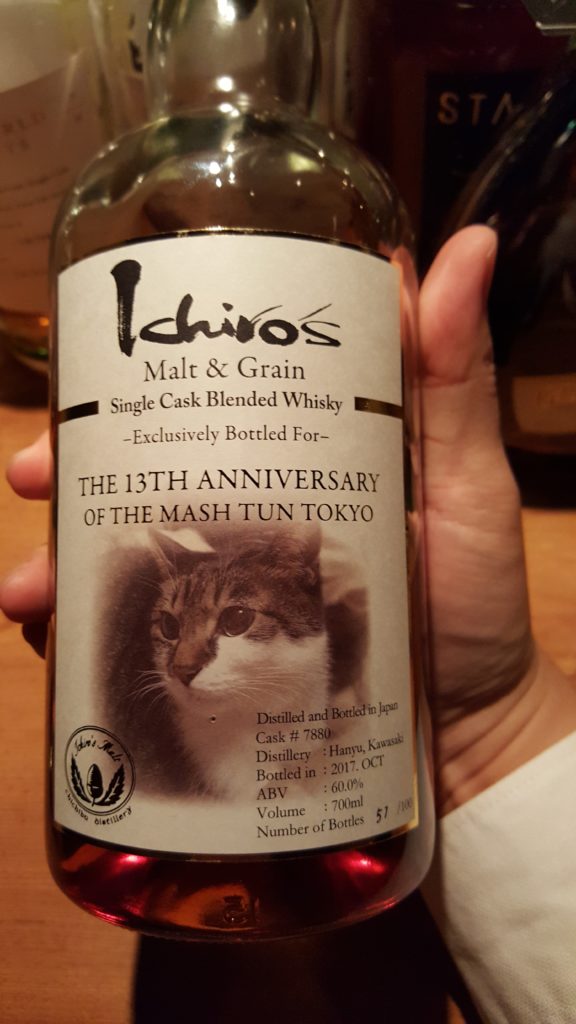 A very special 2017 bottling for the infamous Mash Tun Bar in Tokyo, a blend of approximately 70% Hanyu 1991 and approximately 30% Kawasaki 1982. Wonder what the cask number is for. Supposedly many of the Mash Tun bottles have a cat on the label because the owner likes cats. I however am allergic to those felines. Let's hope this tasting treats me well.
Nose: super sweet, dark strawberries, red fruit, notes of honey, a very pure aroma.
Palate: some good body in it, light oak, flavorful, some fruits, vanilla, sweet candy, light maple syrup, backend has wet old steamed lotus leaves.
Finish: medium, spice gets stronger with time, light oak aftertaste.
This is a tasty one and sure didn't let the 60% abv interfere. There nose is very nice, the taste is mostly wood and fruity vanilla, with the wood aspect being a little strange to me as most of the Hanyus and all the Kawasakis, as well as the variety of Hanyu and Kawasaki blends I've tasted, do not have a strong wood element if my memory serves me correctly. I have to say though, almost all, except maybe 1 or 2, Hanyu-Kawasaki blends taste the same or extremely similar to me. Overall a top dram and I wish I could have this as an everyday drinker. Had at The Mash Tun, Meguro, Tokyo, Japan.
Grade: B+
Instagram: @starvinggigolo