Way up north in Thurso, Caithness, the Highlands of Scotland, you'll find the Wolfburn Distillery. The story goes that while was historically a distillery located here, it fell into disrepair and ruin somewhere around 1870. Over 140 years later, in 2011, the site was rediscovered by a member of the Wolfburn Distillery team. The new distillery is located a mere 350m from the old site, and uses the same stream — the Wolf Burn — as a source of water. This makes it the northernmost scotch distillery on the Scottish mainland.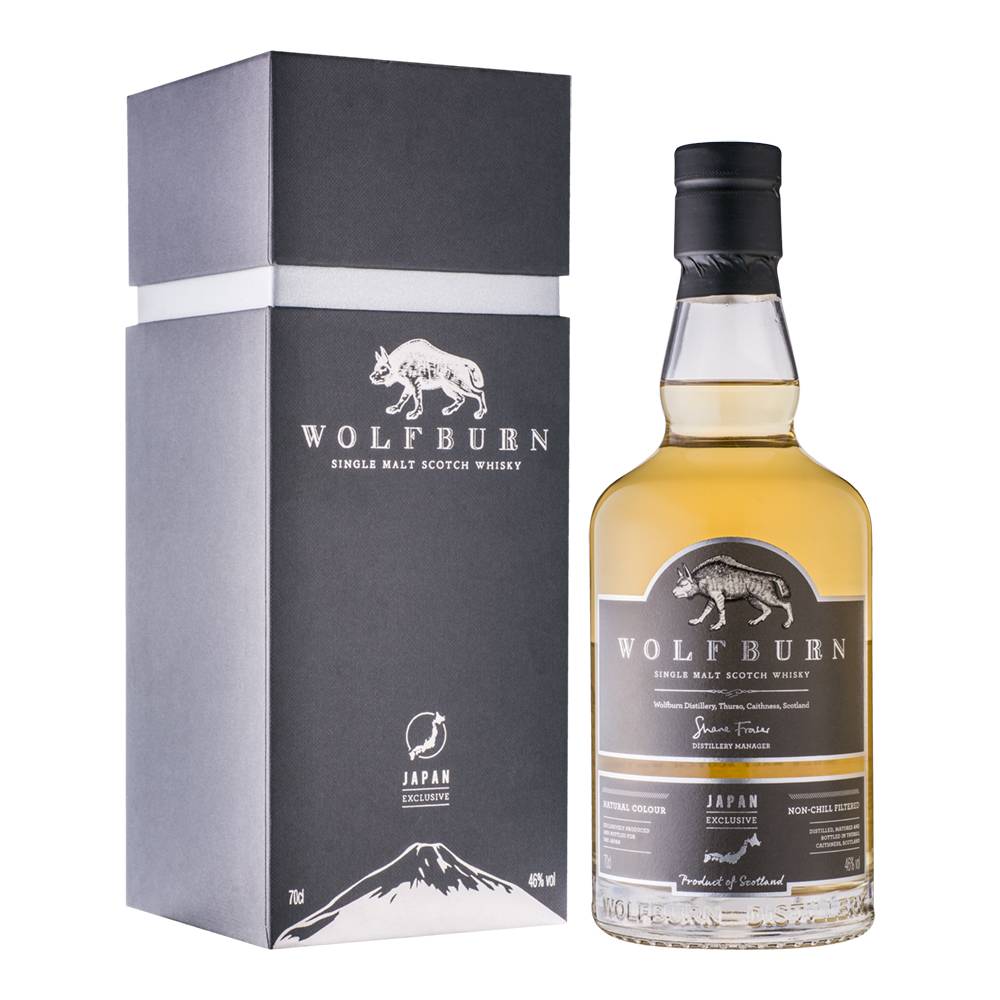 Wolfburn kicked off distillation in 2013 and began shipping product in March 2016, known as the Northland expression. Northland has won three awards so far, including a Gold at World Whisky Awards, in the NAS category. Needless to say it's exciting to see where Wolfburn will be going as the product reaches more traditional single-malt maturities.
Even more exciting is a new Japan-exclusive bottling they've just announced, which is very rare for such a small and newly established distillery like Wolfburn. Ordinarily they'll be entirely focused on their core product. Only 500 bottles will be released.
So why a Japan-exclusive bottling? Owner Andrew Thompson describes (and I'm translating here) that some of the first visitors to the yet unknown distillery, immediately after it got started, were Japanese. The visit left quite an impact on him that Japanese are extremely knowledgeable and passionate about whisky. The team is proud to release this Japan-exclusive bottling.
Distillery Manager Shane Fraser details the Wolfburn Japan Exclusive maturation process, using 3 types and 4 barrels (again, translated):
For the Japan bottling we've used distillate from quarter casks, two different bourbon barrels, and a little from sherry hogsheads.

These three barrels are the main barrels of the Wolfburn Distillery. As you know our Northland expression uses the quarter casks, and the Aurora expression uses the bourbon and sherry casks. So you could say the Japan private bottling contains the entirety of the Wolfburn character.
Saketry has the Wolfburn Japan Exclusive available for 10217 yen but I wouldn't expect it to remain in stock for long! They also have the full lineup (Northland, Aurora, Japan Exclusive) available until August 6 for a special price of 21474 yen.
Hi there! I created and run nomunication.jp. I've lived in Tokyo since 2008, and I am a certified Shochu Kikisake-shi/Shochu Sommelier (焼酎唎酒師), Cocktail Professor (カクテル検定1級), and I hold Whisky Kentei Levels 3 and JW (ウイスキー検定3級・JW級). I also sit on the Executive Committees for the Tokyo Whisky & Spirits Competition and Japanese Whisky Day. Click here for more details about me and this site. Kampai!