Seibu Railway has announced a one-off train event in conjunction with Chichibu Distillery operator Venture Whisky. The event will be held onboard a 52-seat train that will run from Shinjuku to Chichibu on December 25, 2020.
T
he trip is dubbed "Laview Blue Ribbon Prize Commemoration fifty two seats of happiness x Venture Whisky," yes quite a mouthful. Basically, one of Seibu's new trains ("
001 Laview
") has won the Blue Ribbon Prize, which is awarded yearly by the Japan Railfan Club to newly operating trains in Japan.
To celebrate, Seibu is whipping out their restaurant-only train named "fifty two seats of happiness" and is inviting Venture Whisky brand ambassador Yumi Yoshikawa along to talk about the distillery.
The train departs Seibu Shinjuku station at 11:25AM on December 25, 2020, and arrives in Seibu Chichibu at 1:50PM. The fare is 42,000 yen after tax, so pretty damn expensive. But it does include:
Amuse-bouche
Chichibu hors d'oeuvre
Dessert ("Happiness Platinum PB Pudding")
A whisky flight, which consists of 1) Laview Blue Ribbon Commemorative Edition Ichiro's Malt, 2) Ichiro's Malt 52 Happiness Private Bottle 2020, and 3) Ichiro's Malt Cask Strength. Additional servings of 1) and 2) can be ordered for a separate charge.
The train ticket (one-day unlimited journeys on Seibu)
A bottle of Laview Blue Ribbon Commemorative Edition Ichiro's Malt (Ichiro's Malt&Grain Single Cask Blended Whisky #7170)
Some Venture Whisky goodies
Given there are only 52 seats on the train, Seibu has said tickets will be sold via a lottery if they go over that many applications. If you're interested in joining, head over to Seibu's registration page by October 31. Winners will hear back on November 11.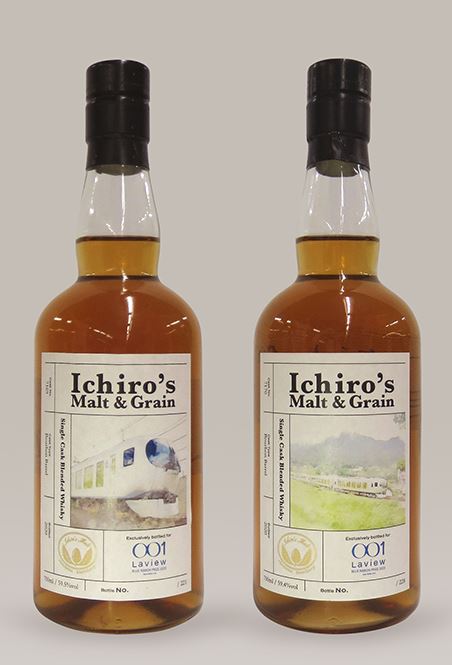 Hi there! I created and run nomunication.jp. I've lived in Tokyo since 2008, and I am a certified Shochu Kikisake-shi/Shochu Sommelier (焼酎唎酒師), Cocktail Professor (カクテル検定1級), and I hold Whisky Kentei Levels 3 and JW (ウイスキー検定3級・JW級). I also sit on the Executive Committees for the Tokyo Whisky & Spirits Competition and Japanese Whisky Day. Click here for more details about me and this site. Kampai!